BendyKat – out of the tunnel and at a crossroads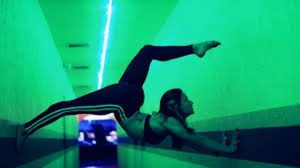 The video is only a minute long. [It's here.] It's shot from the near end of cold green-lit tunnel somewhere in south Cape Coral. The concrete floor is covered by squares of pale tan ceramic tile. The walls are skip troweled with rough-faced plaster. Painted black and gray bands run the length of five-foot-wide hallway.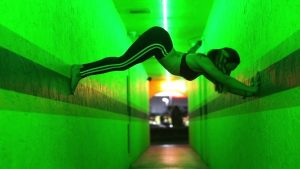 The outline of door openings lurk in the background. A narrow fluorescent lighting strip bisects the ceiling, softly illuminating a lithe, diminutive figure curling into a back-bending hand stand. Parallel white bands synchronously run the length of her form-fitting black leggings. The camera fixates on the woman, who suddenly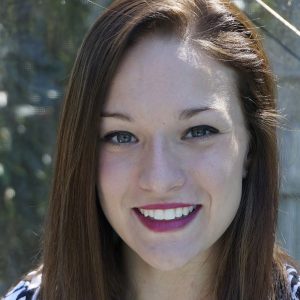 defies gravity, stretching from band to band halfway up the walls.
The woman in the frame is Katarina Danks, a world-class professional performer and motion artist trained in contortion, jazz and contemporary dance disciplines. And as BendyKat continues to twist, bend and stretch into eye-catching inverted shapes from floor to walls and back again, the camera begins to rotate its POV in a 360 degree circle. Walls then floor become ceiling as Danks shifts seamlessly from one hand stand to another.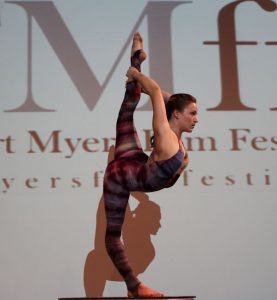 It's not a reproduction of the dance routine from the 1951 movie Royal Wedding. There, the filmmakers built a room that rotated around a stationary camera making it appear that fabled Broadway dancer Fred Astaire was dancing on the walls and ceiling. But BendyKat filmmaker Tyler Shore's method is nearly as effective in creating the illusion that Kat's handstands extend from the ceiling and walls of the narrow tunnel.
Kat is not double jointed. She's not genetically hypermobile. What she achieves results from years of daily and consistent stretching exercises, flexibility regimens and gymnastics.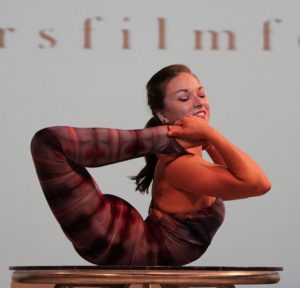 She's been taking dance and contortion lessons since she was seven. In high school, she trained with the iconic Betsy Wray Shuttleworth, who owns and directs Dance Extensions Performing Arts Center in the Pittsburgh suburb of Canonsburg, Pennsylvania. In addition to winning numerous awards and earning scores of accolades in both amateur and professional competitions for the beauty, eclectic style and incredible difficulty of her technique, stage presence and choreography, she's also performed for Showbiz Productions,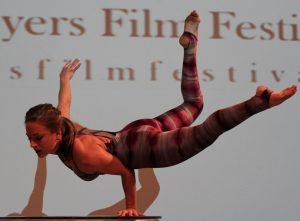 National Geographic, Royal Hanneford Circus, International Contortion Convention, and Que Noche for Telemundo. And while Kat could certainly extend the reach of both her professional career and notoriety by auditioning and winning parts on cruise ships or in national tours or traveling shows, there's something else that tugs at her heart.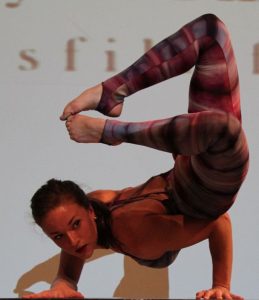 Danks is co-founder and co-owner on Melody Lane Performing Arts Center in the Cape. While MLPAC offers dance, theater, circus, and fitness classes for all ages (2-18 and adult-levels), Kat sees the studio more as a performing arts conservatory. And, in fact, Melody Lane's mission is to offer Cape Coral and Southwest Florida students, both young and old, the ideal backdrop to become well-rounded performers in a professional and warmhearted setting.
"We aspire to create and transform students through progressive teaching techniques and our own passions to perform. We aim to grow community spirit and local support of the arts through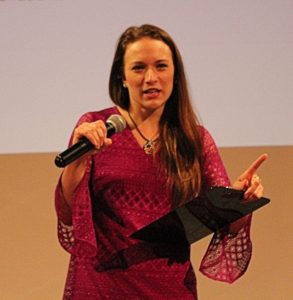 performances, outreach, and volunteering."
Melody Lanes' mission belies a fervent belief on the part of Kat and her partners (Sami Doherty (ballet/early learning dance/musical theater/acting), Ginger Lynn (tap/jazz/early learning dance) and Jara Lee Lorenzana (hip hop/adult fitness) that Southwest Florida not only has an abundance of talent, but that it can one day soon be an arts and cultural center known worldwide for spawning generations of new world-class musical theater,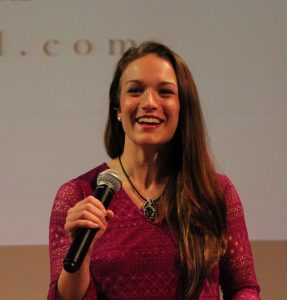 dance and circus performers.
In the two short years since the studio's inception, it has already made serious inroads as a progenitor of local musical theater and dance talent. Under the direction of Dana Alvarez, Melody Lane Performing Art Center's Theatre Department has already staged six musicals, including junior editions of Little Mermaid, Lion King and Frozen. Many of the students who've performed in these shows also now perform in productions at Cultural Park Theatre and Broadway Palm.
For her part,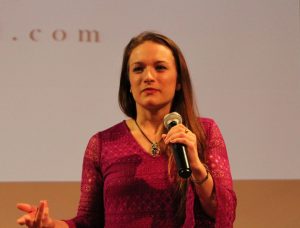 Kat has extensive experience choreographing young dancers. Many of her pieces have won placement awards and special judges' awards on the major competitive circuit. At present, in addition to flexibility and contortion, Kat is heavily involved with Melody Lane's evolving circus program, teaching aerial silk, aerial lyra and acrobatics classes in MLPAC's warehouse facility. She even travels to St. Petersburg to reach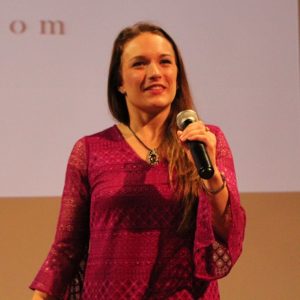 circus courses there.
But though she loves teaching dearly, and is clearly really good at it, there's no denying the rush of adrenaline she experiences when performing herself.
"There's no better feeling than being on stage," Kat proclaims, sitting on a park bench on the Florida Gulf Coast University campus as students wander by on their way to and from classes.
She keeps her mind and body ever ready for that next gig, spending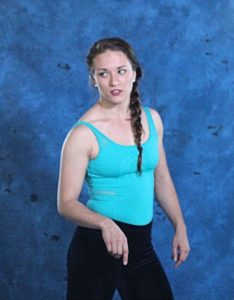 a chunk out of each day, and most of her lunch hours, stretching, bending and contorting herself into odd shapes and configurations.
"It's a tough decision," she sighs, acknowledging that BendyKat finds herself at crossroads of sorts.
On the one hand, performing in high-grade productions both locally or on the road will provide greater experience, training and contacts within the industry. The added credentials may even enable her one day to choreograph or direct Broadway musicals, variety shows or circus-based productions.
But that entails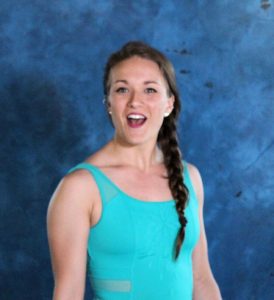 leaving Southwest Florida for as-yet unspecified periods at a critical time in MLPAC's evolution, not to mention Southwest Florida's progression into a leading arts and culture center.
But focusing on her role as an educator will likely preclude her developing and expanding her repertoire as there are limited opportunities to perform her craft locally.
Either choice may very well entail giving up a part of, or redefining her dreams and goals.
Kat is no stranger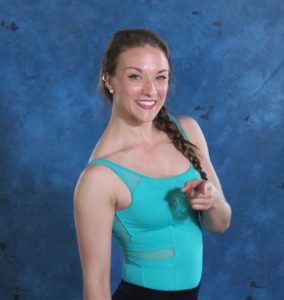 to self-sacrifice. Just look at the physical, mental and dietary demands she places on herself in the pursuit of her art. The question she faces now is existential. Which avenue will allow BendyKat to achieve the greater short-term and long-range good personally, professionally and a contributing member of the community she so loves.
No matter which path she chooses, those of us who know and love her are rooting for Kat's continued happiness and even greater personal satisfaction and success.
March 24, 2019.