Katie Freeman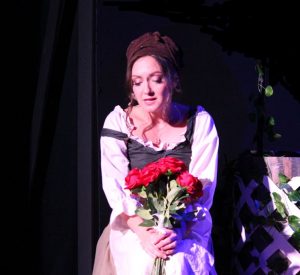 Katie Freeman stars in the role of Belle in Belle Theatre's production of Disenchanted the Musical. Belle's that smart and witty bookworm from classic French literature who speaks with a perfect American accent, although she has no idea why. Trapped in a lonely relationship with her uncouth beast of a husband who she's forced to clean up after, her only companions are her tea pots, cookware and her bidet. And it's driving her insane, as Katie sings in exasperation in number reminiscent of "Beauty School Dropout" from Grease.
"What the hell?
Has Mickey lost his mind
This is so lame
That a mouse could be
So damn unkind
To a girl from classic lit
Who babbles on now like a twit
With pottery, furniture, carpeting
God, this is shit
And it's driving me insane
Insane
Ah-ah-ah
Katie most recently starred in the title role of Rodgers & Hammerstein's Cinderella for The Belle Theatre, a character she infused with all the warmth, kindness and patience that Rodgers & Hammerstein envisioned when they created their version of the timeless French fairy tale, Cendrillon, ou la petite pantoufle de verre (Cenderella, or The Little Glass Slipper).
Other prior stage credits include Florinda in Into the Woods at The Belle Theatre, Sister Mary Leo in Nunsense 1 & 2 at Cultural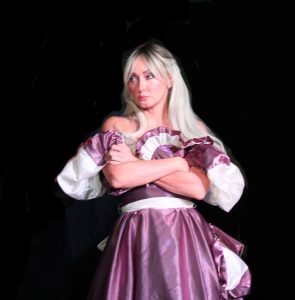 Park Theatre, Natalie in Next to Normal at The Belle Theater, Carrie in Swearing Jar at The Belle Theater, Hope in Urinetown at Cultural Park and work in the ensemble of Jekyll & Hyde the Musical at New Phoenix Theater.
June 12, 2023; revised September 22, 2023.