Mercedes Nicole Gutierrez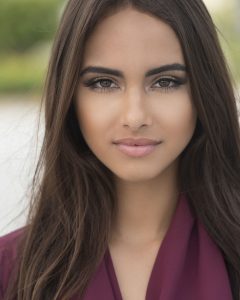 The SOURCE PRODUCTIONS indie feature Surviving Lunch will be screened at this year's Fort Myers Film Festival in the Sidney & Berne Davis Art Center at 8:00 p.m. on Saturday, April 13.
The film revolves around a Latina girl from New York who moves to Florida with her mother after her father is killed before her eyes in a school shooting. Trying to keep to herself and recover from her grief, Gabriella notices a boy being relentlessly bullied in the lunchroom. With the memory of her father fresh in her heart, Gabriella is determined to find a way to stop the bullies – even if it means standing up to the meanest kid in the school.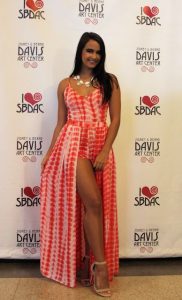 Mercedes Nicole Gutierrez plays Maria.
Gutierrez has been on a tear. In addition to Surviving Lunch, she also played Special Agent Thompson in Looking in the Mirror (2019), Amy Stevens in Visions of Love (2019), a texting wedding attendee in the short film A Bright Second (2018), Becky Everett in Crescent City Chronicles: Sanctuary (2018), a tour host in Outdoors in the Sunshine State (a 2018 TV series short), Joy in the short film Goodbye! (2017), Maria in the short film White Slavery (2017) and Mirka in the 2016 TV movie Without a Heart. However, fans will be seeing even more of this rising film star, who has lensed four more films that are in post-production and due out later this year, vis: Squad Up (she plays Jasmine), Beauty is Skin Deep (Sydney),
Death Trap (Vanessa Gonzales) and Consequences (Nurse Evelyn) and is cast in three other projects that are in pre-production, Cosmic Rush (a television series in which she plays Valerie), Girls on Tap (she's Holly Montez) and Todd (she plays Raven).
The Estero native has been modeling and acting since 6 months old, has appeared in more than 50 national commercials and been featured in more than 100 print campaigns, including magazine spreads and swimsuit photo shoots. She has a YouTube channel that features dozens of YouTube makeup and fashion tutorials. She was a cheerleader in high school and played Lacross. She is part Spanish and part Caucasian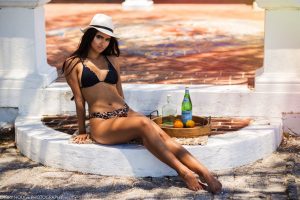 ancestry.
Gutierrez is represented by a number of modeling and talent agencies, including Benz Model & Talent Agency, Stellar Talent Agency and World Modeling & Talent Agency.
March 20, 2019.