Kea McElfresh working quietly behind the scenes with aspiring young actors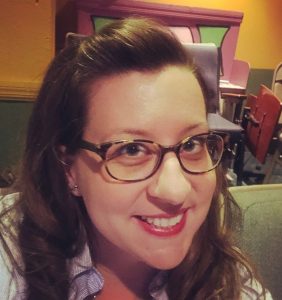 Today and each day during March, Art Southwest Florida is featuring women who are making our local theater scene bigger, badder and better. It's part of Women's History Month, and today the spotlight falls on Kea "Mac" McElfresh.
If you're not familiar with the name or the person, Mac is a founding member of Scared Scriptless Comedy Lab Improv. She's an integral part of a troupe of talented performers who create a fast-paced evening of family-friendly entertainment and laughter packed with hysterically funny songs, sketches, and jokes created on the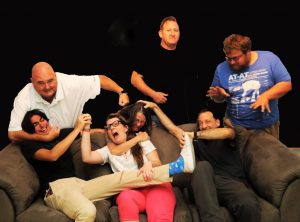 spot based on audience suggestions.
"Kea brings a unique set of characters to her scenes that are hilarious and heartfelt at the same time," observes fellow Scared Scriptless founder and performer Steve Cobb. "She loves collaborating with her fellow team members, loves improv and loves having fun on stage."
Most people know (or think they know) improv as a result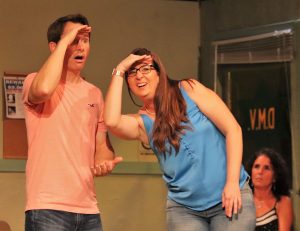 of prime-time televisions shows such as Whose Line Is It Anyways and Saturday Night Live. But as we've all learned during the COVID-19 pandemic, there's a limit to how much involvement an audience can have in a virtual performance. A crucial element in all improvisational theater is the interactive relationship that the cast creates with its audience, and as a direct and proximate result, people who have no previous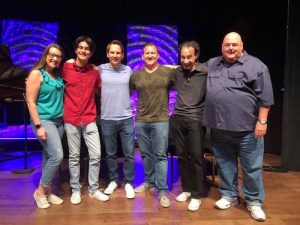 experience with or appreciation for theater are often inspired to catch a live show, whether a comedy, drama or musical, for the very first time.
But improvisational theater holds just as many benefits for actors. It teaches actors how to connect with their audiences, conjure a wide array of emotions and develop essential rehearsal and performance skills such as listening,
observing, interpreting body language and reducing overall self-consciousness while performing.
Mac passes these on-stage live lessons to her theater arts students at Estero High School, where she works tirelessly to help waves of aspiring teens take or further their fledgling steps as tomorrow's performing artists. As importantly, since August of 2009, McElfresh has worked through the Florida State Junior Thespians to create a forum where Southwest Florida middle school theater students can demonstrate their talents.
"Providing the middle school students of Southwest Florida an opportunity to showcase their theatrical talents has been a passion of mine for more than a decade," relates McElfresh, who has served alternately as Chair and Co-Chair for District VI Florida Jr. Thespians. "The directors and students I have the honor to work with are nothing short of fabulously talented."
Florida State Junior Thespians is the Florida chapter of the International Thespian Society for Middle School students. Organized by individual troupes at participating schools, the International Thespian Society or ITS recognizes and rewards excellence among participants in the theatre arts program. Junior Thespian membership is viewed as an honor and a goal to which participants in your theater arts programs aspire. Founded in 1929, today there are more than 4,200 ITS organizations in middle and high schools across America, Canada, and abroad. High school inductees are known as Thespians and junior high/middle school inductees are known as Junior Thespians.
It's impossible to quantify the role McElfresh has inspired young local actors to reach for the stars as they move on to high school, college and beyond. But Mac has certainly played a part in infusing both her theater students and Junior Thespians with the skills, experience and confidence to tackle roles in both school productions and shows produced by local theater groups including Florida Rep, Broadway Palm and Gulfshore Playhouse.
McElfresh holds a Bachelor of Arts from Florida International University. She was nominated by her colleagues in 2014 as their "Subject Area Teacher of the Year" and chosen by her as the Dance/ Drama Teacher of the Year. In recognition of the years she's spent quietly working behind the scenes with aspiring young actors to make the theater of tomorrow even brighter than it is today, Art Southwest Florida recognizes Kea "Mac" McElfresh during Women's History Month.
March 14, 2021.