Trace Meier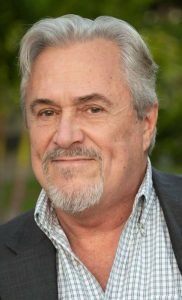 Trace Meier is a local actor who has been featured in the inaugural seasons of Theatre Conspiracy at the Alliance for the Arts and FGCU's TheatreLab. He has seen the stage at the Laboratory Theater of Florida, Cultural Park Theater and Florida Atlantic University, and was a founding dancer with Gulfcoast Dance.
He currently portrays corrupt Judge Turpin in Sweeney Todd: The Demon Barber of Fleet Street. It is Judge Turpin who foments Sweeney's murder spree by sentencing him to a penal colony in Australia on false charges so that he'll have unimpeded access to Sweeney's beautiful young wife, Lucy, who commits suicide by poison after being raped and tormented by the judge. Back in London fifteen years later, Sweeney swears to avenge his wife and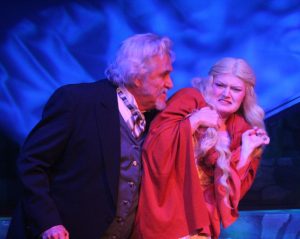 daughter.
Trace's stage credits include Sir Danvers Carew for New Phoenix Theatre in Jekyll & Hyde the Musical, the multiple roles in Quartet, Young Frankenstein and Dr. Scott in Richard O'Brien's Rocky Horror Show for New Phoenix Theatre; the priest in Andorra and roles in A Clockwork Orange and Chekhov's The Bear for Lab Theater; Beadle Bamford in Sweeney Todd, Simon Stride in Jekyll/Hyde,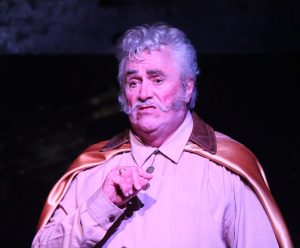 a musical revue called Brooklyn Boys and the lead in Kiss Me Kate for Cultural Park Theater; and Bob Cratchit in Scrooge and Little Footsteps for Theatre Conspiracy.
While attending Florida Atlantic University, Trace worked with Burt Reynolds on Smokey and the Bandit 2, was in both West Side Story and Fiddler on the Roof at Reynolds' Jupiter Theater, and was the male lead in Bertoldt Brecht's Good Woman of Sechuan, and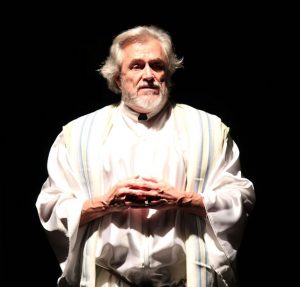 had roles in Macbeth, A Funny Forum and A Flea in Her Ear, to name a few.
Trace also performs as a Techno Dog in performance artist Lily Hatchett's Paper Grotto Live!
October 3, 2021; revised February 9, 2023.