Howard Nutt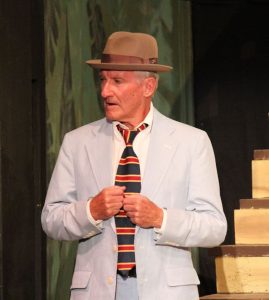 Howard Nutt is a Queens, N.Y. native. Howard decided to try acting only a few years ago after moving to Southwest Florida. He is playing randy Elvis impersonator Sam Smith in Four Old Broads at Belle Theatre in the Cape. Howard's previous stage credits include Joseph and others in Cultural Park Theater's production of It's a Wonderful Life: A Live Radio Play, California Suite by Neil Simon, Best Laid Plans by Fred Carmichael, Willy Loman in Lab Theater's production of Tim Sniffen's Death of Streetcar Named Virginia Woolf: a parody, Lovers and Other Strangers by Renee Taylor and Joseph Bologna at the Herons Glen Theater.
"If not for my wife LuAnn's encouragement, I never would have known the joy of acting," says Howard.
January 17, 2020; revised January 10, 2023.