Nova Rae grateful to cast mates and directors for taking her under their wings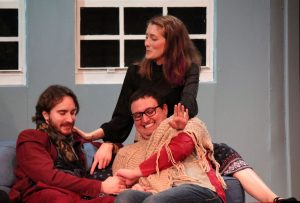 Nova Rae considers herself lucky. Very lucky. She's enjoyed the great fortune of sharing the stage with some special actors since her theatrical debut in 2018 in Greg Lam's Repossessed at Theatre Conspiracy at the Alliance for the Arts.
Besides Nova, the cast for that production included Rachel Burttram,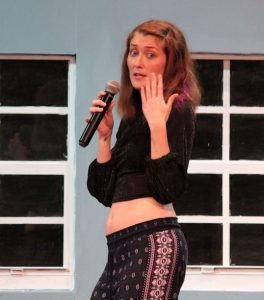 Brendan Powers, Lauren Drexler, Joann Haley, Lisa Kuchinski and Patrick Day. Since then she's shared the boards with Kuchinski twice more (in Chicago and Marian, or the True Tale of Robin Hood), Haley in Marian and such talents as Paul Graffy (How to Transcend a Happy Marriage and The Crucible), Annette Trossbach (How to Transcend a Happy Marriage), Steven Coe and Imani Williams (The Crucible), and Shelley Sanders and Karen Goldberg in Marian, or the True Tale of Robin Hood.
"I can't imagine a better environment for a budding actor than to be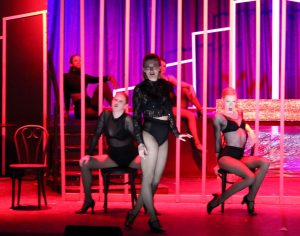 around such talented, well-educated, well-trained, intelligent people who are more than willing to share their knowledge and experience," Nova reinforces.
Nova also marvels at the caliber of the directors she worked under in those shows. Annette Trossbach directed The Crucible. Gerri Benzing was at the helm for Chicago. Rachael Endrizzi directed Marian, with Stephen Hooper in the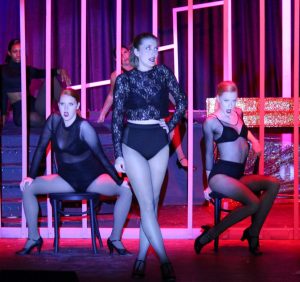 chair for Repossessed. But for her role as Pip in How to Transcend a Happy Marriage, it was New York's Steven Ditmyer giving direction.
"Working with Steven Ditmyer, taking the Meisner class [she was one of 13 Meisner Level One graduates] and learning his method were eye-opening," Nova Rae touts." I learned so, so much!"
She was also soaking up knowledge from Carmen Crussard and choreographer Lauren Perry as Assistant Stage Manager on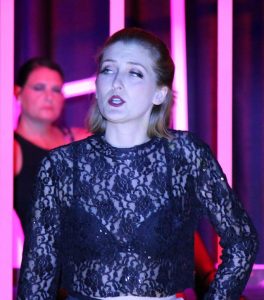 In the Heights before Lab had to suspend the production due to the COVID-19 outbreak the week before it was due to open.
Whether she's taking direction or observing other actors in rehearsal and during performances, her approach is simple and straightforward. She listens carefully, taking it all in.
"I'm such a novice and so theater illiterate that I don't know enough to be intimidated, which is a good thing," she laughs softly. "That frees me to absorb as much as I can about their process."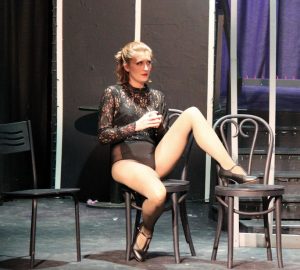 So she listens and watches, and because she's so attentive, her cast mates gladly take her under their wing.
"Annette and Rachel were remarkably open in their willingness to talk about acting in general and the theater scene here in Fort Myers … where to go and how to cultivate a character. I adore Annette. She's so fabulous. Rachel is soooo creative. And Paul Graffy works so hard at his characters. It was heartbreaking what happened to him in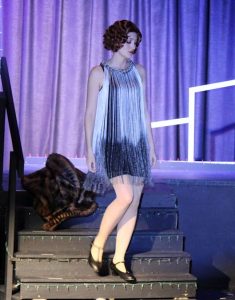 The Curious Incident of the Dog in the Night Time [which closed due to the pandemic after only one performance]."
Rae's progress can be described as meteoric, with her performance as polyamorous Pip in How to Transcend a Happy Marriage nothing short of groundbreaking. But her entry into the local theater scene can be described as fortuitous, serendipitous or even unlikely. After taking a theater course in college, she promptly decided she had way too much stage fright to be successful, so she switched majors. But after relocating to Southwest Florida from wintry Wyoming in 2017, she enrolled in an improv class at the Alliance for the
Arts not only to meet people and get involved in the local community, but to challenge herself as well.
"I found that improv, to a certain extent, and theater, to a greater degree, helps me get out of my head because it forces me to focus on the character and what's happening in the scene," Nova explains. "Building a character and developing a connection and emotional communication internally and with my scene partners hone skills that help me in my everyday life.
Nova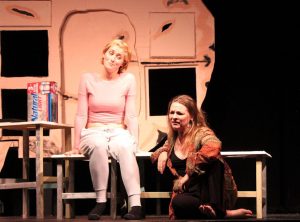 cops to being prone to anxiety, and these are certainly anxious times. While she and her cast mates were able to complete their run of How to Transcend a Happy Marriage, the production's run was in jeopardy over the final week.
"People were turning in their tickets and we played to smaller audiences," she relates.
But she's coping well and credits her theater-enhanced ability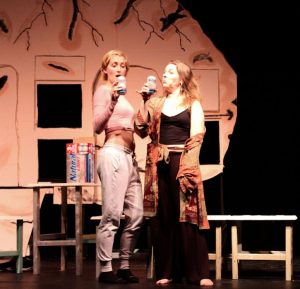 to stay in the moment with enabling her to navigate the isolation and anxiety we're all feeling as a result of the novel coronavirus pandemic.
"At first, I treated it as a chance to slow down and pay attention to things that tend to get neglected when I'm doing theater. So for the first couple of weeks, I could take my time and make a meal, enjoy the rare pleasure of taking my dog for a long walk without a script in hand, and spending time in the garden,"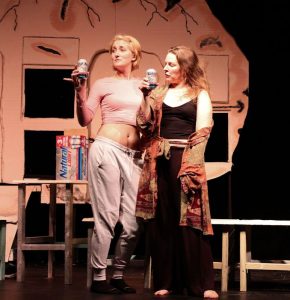 Nova shares. "I feel that we're so disconnected with our planet, which is sad. We're not one with Nature like we were eons ago. So it's fun to put my hands in the dirt."
She pauses to reflect on her last comment, realizing that she sounded a lot like Pip.
"I started thinking early on [during rehearsals for How to Transcend a Happy Marriage] that she's the type of woman I'd love to be: empowered, ethical and responsible when it comes to animals and products."
But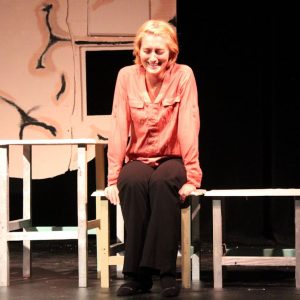 the luxury of leisure has all but worn off.
"The restlessness has kicked in – which everyone's got to be feeling. I don't want to get too caught up in negative 'what ifs' because anxiety will run wild."
She pauses to consider our current state of affairs.
"Anxiety is the misapplication of creative energy," she says pensively. "So I'm trying to be very intentional with how I spend my time – doing anything that's going to engage my brain and allow me to focus on the now."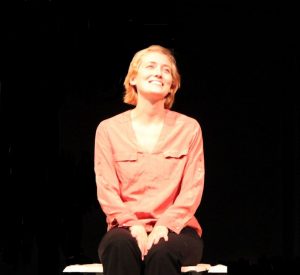 She has tuned in to a couple of episodes of Rachael Burttram and Brendan Powers' Tiny Theatre virtual readings of scenes, monologues and short plays. She's caught several other virtual offerings so that she can stay in touch with her family and friends in the theater community. But one activity she assiduously eschews is watching television.
Not just because of the news.
"Watching mindless TV is not my thing because it doesn't allow me to channel my energy."
So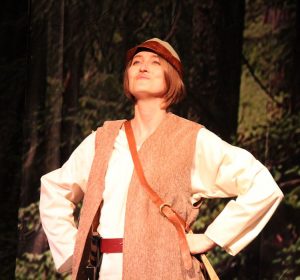 she's staying positive as she passes the time and endures her nightly isolation. So when it is time to resume performing, she'll be ready and rearing to go. After all, she may be a theater neophyte, but Nova Rae knows she's on upward trajectory. She's not about to let a little thing like a global pandemic derail a promising future in community theater.
April 21, 2020.