Angela Watson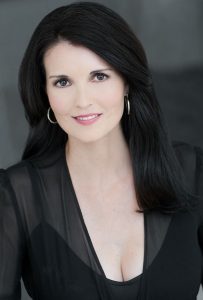 Angela Watson is a singer and film, television and stage actor.
She was born a farmer's daughter in a little town of 500 people outside of Danville, Illinois. Her parents retired and moved to Southwest Florida when Angela was just ten years old. Her performing career began with tap dancing at the age of three and continued into her pre-teens, with her amassing more than 200 trophies and 60 crowns competing in numerous beauty and talent pageants.
Her pageant success led to modeling in New York and Dallas, until she was discovered by a manager who advised her parents to take her to Los Angeles and give her a shot at television and film work.
Her first national
commercial was for McDonald's, followed by Doritos, IBM and GE. Within her first year in California, Angela was cast in a recurring role on ABC's Davis Rules with Jonathan Winters and Randy Quaid. The following year, Angela was handpicked to costar in the 90's TGIF sitcom Step by Step (currently streaming on Hulu) playing Suzanne Somers and Patrick Duffy's very vain and seemingly shallow, though good-hearted, teenage daughter Karen Foster. Angela played the role for seven seasons, achieving the distinction of being the only cast member to earn an offer for a studio hold deal to develop her own television series.
After working nonstop in back-to-back TV shows and other productions,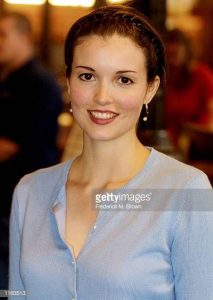 Angela decided to take time off for college. She was also constrained to deal with some serious legal business after discovering that her parents had defrauded her out of over $2.8 million of her child actor earnings. She not only won reimbursement of her money and property in the courts. She became a Screen Actors Guild leader, not only working to put laws in place to protect child actors, but establishing the CAST Foundation (Child Actors Supporting Themselves) that provides free accountants, investigators and attorneys to young performers and athletes who have been victimized.
Watson is the national spokesperson for HugsAmerica Charity Events, which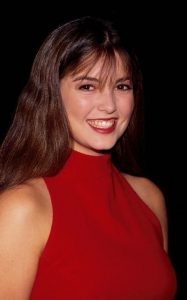 offers assistance ranging from child abuse and domestic violence victims to abandoned or endangered animals, and providing wheelchair accessible vans for families caring for the disabled and the elderly.
Her stage credits include The Dining Room for The Players Circle. Her film credits include Milly in Final Approach (video, 2005) and Mom in Cowboys and Indians (short film, 2007).
January 26, 2020.