Imani Lee Williams sparkles as Jo in 'Legend of Georgia McBride'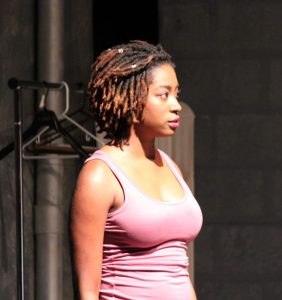 On stage now through June 30 at the Laboratory Theater of Florida is the Southwest Florida premiere of Matthew Lopez's The Legend of Georgia McBride. Imani Lee Williams sparkles in the role of Jo, the down-to-earth but blissfully naïve bride of a guy named Casey, who's unsuccessfully trying to eke out a living as an Elvis impersonator in a Panhandle dive until he's replaced by a drag act on the very night he learns that he and Jo are going to have a baby.
Williams finds herself on the periphery in both the plot and her husband's ensuing metamorphosis from King to drag queen.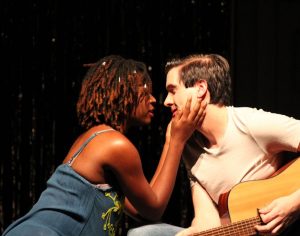 But she makes the most of each of her appearances on stage. And she was at her absolute best during the scene in which she drops by the bar and catches Casey backstage in wig, dress and heels preparing to go on. Somehow, from some place deep within (and no doubt thanks in large part to Brett Marston's inspired direction) , she conjures for herself and the audience that quintessential reaction we've all experienced when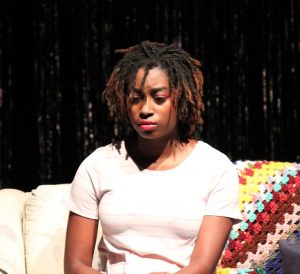 confronted by the undeniable duplicity, treachery or betrayal of that person we trust most in life, be it a spouse, lover or best friend. It matters not that Casey hasn't technically been unfaithful. Worse, he's kept her in the dark about such an integral part of his life and identity. The fact that it's drag is just a complicating factor.
New to the stage here in Southwest Florida, Imani Lee Williams has a promising future in our local theater scene.
June 7, 2019.