Jim Yarnes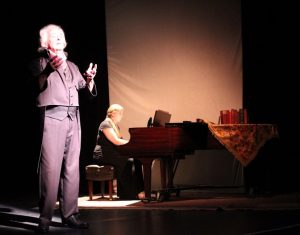 Like Johnny Depp in the genre of film, local actor Jim Yarnes has built a reputation for playing off-kilter and larger-than-life characters. Among his acting credits are the world's second greatest classical composer, Ludwig van Beethoven, in Moises Kaufman's 33 Variations and Pinchwife (an abusively possessive husband who locks his young bride in a room rather than risk her seduction by a London rascal) in The Country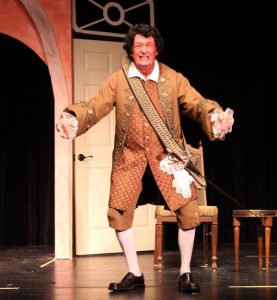 Wife.
In The Book of Liz, he played two characters, the first being an arrogant and misogynistic reverend by the name of Tollhouse and the second as a charming gay restaurant manager by the name of Duncan Trask. (Here's Art Southwest Florida's review of Yarnes' performances in these role.) Prior to that, he was in Theatre Conspiracy's production of Jennifer Haley's sci-fi crime thriller The Nether, where he played a man named Sims who creates a nostalgic, pseudo-Victorian internet haven called The Hideaway where paying guests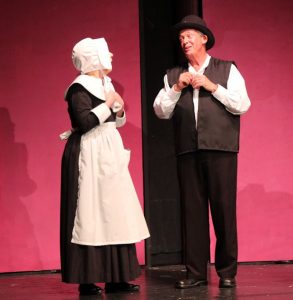 come to have sex with, murder and dismember the exquisite, eerily identical virtual children who live and play there. He also played Sims' avatar in The Hideaway, the genial but paternalistic host named Papa, who keeps the virtual children in line and ensures that guests indulge their darkest fantasies.
Other favorite shows include the role of Etienne in Vampire Lesbians of Sodom, Phil in Rich Orloff's Engagement Rules (Theatre Conspiracy at the Alliance), August Wilson's Joe Turner's Come and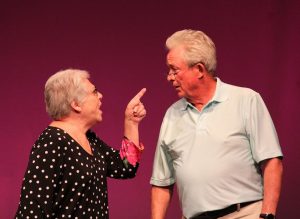 Gone (Theatre Conspiracy at the Alliance), Tim Firth's Calendar Girls (for Lab Theater), Pirates of Penzance, Music Man, Jesus Christ Superstar, Fiddler on the Roof, Evita, Phantom, Barefoot in the Park, Swell Party and A Position of Relative Importance. Jim has also done staged readings at Lab Theater.
Yarnes is enjoying his 42nd year on stage. He started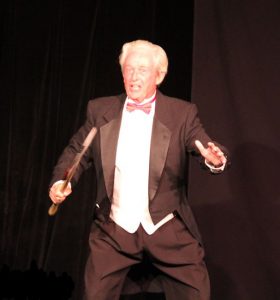 with Gulf Coast Opera Company before going on to perform at the Broadway Palm Dinner Theater, Cultural Park Theater, Lab Theater and Theatre Conspiracy. He next appears in the role of Tony Reilly in Outside Mullingar for Theatre Conspiracy at the Alliance for the Arts.
February 17, 2019; revised December 13, 2021.
RELATED POSTS.