Photographer Christer Berg returns to Camera USA with 'Knockout Punch'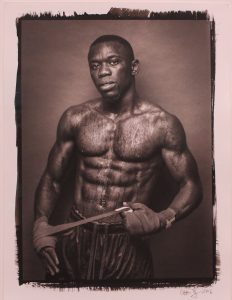 Among the photographers juried into the 2019 Camera USA National Photography Exhibition on view through July 5 in the ground floor galleries of the Naples Art Association is last year's National Photography Award winner Christer Berg. He followed last year's winning image of boxer Dewayne Beamon with a photo of Beamon throwing a knock-out punch.
Berg is a professional commercial, editorial, and fine art photographer and educator. He has gained a national reputation for telling people's stories through portraiture. He began this quest with a series of environmental portraits of individuals ranging from ballerinas to business people that he compiled in an exhibit called "People with Purpose."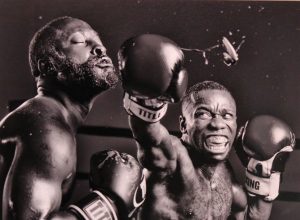 More recently, he traveled around The Triangle in Raleigh, Durham and Chapel Hill with one camera, one lens and one backdrop to document everyday people just as they are.
"I drive around various neighborhoods in Raleigh and see what I find," Berg explains. "Nothing is pre-arranged; nothing is scheduled or organized. They don't know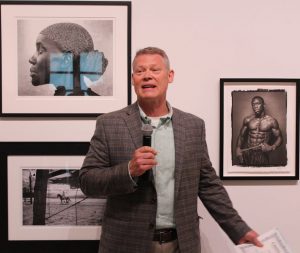 I'm coming. I'm not sure who or what I'm going to find."
When he finds and obtains the cooperation of a willing subject, he takes but five minutes to set up and five more minutes to shoot the image. And then he's on his way again.
"The photograph of Dewayne Beamon was shot in his gym a few minutes after he'd completed a hard work-out." Not only did Beamon not know Berg was coming, he had no idea who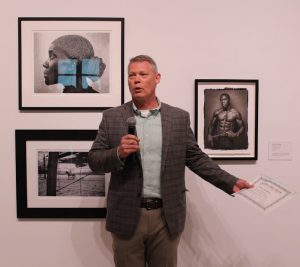 he was.
"We'd never met before," Berg confirms.
The boxer is super flyweight based in Goldsboro. At present, the North Carolina pugilist has a record of 16-1-1. The 33- year-old is a three-year professional with big wins over Rudolph Hedge (10-2), former world title challenger William Gonzalez (30-6) and Jose Alfredo Rodriguez (32-5). In fact, 11 of his wins have been by knockout.
The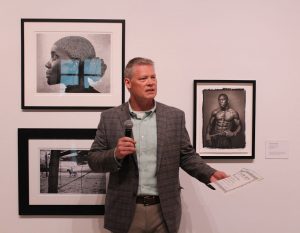 Knockout Punch is also of Beamon "at the peak of his performance – throwing a knockout punch," Berg says of this year's photograph. "My passion is to photograph people and trying to capture their personality in one single photograph. The Knockout Punch is what I would call a 'non-traditional' portrait.'"
The photos of Beamon are two of 40 featured in The Fabric of Raleigh,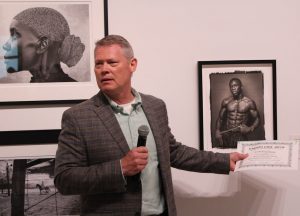 The Fabric of Durham, a professionally-designed hardcover book with a reversible cover (a so-called tête-bêche format) published by Horse & Buggy Press in 2017. Accompanying the portraits are behind-the-scenes photos, as well as many essays, stories and quotes.
"It's very gratifying to have a photograph that's part of a larger series get recognition in its own right like this,"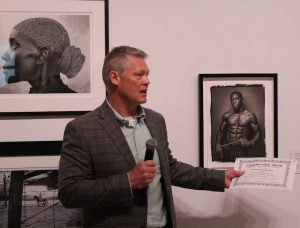 Berg adds.
In addition to the National Photography Award, Dewayne Beamon, boxer has also received First Premium in the Professional Photography category at the 2017 North Carolina State Fair, Best of Show at the 2017 Professional Photographers of North Carolina Photo Expo (one of the nation's largest associations of professional photographers) and third place at the 2017 Kingston Arts Festival.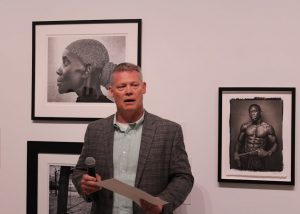 Other work by Berg has won awards as well, including multiple First Premiums at the North Carolina State Fair and several First Place awards from the Professional Photographers of North Carolina. He has also received two American Advertising (ADDY) Gold Awards and won awards in a number of states across the country, including in Colorado, Kansas, Massachusetts, New York, and Washington State.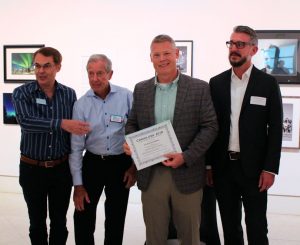 In addition to leading his own studio lighting and portraiture workshops, Christer is also a frequently engaged as a photography lecturer, judge, and critic. Christer's personal photography can be found at cb-photography.pro, and some of his commercial and corporate work at portraitswithpurpose.us.
If you haven't seen the show yet, you better hurry. Camera USA 2019 is on view only through July 5.
July 1, 2019.