How legendary Miss Tracy became an iconic work of art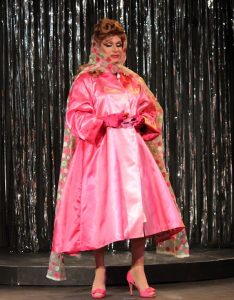 Clayton Brown portrays Miss Tracy Mills in Lab Theater's production of The Legend of Georgia McBride. Miss Tracy is an aging drag queen who comes to a shabby, rundown bar in the Florida Panhandle to help his cousin Eddie save his failing club. Following his arrival, he meets, recruits and mentors a former Elvis impersonator, converting him into a local country drag sensation by the stage name of George McBride.
While Brown regularly performed in musicals when he was younger, his activities as a thriving muralist and make-up artist for Chanel has kept him off the boards for way too long. The Legend of Georgia McBride represents his first production in more than a decade! And he's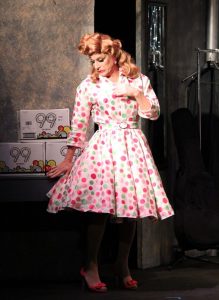 re-entered the local theater scene like a fist in a sequined glove! For the show, Brown not only lip synchs a series of drag numbers, he chose – in tandem with Director Brett Marston – the songs his character performs and made each of the 16 costumes she wears over the course of the two hour and fifteen minute show.
Clay recently took time out of his day to talk about the show, the music and the costumes. From a comfortable armchair at a local Panera Bread, the following is what he shared about the show, his character and the outfits she wears:
How He Came to Be Cast as Miss Tracy Mills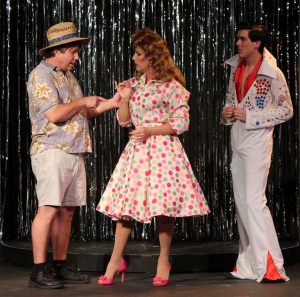 I received an email from a friend (Pat Ashton) that I'd done a lot of musical theater with in years gone by. In it, he told me that a friend of his by the name of Brett Marston was doing a show at Lab Theater that I'd be perfect for. I'd been approached by Lab Theater a couple of times, so I knew about them although I'd never been to a performance there. When I told Pat I might be interested, he recommended me for the parts of both Casey and Miss Tracy. But when Brett contacted me, he said he really preferred me for the Tracy role. He was
so charming and enthusiastic that he sold me on playing the part.
[Ed.: Clay also trusted his friend, Pat, implicitly and knew he'd never recommend Marston if he wasn't on top of his game. It also helped that Brett was both an actor and a director and could see things from the actor's perspective.]
What He Thought When He First Read the Script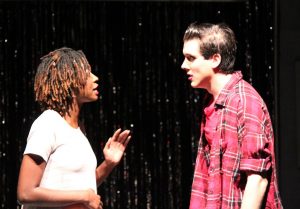 I remember thinking that the show is so whack-a-doodle that I loved it. But that was quickly replaced by my concern about all the costume changes Miss Tracy has to do.
[Ed.: There are 16 in all, six in Act One and a whopping ten in Act Two.]
The changes involve not just the dress she's wearing, but her wig, jewelry,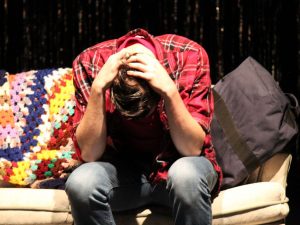 shoes, lipstick and even some of her make-up.
[Ed.: But the one that concerned him most happens toward the end of Act Two when Casey comes to Bobby for advice after his fight with his wife, Jo. The scene takes place in Bobby's apartment and contemplates that he's out of his make-up, wearing a bathrobe, pajama bottoms and slippers as he's getting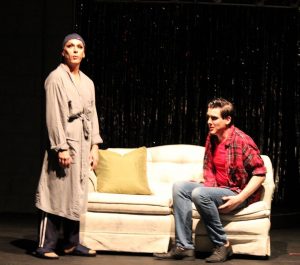 ready to go to bed. But in the very next scene, Miss Tracy is back in full make-up, wearing a flesh colored leotard, black patent leather caged corset and other accessories.]
I told Brett that it simply wouldn't be possible to take off my make-up and put it back on for the ensuing scene. Drag make-up is too extensive [to allow for that]. It's so much more than lipstick and foundation. It involves contouring and highlighting. You're blocking out the eyebrows, adding contact lenses,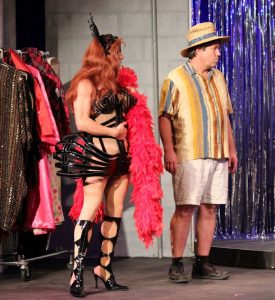 eyelashes, fingernails. You can't just remove all that for one scene and add it all back for the next one.
[Ed.: In fact, it takes Clay two full hours to get into make-up before each show, and you'll see why under the section "Body by Brown."]
Brett was wonderful. He told me that he'd find a way to give me the time I'd need for each of the costume changes required by the script.
[Ed.: Still, some of those changes had to be completed in under a minute, with one taking place in just 35 seconds!]
Script Gives Director Discretion to Choose Music and Costumes.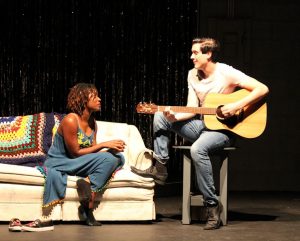 "The playwright [Matthew Lopez] gives the director of each production the latitude to choose the music that Miss Tracy and Georgia Brown perform during the show," notes Director Brett Marston. "That said, the script does specify the Padam Padam number and the guitar song that Casey plays for his wife, Jo, at the beginning of the play. But other than that, I was free to choose the music and costumes."
Marston, in Turn, Delegated Creative Control to Brown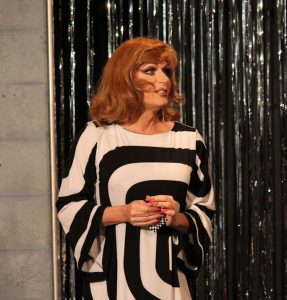 [Ed.: Given Clay's background in drag, musical theater and as a long-standing make-up artist for Chanel], Marston was comfortable with giving Clay free rein to choose the music he'd perform as Miss Tracy and the costumes she'd wear. Having a hand in these choices was important to Brown for a variety of reasons.]
The script says that Miss Tracy is a seasoned drag queen with an age range of late 30s to 60. I'm not a young man any more so I can't dance the way that I once used to, with back flips and splits. There are certain songs that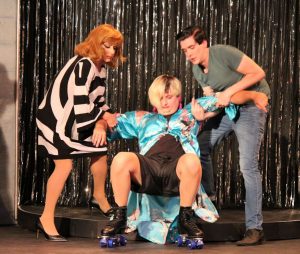 are no longer age appropriate for me, such as Beyonce. My days of twerking are long over.
On top of that, it was important to not only choose the type of music that appeals to me, but to the age and type of people who are likely to come see the show. It was important to me to choose music that appeals to them.
And as an artist [Clay paints abstract murals for clients on a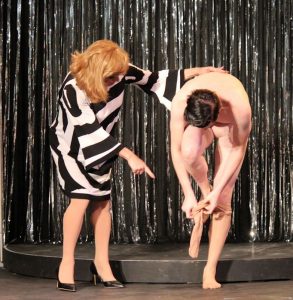 commissioned basis] and unabashed perfectionist, I also wanted control over the costumes. As soon as Brett and I agreed that I would do the part, I began conceptualizing and making the costumes. I started by taking the script and marking everywhere I was going to need a costume change, paying attention to what I would have to do in the costume (such as dancing) and how much room I had on stage to move around in.
Because the script contemplates a passage of time from one scene to the next, it's necessary for Miss Tracy to look markedly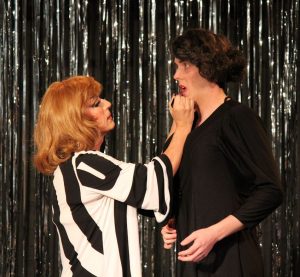 different each time the audience sees her. So I had to figure out what would best depict Miss Tracy at that stage in the storyline, how quickly I can get into and out of the outfit, and thirdly, how will it look from the audience and in the spotlight.
In order to balance out all these competing concerns and considerations, I ended up making 65 percent of Miss Tracy's costumes from scratch, with the remainder being dresses I purchased and altered to fit Miss Tracy's body. It took two full months.
Body by Brown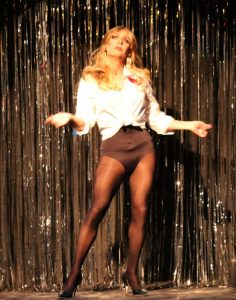 I had to drop 10 pounds for the part. My arms needed to be leaner, and that necessitated me changing my work-out to not only lose the weight, but tone arms and legs. Being as picky as I am, I wanted to make her look as feminine as I could without having her appear anorexic.
But beyond that, to create Miss Tracy's body, I have to wear this heavy quilted dance belt because I can't have anything protruding. In addition, I'm wearing what's essentially a girdle and foam rubber hips that are much more extensive than the ones that Casey wears. Then I put three pairs of tights on to smooth everything out so that it looks like a smooth, seamless body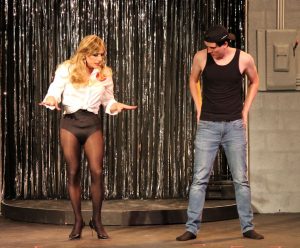 under each of the outfits I wear. Then hose go over that and a steel boned corset. I didn't realize there was a difference, so I had to get a whole education on steel boned corsets – how to put them on, how to take them off, which is the best for your body shape. And, of course, there's more foam for Miss Tracy's breasts and a bra that goes over them.
[Ed.: None of that breathes, so it's stifling hot inside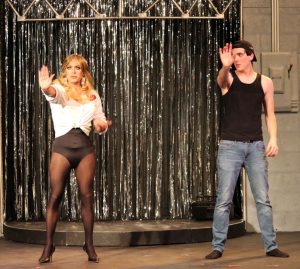 of Miss Tracy's body.]
Drag queens do all of their make-up for the spotlight. As we get older, we start losing the fat in our face – under the eyes, in our cheeks. As a result, you'll look really gaunt under stage lights. Overhead lights are the least flattering. It's worse than sunlight because it creates hallows and accentuates the cleft in the chin. Everything that's male is going to pop out. So Miss Tracy's make-up is geared to the spotlights. It's the same as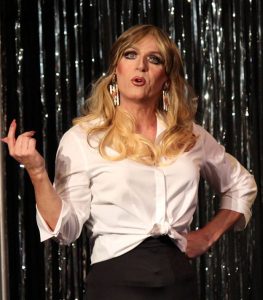 doing make-up for TV news anchors. But, at the same time, it permits contouring to make the face more feminine – to create the illusion that the face is more feminine.
Each costume also presupposed a different wig. I actually had to watch YouTube videos to learn how to style or roll some of the wigs that Miss Tracy wears, such as the one that complements the vintage '50s swing dress and jacket that Miss Tracy wears in her very first scene.
Miss Tracy's nails were especially challenging. To keep them from flying off mid-scene, I had to superglue them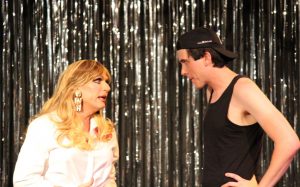 onto my own nails. As a result, it wasn't possible to change nails or nail color between scenes, to I needed a nail color that wouldn't clash with the different outfits I was putting Miss Tracy in – a neutral color that goes with everything but still looked classy and elegant.
The shoe hunt was one of the biggest challenges because even though
I'm a short guy, stores don't carry shoes in the size I needed. And any old shoe wouldn't do. The shoes had to match the outfit and the jewelry had to match the shoes. And is it a day shoe or is this an evening gown shoe? And is it a shoe I'm going to be able to move in. And there's a difference between shoes you stand around and look pretty in and shoes in which you can dance. In one performance I broke a strap on a shoe and had to stay out there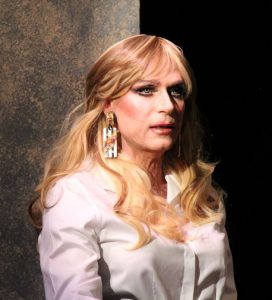 with an evening shoe that wasn't intended for dancing because the heel was higher and thinner, and there I am on the balls of my feet dancing and hoping I didn't fall flat on my face. Luckily, it went smoothly and I had enough time between shows to find a replacement.
Even the jewelry presented a number of challenges. For example, I had to glue on the earring backs to ensure that the earrings wouldn't pop off as I'm twirling around. But that, in turn, limited the types of earrings I could substitute from one outfit to the next. The glued-on nails limited the outfits and jewelry I chose as well.
Comfort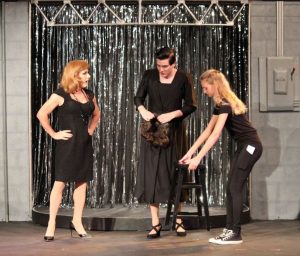 Notice that the word comfort comes up nowhere in this discussion.
[Ed.: Truth be told, if Lab Theater did not have an excellent air-conditioning system and state-of-the-art sound and lighting systems, it wouldn't have been possible for me to do this show. However, thanks to grants that The Lab has received from the City of Fort Myers and donations received from multiple benefactors, the theater company is now in position to do many tech-heavy shows (like Wings and Hedwig and the Angry Inch) that it simply could not have produced just a handful of years ago.]
A Peek in the Looking Glass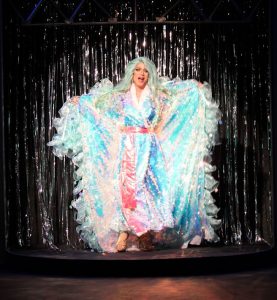 Because of how much time, effort and inconvenience is associated with converting my body into Miss Tracy's body, the only outfit that I tried on and took a look at in a full-length mirror is the Bob Mackie dress I wear at the beginning of Act Two. Damn, I said when I saw myself. Not too shabby. Not too shabby at all!
The Outfits
[Ed.: Follow these links to read about each of the outfits that Clay Brown made for each of Miss Tracy's appearances in The Legend of Georgia McBride: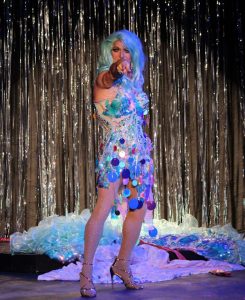 [Ed.: Clay refuses to pick the outfit he likes most, but clearly each is a work of art. But the one that's perhaps the most interesting from a creative perspective is the Bob Mackie dress because for that one, Brown didn't even use a pattern. That dress comes exclusively from his creative mind.]
Conclusion
As you read through this interview and each of the stories about the outfits Clay made, what emerges is the inescapable observation that no matter how many times The Legend of Georgia McBride may be
performing in the coming years or even decades, there will never be a production like Lab Theater's because of the creative influence that Clay Brown exercises in song and costume choice and the partnership he fashioned with Director Brett Marston and fellow costume designer Kristen Wilson.
If you didn't see The Legend of Georgia McBride, it sucks to be you because you missed a rare, once-in-a-lifetime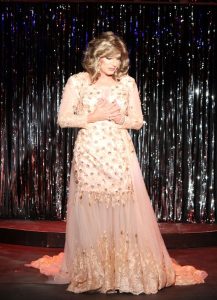 production that will never be reproduced. And if you were wise and lucky enough to see the show, congratulations – and now you'll appreciate what Marston and company were able to achieve. And so The Legend will grow.
June 29, 2019.
RELATED POSTS.