Outfit No. 2 – more than just a simple cocktail dress
Backstory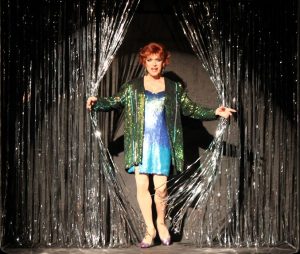 The next time you see Miss Tracy, she's being introduced to do the "I Say a Little Prayer" number. Written by Burt Bacharach and Hal David for Dionne Warwick, the song made it all the way to number 4 on the U.S. Billboard Hot 100 pop singles chart in December of 1967. But the version recorded by Aretha Franklin a year later is better known today. It not only became Franklin's biggest U.K. hit, it was chosen in 1987 by New Musical Express as No. 1 on its critics' list of top 150 singles of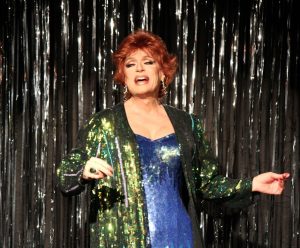 all time.
Although known as the Queen of Soul, she's also regarded as the Queen of Queens within the drag community. You'd be hard pressed to find a drag queen who doesn't have an Aretha Franklin song in her repertoire. Aretha Franklin's "R-E-S-P-E-C-T" and "Think" are drag lip-synch staples. "It's difficult not to feel every emotion when listening to her music, which is why it makes for a perfect drag lip-sync,"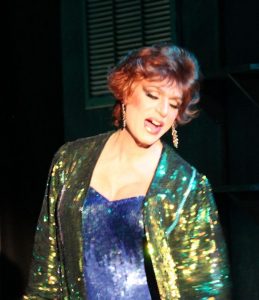 says Peppermint, who stars on Broadway in Head Over Heels.
The inclusion of "I Say a Little Prayer" in The Legend of Georgia McBride has special resonance with Franklin's passing last year. "She was a symbol of hope and strength to the female liberation and gay community at large, and the black LGBTQI community particularly: she was and always will be our queen," remarked London-based drag artist Son of a Tutu following her death last August 16.
The Outfit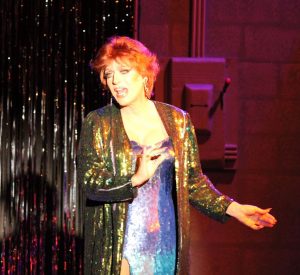 "Every time the audience sees [Miss Tracy], I wanted her to look different," points out Clay Brown, who not only plays the role but made each of the 16 costumes in which you see her over the course of the show. "So now she's in a different wig, a different outfit and with a different look.
The outfit needed to be a departure from the 50s swing outfit, so Clay made it more contemporary. "But it also had to be something I could move in because I'm moving around the stage in 4 inch heels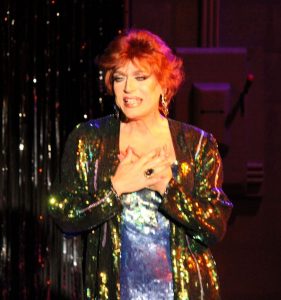 during this number."
Brown knew the color palette he wanted, which included shorter hair that was redder than the strawberry blond color he picked for the vintage '50s swing dress outfit.
How He Made It
The "I Say a Little Prayer" dress is yet another that Clay made from scratch for the show. He found a simple cocktail dress pattern, and already had the measurements for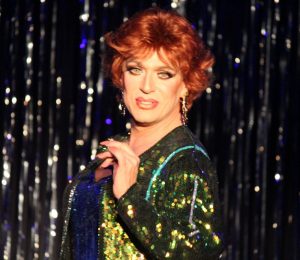 Miss Tracy's body, which included all the cinching, padding and alterations he was constrained to engraft on his own physique. But the pattern, of course, was cut for a woman's body and Clay had to make substantial modifications in his effort to make his physique look more feminine.
"For example, Tracy has a thinner waist than I do and all that padding. Plus, girls' waists are higher than men's waists. The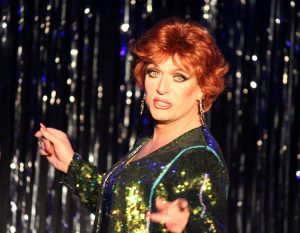 latter span hipbone to hipbone whereas girls' waists are closer to the ribcage."
And then there's the difference between men's and women's backs. "Men's backs are broader and while I could slim mine down by dropping some weight, I couldn't make it disappear completely," Clay amplifies. "So I had to get a bigger pattern to accommodate my lats and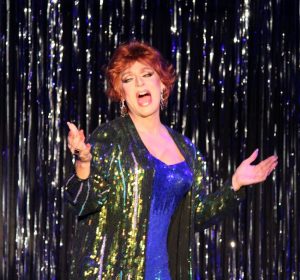 then take it in in the waist to make it thinner."
And after he'd modified pattern and cut the material, he still had to sew the component pieces together to assemble the garment you see him wear on stage.
Luckily, he found the sequined jacket that he wore over it. Of course, it contained shoulder pads, which he immediately removed as he had more than enough shoulders for the look he was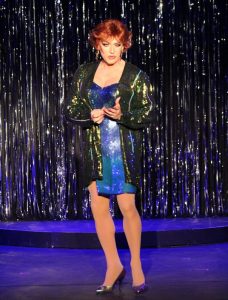 trying to create.
"The jacket tied in nicely because the bodice is fish-scale colored," Clay explains. "It has this shimmery copper quality that shifts into turquoise and then violet that ties in with the dress."
But one final modification was necessary.
"I added a slit in the dress because I had to be able to move and the pattern was too constrictive as just a cocktail dress." Miss Tracy doesn't just stand in one place, she moves about the stage during the song.
"I used this industrial strength tape from Home Depot that they use to put up light fixtures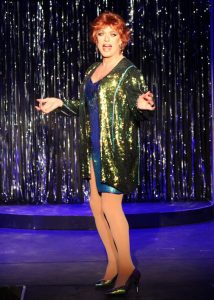 and that's what holds the jacket to the dress during spins and my other onstage movements."
So in the world of drag, there's nothing simple about the simple cocktail dress that Miss Tracy dons to lip-sync "I Sing a Little Prayer" in The Legend of Georgia McBride.
June 23, 2019.
RELATED POSTS.