As Georgia McBride's Casey, Steven Michael Kennedy pursues dragdition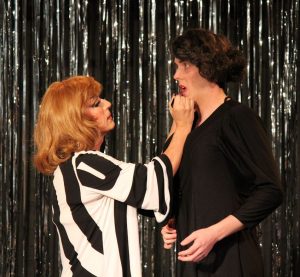 Opening June 7 at Laboratory Theater in the River District is The Legend of Georgia McBride. And reprising the legendary role of Casey will be Steven Michael Kennedy.
Casey is a 20-something Elvis impersonator who's been playing The King for a near empty bar on weekends. When he finds out his wife is pregnant and his act is being replaced by a drag queen duo, Casey decides to stay on as a bartender so he's not out of work. But he suddenly finds himself on stage again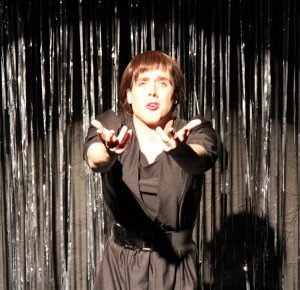 when one of the queens can't perform and Georgia McBride rises like a phoenix from the ashes of Casey's failed career.
To play the role, Kennedy has been constrained to embrace tradition like few other Lab Theater actors.
First, he's following in the dainty footsteps of hot Hand to God vixen Shelley Sanders, who picked up a guitar (and rocked all the way to the top) in order to portray songstress Bitsy Mae Harling in Lab's 2017 production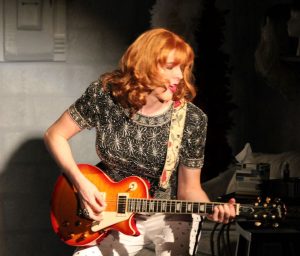 of Del Shores Sordid Lives. Like Sanders, Kennedy's had to learn to finger the guitar in order to play the-King-turned-queen in Georgia McBride. ("A special thanks to Jonathan [Johnson] for not letting me sound like a fool on guitar.")
Secondly and more to the point, Kennedy now joins an esteemed and eclectic cast of actors who've played women on the Lab boards, such as Randall Kenneth Jones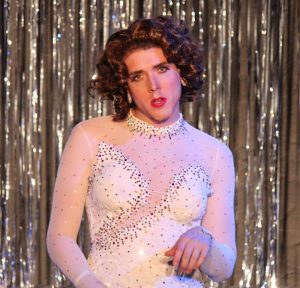 (who played Baby Jane Hudson in Whatever Happened to Baby Jane: A Parody of the Horror and femme fatale Cousin Miriam in Hush Up Sweet Charlotte), Rob Green (he was Queen of the Hollywood Melodrama Blanche Hudson in Whatever Happened to Baby Jane: A Parody of the Horror), Patrick Erhardt (he was Mrs. Bates in the Baby Jane parody), Brian Linthicum (who took on the role of Charlotte Hollis in the drag-tastic parody of the Bette Davis-Olivia de Havilland film Hush, Hush Sweet Charlotte)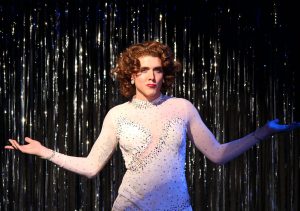 and, last but by no means least, the groundbreaking, earthshaking PJ McCready in last season's seismic smash Hedwig and the Angry Inch.
But there's more than mere local tradition in playing drag on the Lab stage. As long as there's been theater, there's been drag.
We're talking ancient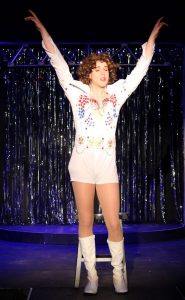 Greece and Shakespeare, Kabuki and opera, to be sure. But the term itself traces back to the Victorian era, when the long and heavy skirts worn by men playing female roles literally dragged along the stage. So it's no surprise that present-day theater has embraced drag and other gender-bending roles and shows like no period before, with women and trans getting in on the act to boot like Drag Racing RuPaul, drag king Murray Hill, Lea DeLaria (who's played men in both The Rocky Horror Show and Lil' Abner) and the divine Harris Glenn Miller.
Today, drag-tastic shows like Hairspray, Chicago (Mary Sunshine is traditionally played by a man in drag), Ruthless, Matilda, Kinky Boots (which will be produced this season by Broadway Palm Dinner Theatre), Rent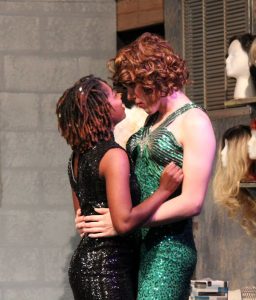 (which features an outrageously flamboyant drag queen percussionist living with AIDS by the name of Angel Schunard), Victor/Victoria, La Cage Aux Folles (performed last season by New Phoenix Theatre) and, of course, Peter Pan are among some of theater's most popular shows.
The Legend of Georgia McBride promises to carry on this tradition, as does Steven Michael Kennedy.
Kennedy's previous credits include 35mm: A Musical Exhibition, Larry in Burn This and the titular role in Pippin.
June 6, 2019.