Imani Lee Williams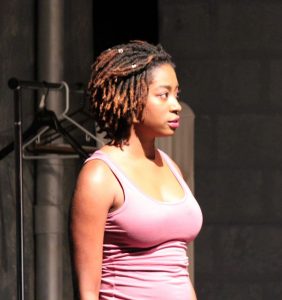 On stage now through June 30 at the Laboratory Theater of Florida is the Southwest Florida premiere of Matthew Lopez's The Legend of Georgia McBride. Imani Lee Williams sparkles in the role of Jo, the down-to-earth but blissfully naïve bride of a guy named Casey, who's unsuccessfully trying to eke out a living as an Elvis impersonator in a Panhandle dive until he's replaced by a drag act on the very night he learns that he and Jo are going to have a baby.
Williams finds herself on the periphery in both the plot and her husband's ensuing metamorphosis from King to drag queen. But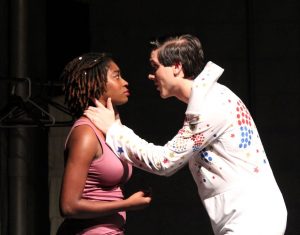 she makes the most of each of her appearance on stage. And she was at her absolute best during the scene in which she drops by the bar and catches Casey backstage in wig, dress and heels preparing to go on. Somehow, from some place deep within (and no doubt thanks in large part to Brett Marston's inspired direction) , she conjures for herself and the audience that quintessential reaction we've all experienced when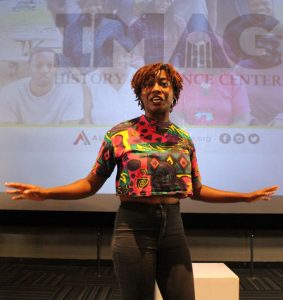 confronted by the undeniable duplicity, treachery or betrayal of that person we trust most in life, be it a spouse, lover or best friend. It matters not that Casey hasn't technically been unfaithful. Worse, he's kept her in the dark about such an integral part of his life and identity. The fact that it's drag is just a complicating factor.
Raised in Atlanta, Georgia, Imani Lee began her career as a member of Youth Ensemble of Atlanta (YE.A). She received classical training while attending DeKalb School of the Arts. She has ten years of improvisational experience with the most recent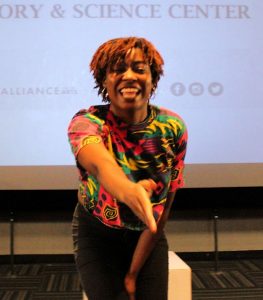 being her membership in Florida State University's No Bears Allowed. She further demonstrated her talent during a performance of My Angry Vagina in the Vagina Monologues. And just last year, she played Penny Pennywise in TheatreZone's production of Urinetown.
A consummate professional ever looking for opportunities to improve her already-formidable acting skills, Imani Lee was a member of the Alliance for the Arts' inaugural CHANGE project, a 9-week acting course that culminated last August in a production of George Wolfe's edgy The Colored Museum where she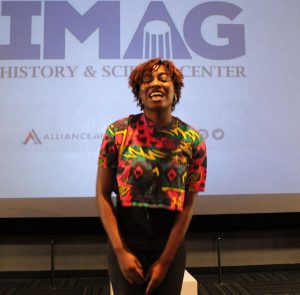 brilliantly performed the closing monologue. In the role of fun-loving Topsy Washington, she poignantly encapsulated the raw emotion and generational angst associated with trying to jettison the millstone of slavery and fit into white American society and culture.
"Participating in CHANGE taught me about finding the love in every scene [and] helped me to be more invested, as well as finding the fight," said Imani Lee at the time. "I have turned from acting to living through the scene."
It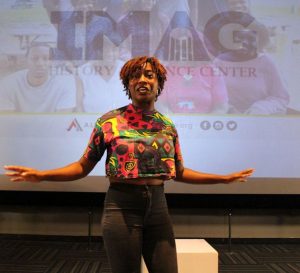 showed in her portrayal of Jo in Georgia McBride.
Having graduated last fall with a Bachelor's degree in Communications, she's now seeking to make a name for herself within the Southwest Florida theater community. She's a very welcome addition.
June 7, 2019.