Outfit No. 9 – the silver fox
Backstory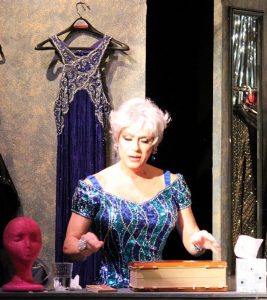 In The Legend of Georgia McBride, a mediocre Elvis impersonator gets conscripted into the world of drag after he loses his job and one of his replacements gets drunk and is unable to perform. Although drag is the last thing Casey (played by Steven Michael Kennedy) ever contemplated, he loves the adrenaline rush of performing and the adulation of the crowd. As the crowds grow, so does his applause addiction. But he's conflicted. A downhome, country boy, he feels like a fag – but he can't quit his drag persona, Miss Georgia McBride. And so he conceals what he's doing from his very pregnant young bride, telling her all the money he's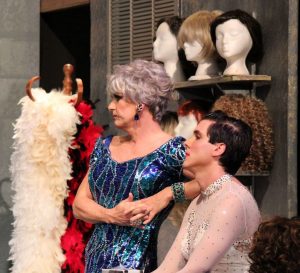 making as a drag queen are tips he's earning tending bar at the club. But then his wife (portrayed by Imani Williams) drops by to surprise him, but she's the one who's surprised when she catches him coming out of the bathroom in full costume! His mentor, Miss Tracy Mills, is on hand when it happens. She'd been telling him for some time to level with his wife, but he couldn't bring himself to do it. Now, in matronly guise, she tells the two of them that they have quite a lot to talk about, and do they ever!
The Outfit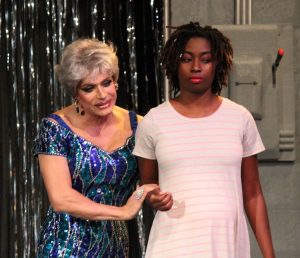 "I'm in this sequined cobalt dress with a silver wig," relates Clayton Brown, who not only plays Miss Tracy, but created her costumes as well.
A drag queen's look isn't complete without a killer wig. Whether she is performing in front of a huge theater audience or vogueing in a crowded underground basement club, the dramatic wigs make the looks that inspire us all to stop, stare, and smile for all the right reasons.
"Wigs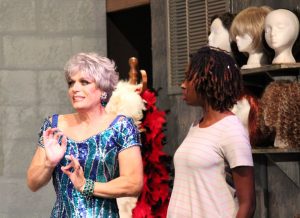 are a big piece to the puzzle when it comes to creating a female illusion," Orlando-based drag queen Cara Cavalli told Elle Magazine's Jacqueline Laurean Yates in a 2018 interview. "Just as hair is always an integral part to a woman's beauty regimen, wigs are just as important to a queen. When planning a look, an immediate question we ask ourselves is 'Okay, but what hair will I wear with this outfit?' It's part of the process."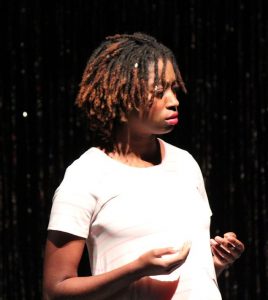 "I was curious to see what she'd look like in silver hair," Clay remarks about Miss Tracy's short, sassy silver fox hair. "It's short and fuller, and of all the outfits, it's probably the most age appropriate. "
June 25, 2019.
RELATED POSTS.