Outfit No. 4: the LBD
Backstory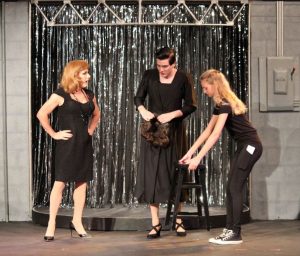 It all started when Coco Chanel introduced the little black dress in the 1920s. A the time, black was regarded as appropriate only for mourning. But Chanel changed that. Inspired by the utilitarian uniforms of everyday maids, nuns and shop girls, Chanel persuaded Vogue to publish a simple sketching of her black "Ford" dress in crêpe de Chine with long narrow sleeves and a string of pearls. From that moment on, the little black dress, or LBD, became known as a simple and accessible option for women of all classes.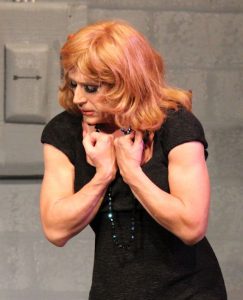 There's perhaps no better example of this than Audrey Hepburn in the 1961 cult classic Breakfast at Tiffany's, particularly the memorable opening scene in which Audrey appears in a black dress munching on a croissant and sipping on tea as she gracefully peers into a Tiffany and Co. storefront. And today, the LBD is to a woman's wardrobe what the mimosa is to Sunday brunch. Timeless, elegant and refined, the little black dress is quite simply a woman's best friend.
Of course, Clay Brown well knows the history of the LBD as a long-time make-up artist for Chanel. And in The Legend of Georgia McBride, the LBD is his costume change BFF since, beginning with the Marlo Thomas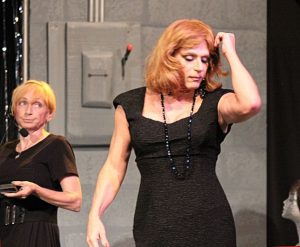 homage he wears in the previous scene, the ensuing costume changes are some of the quickest in the show – ranging between 35 and 50 seconds flat!
The Dress
The black-and-white dress went into a black dress that also required a wig and shoe change and different jewelry. What's remarkable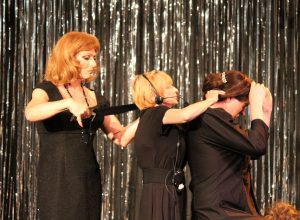 here is not necessarily the garment, but Clay's arms. To make his arms appear more feminine, he had to change his work-out at the gym and shed ten pounds. The results speak for themselves.
June 23, 2019.
RELATED POSTS.