Outfit No. 12 – what Lola wants is a caged Queen of Drag
Backstory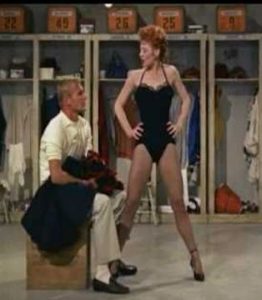 For Miss Tracy Mills' third drag number in The Legend of Georgia McBride, actor and costumer Clayton Brown chose the song "Whatever Lola Wants." Sometimes rendered as "Whatever Lola Wants, Lola Gets," the music and words were written by Richard Adler and Jerry Ross for the 1955 musical play Damn Yankees. The song is sung by Lola, the Devil's assistant, a part originated by Gwen Verdon (first photo), who reprised the role in the film. The saying was inspired by Lola Montez (2nd photo), an Irish-born "Spanish dancer" and mistress of King Ludwig I of Bavaria, who later became a San Francisco Gold Rush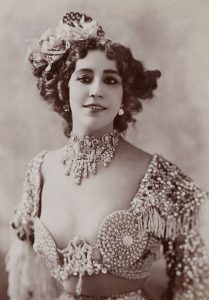 vamp.
But Miss Tracy doesn't sing the song. Instead, a revamped version of the song is playing in the background when Casey comes into the club to gather up his outfits and say good-bye.
The Outfit
"I knew that the costume for that song was going to be some seductive dominatrix outfit," Clay continues. "Once again, I was thinking contrast as I wanted Tracy to look different every single time the audience sees her."
Whereas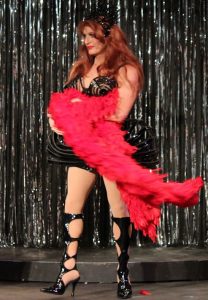 each of Miss Tracy's previous outfits is refined and elegant, the one Clay made for this scene is about as risqué as one can imagine. It's an unapologetic sultry, devilishly vixen look with a black patent leather cage, red leather boa, red hair and a black, jacked-up crown.
"All I'm missing is the riding crop," Clay adds with a mischievous laugh. "And had I thought of it, I probably would have brought one out because the audience doesn't know whether she's made at Casey for quitting the act or feels love and empathy toward him. If she had a riding crop, she'd have run it right up his leg to his crotch and told him to grow a pair."
The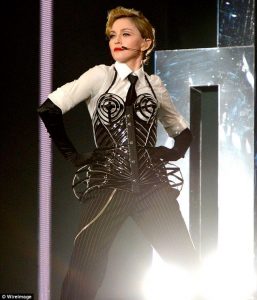 outfit was actually inspired by Madonna's Queen of Drag numbers, where she's in this similar patent leather cage outfit. But Madonna wears hers over a tailored men's suit while Clay went for a nude look underneath Miss Tracy's caged corset. [Madonna wears the caged corset over white shirt and black tie and black pinstripe trousers. Hers was designed by John Paul Gaultier, and the pop queen wore the conical corset when she performed "Vogue" during her Blonde Ambition tour in 1990. The racy design cemented her reputation as the edgiest diva in pop and took Gaultier's career to new heights.]
How He Made It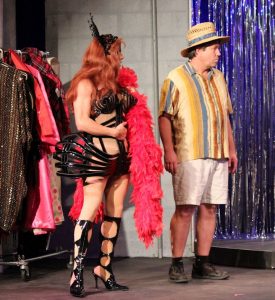 The challenge for Clay in putting the outfit together was finding a flesh leotard that he could put under the cage. Once he found one, he moved on to the boots, which are made of the same patent leather as the cage and even found some patent leather gloves to complete the look.
"Normally, you'd put black hair with an ensemble like that," Clay points out. Lola Montez was raven-haired; but not Gwen Verdon, whose hair was medium auburn.
"Black hair is not flattering for someone who's older, like me," Clay continues.
Besides, he couldn't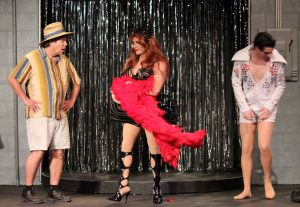 do blond because he was using that hair color for his last look.
"So I went with red hair instead."
Many of Clay's design decisions are informed my his years of experience doing make-up for Chanel.
"I'm thinking of what's going to be most flattering against my bone structure and be pretty with the color of the costume.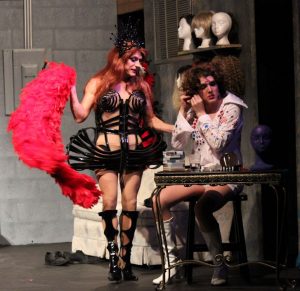 You have to think about the wig style too within the contours of the song. I was in Damn Yankees when I was in my 20s, and I played one of the characters. And I remember the girl who played Lola and she wasn't very curvaceous, but she was dark with long black hair and was a perfect protégé of the devil. And that was the incarnation I conjured for this scene. I knew I wanted her to have long hair because, for whatever reason, I associate long hair with sexuality. It may be a general stereotype. And as a costume designer,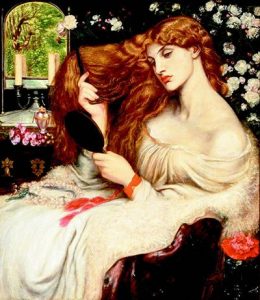 if I were casting for Damn Yankees, I would have an actress who had long hair or I'd be buying her extensions. It's just easier for a woman to look sultry in it."
It bears mentioning that Clay Brown's caged redhead eerily resembles Adam's first wife, Lilith, as depicted by English painter Dante Gabriel Rossetti in his 1866-68 painting titled Lady Lilith. According to legend, Lilith possessed an intellect that was superior to that of Adam, and refused to bend to Adam's will. She eventually spurned Adam both sexually and psychologically and today her name is synonymous with sexuality, promiscuity and female empowerment.
"I wanted [my version of Madonna's Queen of Drag] to have a nude illusion, but mind you, I had no idea how I was going to look in the completed outfit. In fact, I never got to see how any of the outfits actually looked on me except the little Bobby Mackie dress I wore under the mermaid gown."
June 26, 2019.
RELATED POSTS.