Outfit No. 13 – channeling Krystle Carrington
Backstory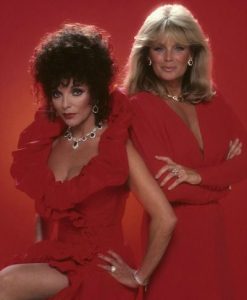 Following the black patent leather caged corset outfit in the "What Lola Wants" scene, Miss Tracy Mills next appears on stage in The Legend of Georgia McBride in a red evening gown that conjures images of Krystle Carrington, the fictional character from the 1980s American TV series Dynasty created by Richard and Esther Shapiro. Portrayed by Linda Evans, the character was introduced in the series' 1981 pilot episode. In the story, Krystle is the former secretary and new wife of oil tycoon Blake Carrington (John Forsythe), and initially has to adjust to his machinations and upper-class lifestyle. The arrival of Joan Collins as Blake's glamorous ex-wife Alexis Carrington provided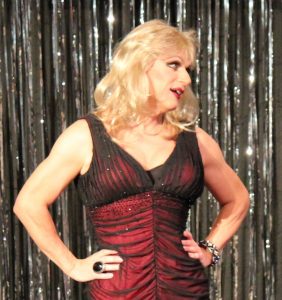 a foil for Krystle for the remainder of the series.
"The blonde wig channels Krystle Carrington," Miss Tracy actor and costumer Clay Brown confirms. "Blonde is the last frontier."
The Dress
"I wanted a nice evening gown with a different color than we've used before."
The dress actually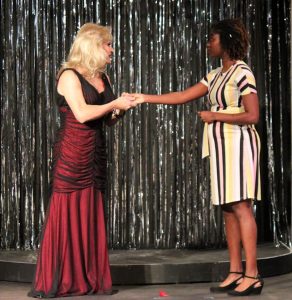 photographs more red than it is. The actual garment has black mesh over red material.
"Brett wanted us to change on stage, so here I have a zipper. I had to give thought to what I wore under the dress because everything has to be coordinated. So I switch out of the nude bra to a black bra. I have black heels. There's the black corset and panties."
June 26, 2019.
RELATED POSTS.