DeBruyne Fine Art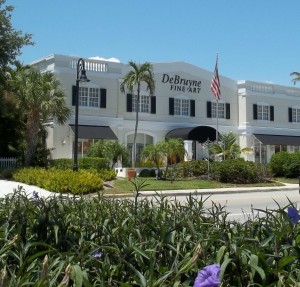 With its decorative white balustrade parapet, arched first floor showroom windows and forest green canopy, awnings and shutters, the stately two-story building that is home to DeBruyne Fine Art is as distinctive as the exceptional works of contemporary and antique art waiting inside. One of the anchors of Gallery Row, the name affectionately given by southwest Florida art collectors to the thoroughfare that brings visitors into Naples' picturesque Third Street South shopping district from the east, this gallery is a must-see destination for anyone who appreciates good art.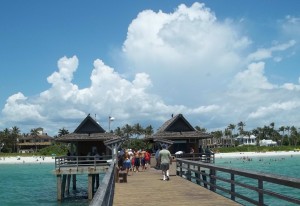 Location. DeBruyne Fine Art is Located at 275 Broad Avenue South, between Third Street South and Gordon Drive. It is just a block and a half from historic Palm Cottage (Naples' second oldest home) and three blocks from the thousand-foot-long Naples Pier (right). However, what makes Debruyne's location truly epic is its proximity to the legendary shops, world-class restaurants and the bougainvillea-trimmed fountained courtyards that imbue the Third Street South gallery district with European ambiance and south Florida cachet.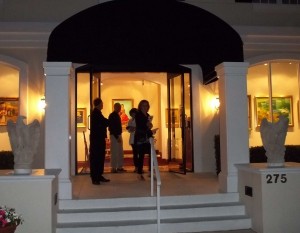 Facilities. With 5,000 square feet of gallery space, DeBruyne Fine Art is the largest art gallery in southwest Florida. Owners Paul and Suzanne DeBruyne have used the space well, creating a series of interconnected museum-style viewing areas that separate and showcase a variety of high-quality two and three-dimensional artworks and engender convivial conversation during the elegant receptions the gallery throws to mark the opening of the exhibitions it displays during each fall/winter show season.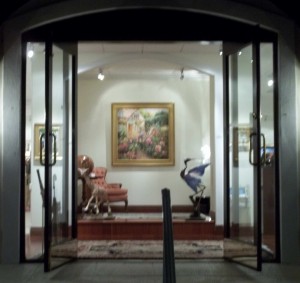 DeBruyne's entry and foyer convey a distinctive sense of style and air of professionalism. The three steps that lead to the stamped tile landing and the gallery's glass storefront doors are framed by handsome sweat-finished concrete walls topped by sculpted American bald eagles. The entry is protected from sun and rain by a green canvas canopy. The foyer looks into an elevated showroom where featured paintings are centered between a red antique chair and several free-standing sculptures.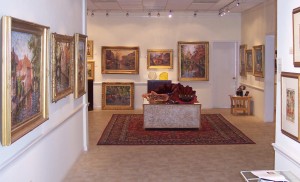 The remainder of the space is divided into a series of large and small exhibition rooms and galleries. All are united by clean white walls, handsome caramel-colored ceramic tile and wood-stained base. Most have simple white chair rail that accentuates the paintings hung museum-style under white gallery spots designed to bring out the color of each piece and decorative red area rugs that add an element of warmth and sophistication to each viewing area.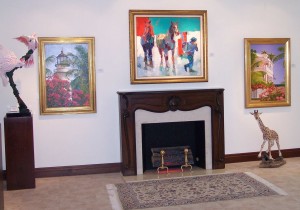 In-season exhibitions are held in the viewing room to the right of the foyer, a space that is denoted by a broad central column surrounded by a marble sill and a faux fireplace decorated by a carved dark wood mantel ideal for conveying how an artwork will look in a collector's living room or den.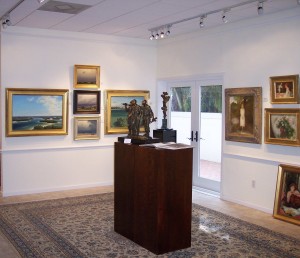 Genres and Media. DeBruyne Fine Art is renowned for its inventory of exceptional contemporary paintings and sculpture as well as select 19th and early 20th century American and European paintings and sculpture, including works by American maritime illuminist painter Edward Moran, renowned New England landscape and maritime artist Emile Gruppe, iconic figure sculptor Milton Hebald and a rare sculpture by French impressionist Pierre-August Renoir . All genres are represented, although the gallery emphasizes impressionist and realist work.
Only Select Artists Make the Cut at DeBruyne Fine Art. You won't find the work of new or emerging artists at DeBruyne. "We only represent contemporary artists who are in three or more other galleries and who have been featured in one or more museums," states co-owner Suzanne DeBruyne. By confining themselves to artists with well-established national if not international price points, the gallery is able to assure clients that they are getting the best value with their art acquisition budgets. With respect to antique paintings, Suzanne and her husband Paul are meticulous about authenticity, spending countless hours researching provenance and engaging provenance professionals in appropriate cases.
Representative Artists. The gallery's most notable contemporary artists include: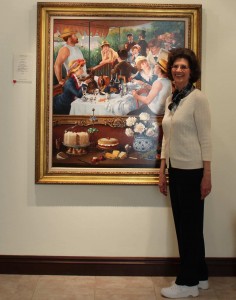 Jenness Cortez. Cortez combines photo-realistic accuracy with allegorical cleverness to craft paintings that pay tribute to some of the greatest works of art ever rendered. The artist doesn't just reproduce paintings like Holbein's Henry VIII, Wyeth's Christina's World or van Gogh's Starry Night, she surrounds them with still life objects that compliment the featured painting. Whether or not you possess a background in art history, you can spend hours trying to divine why Cortez chose the particular items she includes in her compositions. Oil on mahogany panels helps Cortez achieve "sensuous and immaculate" realism (quoting Artdaily.org and PRWeb).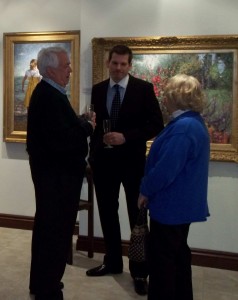 E.J. Paprocki. Chicago artist E.J. Paprocki is a master plein air impressionist painter best known for his romantic landscapes of the French and English countryside and cityscapes that feature locales such as Paris, Bruges, Chicago and New York. However, this talented artist is equally adept at vibrantly colorful English gardens, tender beach scenes that depict children at play in the sand and on the water's edge, and still life works that are worthy of mention in the same company as Renior and Georgia O'Keeffe. While he is a master of the motif, his forte is an extensive color palette and prodigious work ethic. Only 40, his paintings can already be found in more than 1,000 private and corporate collections in the United States, Canada, Ireland, England, France, Belgium, Switzerland, Germany, Greece, Japan and India.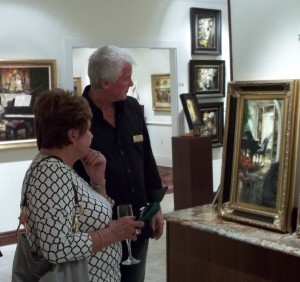 Stephen Shortridge. Shortridge is known best for intimate interiors dominated by a shiny black piano that resonate with quietude and serenity. New to Shortridge's repertoire is a series of chefs at work. With a palette overflowing with whites, ruddy flesh tones, saffrons and lemon yellow, these delectable studies make a bright and cheery addition to any wall or collection. However, it is Shortridge's cityscapes that permit the Idaho artist and former actor to really demonstrate his mastery of the interplay of light, shadow, color and texture. No matter the motif, Shortridge's feel for the theatrical in his compositions that explains why critics and collectors alike believe that Stephen Shortridge possesses the "it" factor in the world of art.
Donny Finley. Alabama artist Donny Finley is as accomplished in egg tempera as he is in oils, a claim that can be made by few artists today. Egg tempera is a medium that dates back to the ancient Egyptians and which requires layers of delicately and patiently applied washes, glazes, crosshatching and even scumbling. Although his golf and fishing portraits have earned Finley more than 70 prestigious awards, a place in the Who's Who of American Artists and mention in no less than eight books, including A Passion for the Game by Ryder Cup champion Tom Lehman, his motifs these days gravitate toward the places he visits during his extensive travels throughout the United States and Europe.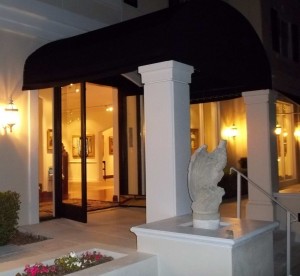 Hours. The gallery is presently open from 11 a.m. to 5 p.m. on Tuesday through Saturday, and closed on Sunday and Monday. However in season, which extends from October through April, the gallery is open seven days a week with evening hours on three of those days.
Telephone Number and Website. The gallery can be reached at 239-262-4551 and online at http://www.debruynefineart.com. The gallery is not currently on Facebook.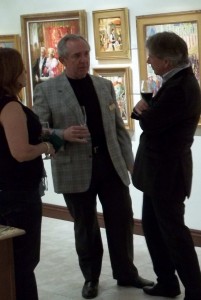 Ownership. Paul (center, left) and Suzanne DeBruyne own and operate the gallery, which has been a stalwart in the Naples art scene since it was incorporated on October 13, 1997. Paul and Suzanne were collectors for a decade before they opened the gallery and they have been involved in the business of art for more than 25 years. Both are hands-on owners. One or both will be in the gallery whenever its doors are open.
Although the gallery has built an impressive stable of contemporary artists, Paul and Suzanne spend each off-season (May through September) attending art shows and auctions and scouring art publications, trade journals and the internet for talented, pedigreed mid-career artists. Each season they manage to find one new gem to add to their collection, which is a delight for both the gallery's existing and future clientele.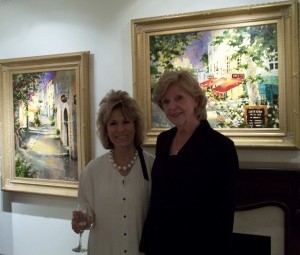 Gallery Directors. Much of the success that DeBruyne has enjoyed comes from the longevity and cohesion of its staff. Both Kate Bauer (depicted on right with artist Marilyn Simandle) and Michael Galati (depicted below with artist Janine Wesselmann) have been directors at DeBruyne Fine Art for several years and they work together as a team with the single-minded purpose of earning the confidence of the gallery's patrons.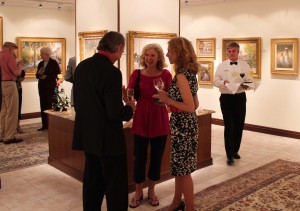 Bauer and Galati sincerely strive to help each client fill their needs, whether that entails building a collection or merely filling a space. Following the lead of owners Paul and Suzanne DeBruyne, Bauer and Galati monitor all major art publications as they arrive, identify the latest trends, and astutely follow auction house results. They are intimately familiar with each of the artists the gallery represents, which enables them to share information with potential collectors about their technique, outside exhibitions and how their work has appreciated over time.
Exhibitions and Shows. The gallery has five exhibits planned for its 2012 winter exhibition season:
On Thursday, January 12, Chicago artist E.J. Paprocki returns to Debruyne for another solo exhibition.
Jenness Cortez returns with her "Homage to the Creative Spirit" to Debruyne on Thursday, January 16.
Alabama artist Donny Finley returns to Debruyne on February 9 with a series of egg tempera and oil paintings rendered in the tradition of the Old Masters.
The gallery showcases Zhen Huan Lu with a solo exhibition that opens February 23. Lu is fascinated by the way light infiltrates and illuminates various aspects of nature. Stylistically, Lu is a super-realist whose vision of the American scene is modern, vibrant and exquisitely handled.
Romantic impressionist Stephen Shortridge returns on March 8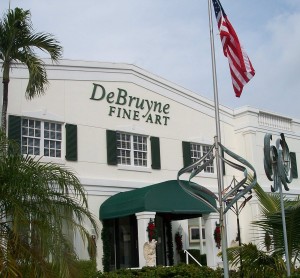 Other Services. DeBruyne Fine Art offers a number of corollary services. The gallery assists clients interested in establishing a quality collection by finding special works worldwide that appeal to their artistic sensibility while respecting their budgetary guidelines. They oversee all arrangements including restoration (where necessary), framing, shipping or delivery, hanging and lighting (so that the collector sees the same colors as the artist did when he or she painted the work in the studio). "We even bring lunch," quips Suzanne DeBruyne. Importantly, DeBruyne will sell works collectors wish to de-accession as they periodically change or expand their collections and the gallery works with its clients on a  generational basis, ensuring that works are passed properly to children, grandchildren and foundations that their collectors may establish or desire to favor. They also make appraisal referrals for tax, estate planning and insurance purposes.
Fast Facts.
Suzanne DeBruyne has two simple rules for collectors: buy with your heart and buy from a dealer you trust. In other words, "don't buy art as an investment or because it fit's the space and matches the colors of the room."
DeBruyne Fine Art is a founding member of the Naples Fine Art Dealers Association, an alliance of gallery owners dedicated to showcasing established and emerging artists and to educating the buying public about fine art.
Paul and Suzanne DeBruyne had been in Naples since 1965.
Related Articles and Links.
2013
2012
2011
Archived Articles and Links.