The Englishman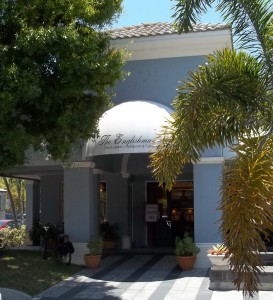 Nestled among the high-end clothing stores and eateries of the Third Street South shopping district is an old-world style art gallery named The Englishman. Inside, an extensive collection of "carefully sourced" 19th and early 20th century European oil paintings await. They are beautifully displayed alongside an inspiring collection of fine antique and decorative furniture and accessories which not only create a relaxed viewing atmosphere, but give viewers an excellent impression of how the works will look on the walls of their own homes and offices.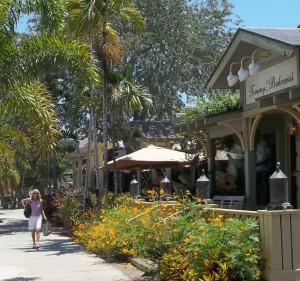 Location. The Englishman is located at 1190 Third Street South in Olde Naples. You will find it next to Tommy Bahama in a powder blue building capped by gray barrel tiles and set off by a stylish white awning that bears the gallery's name in script. With its patterned gray floor tiles, four stout square post stanchions, and dark wood and glass doors, the entry conveys a sense of the luxury and European class you will find inside.

Facilities. The gallery is deceptively deep, and utilizes a series of quarter walls to create vignettes in which gilt-framed antique artworks are displayed above ensembles of antiques and matching accessories. The installations are dramatic. Although they obviously appeal to collectors who have outfitted their homes and winter residences in antiques, artworks from the Age of Romanticism can be, and often are mixed with impressionist and modern art in many eclectic collections.
Genres and Media. The Englishman specializes in 19th and early 20th century European art. Genres include portraiture, landscapes, including Scottish scenes, Venetian and cityscapes, maritime art, equestrian and wildlife art.
Antiques. The Englishman also offers an array of exceptional furniture (such as a French Buffet Bressan with clock); armoires, sideboards and servers; chests of drawers and coffers; furniture for the study; dining tables and chairs; armchairs, benches and seating; occasional and other seating; and clocks and accent furniture. Accessories include mirrors; lighting, candlesticks and sconces; and accent pieces.
Hours. The gallery is open Monday through Wednesday from noon until 8 p.m. and on Thursday through Sunday from noon until 10 p.m.
Telephone Numbers and Website. The gallery can be reached at 239-649-8088 and online at http://www.theenglishmanusa.com. You can also follow the gallery on Facebook at http://www.facebook.com/TheEnglishmanNaples?sk=wall.
Ownership. The gallery is owned by The Englishman Fine Art, Inc., which was incorporated under Florida law on November 9, 2009.
Gallery Directors. The Englishman has three locations in the United States. Bradbury Ketelhut serves as Director of U.S. Business for the galleries in Vail, Colorado, Atlanta, Georgia and the one in Naples, Florida, for which he also serves as corporate president. Mr. Ketelhut has an MBA in International Business from the University of Colorado in Boulder. He has been with The Englishman since January of 2002.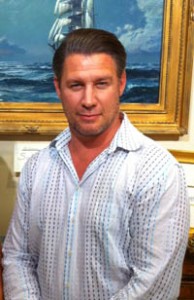 The daily activities of the Naples gallery are managed under the direction of Gallery Directors Gennifer Garcia and Frank Russen.  In addition to his duties as a director of The Englishman, Russen sits on the board of directors of the Naples Art Association, serves as a director and vice-president of the Naples Foundation for The Arts Inc., and was an organizer of the debut Naples International Art and Antiques Fair (NIAAF) which was held between February 24 and March 1, 2011 at the spectacular Naples International Pavilion on Immokalee Road in Naples. An International Fine Art Expositions (IFAE) affiliate, NIAAF brought 70 highly-prestigious art, antique and jewelry dealers from around the world to southwest Florida, and featured  fine art and antiques from all periods, objets d' art, estate and fine contemporary jewelry, and 17th century to contemporary 21st century paintings. The indefatigable Russen is also the managing art consultant of the Naples International Film Festival. Russen previously functioned as a gallery director at Galerie du Soleil on Gallery Row, at Kensington Stobart Galleries in Naples and Pittsburgh, and at the Henry Koerner Estate in Pittsburgh. He is also the founder and chairman of Painting My Tomorrow, a nonprofit organization that benefits Collier County children who are battling cancer.
Other Services. The gallery offers two adjunct services, custom framing and restoration of damaged artwork. In both cases, the artwork is evaluated in the Naples galley and then shipped to Surry, England, where The Englishman maintains a team of highly-trained artisans. The gallery's website claims that shipping the works overseas is actually cheaper and quicker than local alternatives. Moreover, by consolidating all of its framing and restoration work in one location, your work logically benefits from the broad experience of its experts, who have literally worked on thousands of artworks.
Fast Facts.
The Englishman has been trading in the United States for more than 25 years.
The Vail gallery is located at 193 Gore Creek Drive, Vail, Colorado 81657 (next to Sweet Basil Restaurant).
The Englishman's UK gallery is at Glebe House on Bletchingley Road in Nutfield, Surrey.
From September 17 -19, 2011, The Englishman will be participating in the HADA antiques show in Houston. This prestigious show has been running since 1964 and The Englishman is proud to be making its debut. Please visit them at booth 611. Contact Bradbury Ketelhut for further information at (970) 476-3570.
From September 30th – October 3, 2011, The Englishman will be returning to the Park Avenue Armory in New York City for the "Antiques and Art at The Armory" show. You will find them at booth 56, where they will present a fine selection of antique European paintings. Please contact Bradbury Ketelhut for more details at (970) 476-3570.
Articles