Stephen Shortridge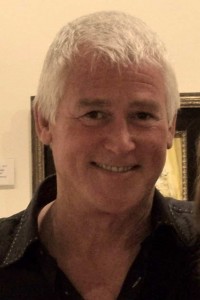 Artist: Stephen Shortridge
Genre: Impressionist
Medium: Oil on canvas
Galleries: DeBruyne Fine Art & Painter's Chair Fine Art Gallery in Couer d'Alene in Idaho.
Website: http://www.shortridgefineart.com
Facebook: http://www.facebook.com/pages/Painters-Chair-Fine-Art-Gallery/154379767939859
His Art
Stephen Shortridge is best known for intimate interiors dominated by a shiny black piano. In most, sheet music lies open in the piano's music stand. To add rich theatrical contrast, Shortridge juxtaposes the piano against a broad expanse of window that floods the room with searing white light. Whether you play or merely listen, these paintings resonate with the serenity and quietude that lingers after practice or the final notes of an impromptu recital on a summer afternoon. Shortridge reinforces this pervasive feeling of reverie with title names such as Serene Splendor, Musical Solitude, Afternoon Nap, Simple Pleasures, Rich Tones (above left), Play the Light and Summer Symphony.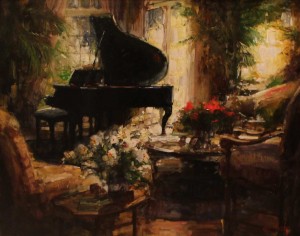 "I do play," Shortridge will tell you, "but I'm a better songwriter than musician. I have trouble reading sheet music." He discovered a few years ago that he's dyslexic when it comes to reading music. So when he plays, it's primarily by ear.
His piano interiors are highly popular, and some 13 years ago a photo of one of them caught Suzanne DeBruyne's unerring eye as she was thumbing through a minor art publication. "The picture was grainy, but I knew instantly that we had to have him." She immediately brought the [then] Iowa artist into her gallery's stable of pedigreed artists.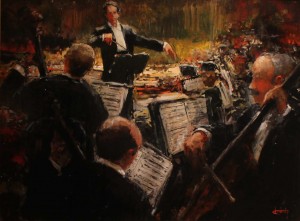 Closely related to Shortridge's piano paintings are works that feature symphony conductors (Sweet (left) and Conductor I, II and III) and orchestras (Extravaganza). But they are somber compositions compared to the piano interiors and Shortridge's sun-drenched landscapes, delectable series of chefs at work in the kitchen, and his romantically magical cityscapes.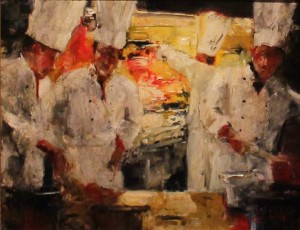 "The chef series is something new," Shortridge proclaimed at the reception for the opening of his solo exhibition at DeBruyne Fine Art on February 24, 2011. While epicurean art may be new to Shortridge, it enjoys a rich tradition in the annals of art history. "For centuries, food has been a common theme found in works of art," notes American Art Collector (vol. 66, April 2011). "From the food itself to the container or environment (such as a restaurant, kitchen or cafe'), the subject matter of epicurean art is seemingly endless."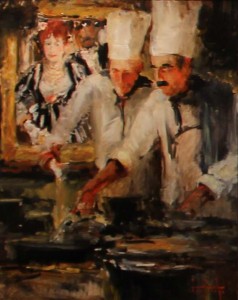 With this series, Shortridge takes his viewers into the kitchen of fine dining establishments he and wife Cathy frequent. Since he cannot very well set up an easel in the kitchen, Stephen takes along an unobtrusive digital camera to gather paint-worthy material for his next canvas or two. "I always ask permission because I don't want to make anyone uncomfortable," says Shortridge, who was on the other end of the lens during a 20-year career as an actor and model. "But unfortunately, that sometimes interferes with my ability to get candid shots."
That may be, but the shots he does get have empowered him to create delectable paintings that rival the culinary art of modern-day epicureans such as Darrell Hill, Thalia Stratton, Kathy Morrison and Ashlee Comerford.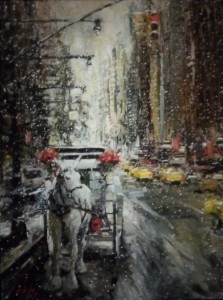 It is Shortridge's cityscapes that really permit the artist to fully explore light, shadow, color and texture. Flurries is an example of what Shortridge loves most about impressionism. It is a depiction of a white horse and empty carriage waiting curbside for a fare in Manhattan as snow begins to gently spiral to the slickened asphalt while a blur of yellow taxis whiz by. It is bold, full of life and color, and totally uninhibited. It expresses a feel for composition and the theatrical and demonstrates why critics and collectors alike believe that Stephen Shortridge possesses the "it" factor in the world of art.
His Influences
Shortridge labels himself a romantic impressionist, and his paintings possess an immediate, expressive quality that invites the viewer to make an emotional connection with them.  Whether an intimate interior, vibrant cityscape or romantic getaway, his goal is to touch your soul. He credits as influences Claude Monet (for full color and bold brushwork), Joaquin Sorolla (for passionate expression) and John Singer Sargent (for simple mastery). But he considers his talent a gift from God and is fond of paraphrasing the famous line from Chariots of Fire, "… when I paint, I feel His pleasure … this I certainly do."
Modeling and Acting Career
Change is an inevitable part of life, and so it has been for Stephen Shortridge. He went to college on a water polo scholarship and became an All-American. He majored in commercial art, but found his way into modeling, and modeling became a bridge into a successful acting career that spanned 20 years. During that time, he appeared in more than 50 commercials and became the pitchman for brands such as Coca Cola, Mennen, Speed Stick, Certs and Head & Shoulders. His television credits include sweathog Beau de Labarre on the popular sitcom Welcome Back Kotter, a role opposite Debbie Reynolds on ABC's Aloha Paradise, a stint on The Love Boat, and the role of David Reed as part of the original cast of CBS' daytime soap, The Bold and the Beautiful.
But Shortridge's heart never belonged to acting. Professionally speaking, painting was his first and only true love. But it took a life-changing epiphany to vanquish the lure of fame and success. It happened one day at an audition, where he noticed a very accomplished older actor rehearsing his lines. He was appalled by the complete lack of respect accorded to the man and realized with a shock that some day, that would be him too. By the time he got home, he'd decided to throw over acting for a career in art. His wife Cathy was all in.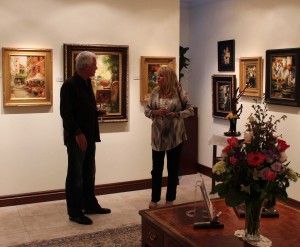 Twenty-five years later, he still thrills to the challenge of a blank canvas. "Painting is the most frustrating and challenging thing I've ever attempted," he confesses on his website. He analogizes painting to golf. "You can enjoy it or be frustrated by it, but you'll never completely master it." Still, the freedom associated with the creative process excites Shortridge. "It's precious and the most fulfilling part of being an artist" in contradistinction to acting, where writers, producers and directors make most of the creative decisions about the characters actors play.
Resume
Stephen Shortridge includes among his collectors celebrities like Patty Duke, Donna Summer and Rick Dees. He exhibited with the late Peter Falk. He and his wife Cathy own and operate an upscale gallery in their hometown of Coeur d'Alene, Idaho, and daughter Hayley is not only involved in the business, she is following in his painterly footsteps. Aside from Cathy and their three children, he considers the publication of his book, Created Creator, one of his proudest moments.