Art writer Danny Olda weighs in on 'Accumulating Interiors'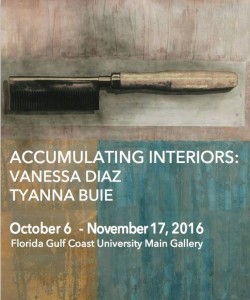 On view now in the Art Gallery at FGCU is Accumulating Interiors: Tyanna Buie and Vanessa Diaz.
The art making practices and motivations of Tyanna Buie and Vanessa Diaz differ in their approach to incorporating architectural interiors. What brings their work together is the desire to evoke psychological and emotional responses to familiar interior spaces and objects. This exhibition is their first collaboration, and arts writer Danny Olda was asked to contextualize this installation with respect to each artist's past work. Olda's essay provides important insights into the conceptual process behind the exhibition and is reproduced in full here: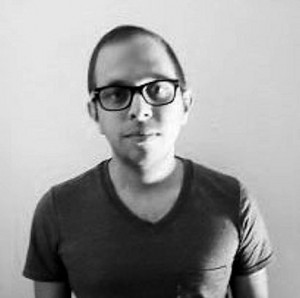 "It is difficult to overstate the role of space or place in contemporary art. It can take on a nearly cosmological nature, not simply a vacuum wherein art is made and experienced, but a medium unto itself that can be stretched and warped. More than a setting for sculpture and installation, it can lend conceptual mass to an artwork, helping it pop into existence, so to speak. Coined by Jacques Derrida and used in the context of art by writer A.R. Warwick, ontopology (a portmanteau of ontology and topology) as an idea suggests that a real sense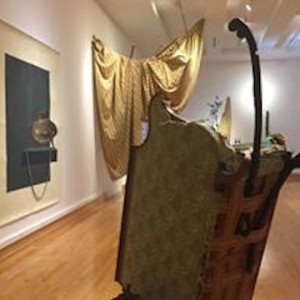 of identity, even a sense of being, can rise through a person from a place such as a living room, an artist's studio, even a country. In the exhibition Accumulating Interiors, artists Vanessa Diaz and Tyanna Buie explore some of the conceptual span of space, the way it is filled and how meaning is pulled out of it. The methods by which they do this are visually complimentary but, fascinatingly, work toward contrasting ends.
"Tyanna Buie creates work in a wide variety of sizes, media and contexts. However, if there is a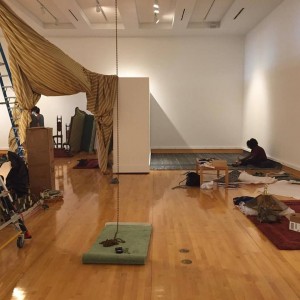 fulcrum upon which her practice pivots, it may well be printmaking. She plumbs and imparts intimate memories and personal histories in her work. Family photographs are uniquely able to convey such themes, and the manner in which she alters them intensely reveals the gap between an ideal life, or even simply a just life, and lived reality. Collectively, these photographic prints reclaim space. In Buie's installations, they engage in the same literal homemaking that they do in the archetypal family room – they surround a person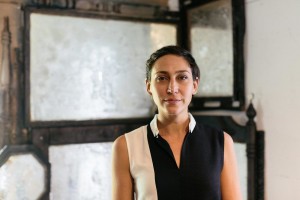 with the images of loved ones, the narratives that invisibly bind them all together and together bind them to this place. This is further echoed in her wallpaper prints that assert entire walls, entire galleries, enveloping viewers. It recreates the home, perhaps the most psychologically fundamental space, and presents it as the most affecting setting and even a discreet character in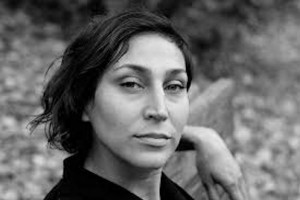 the personal histories that are the subject of Buie's work.
"Home is the central, if not singular, character in the work of Vanessa Diaz. As Diaz describes it, she "scavenges" discarded furniture, décor and architectural components. She then alters and reassembles the objects she finds, often shedding it of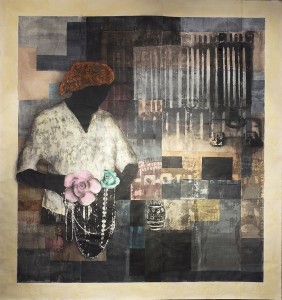 its original utility, and investing it with a new sort of value. To that end, she searches for objects, not for their typical uses, but for their histories, their psychic signification and the ways they activate the spaces they inhabit. Diaz isn't so much interested in the sturdiness of a table or chair as she is in how those pieces of furniture supply a house with familiarity. They are no longer items for sitting or eating upon, but containers for something much more enigmatic. Loosened of their intended purposes, a bundle of bed posts, for instance, is free for a new dialogue about or with the
home they, in part, made. Indeed, it is as if Diaz examines the ontology of a place through the items that fill it.
"As the exhibition title suggests, the artists accumulate interiors. Buie gathers her own spaces as well as the objects and memories that settled within it through time and, expresses it through her work.
"'Growing up in the foster care system, I was unable to acquire or hold on to certain childhood relics or family photos,' Buie related to me. 'Using printmaking techniques has allowed me to re-create images and objects as a way to solidify my personal history.'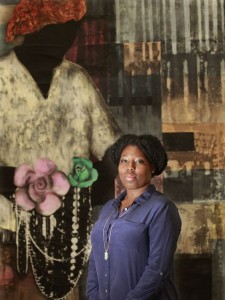 'Diaz, on the other hand, hunts for and harvests the unwanted interiors of others, in search of what she calls 'a history of the possessions that we carry from place to place,' or, as I think of it, as the places we carry in the possessions.
"Hence, whereas Buie explicates a home and especially something of its substance, Diaz implicates it. Through their installations they both point toward a physical and emotional space – one from within and the other without. There is necessarily a constructive tension between the work of the two artists. Thus it's notable that Buie and Diaz decided not to separate their work into apportioned areas of the gallery. Rather, their installations blend and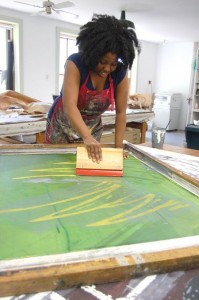 commingle throughout the space. Accumulating Interiors is not quite one installation. It is more so two, folded into each other as the artists envelope multiple interiors into the exhibition – internal structural spaces and introspective landscapes. Together they offer interiors shared and private, reflections on places searched for and carefully collected."
Danny Olda is an art critic, editor, and independent curator currently working on the west coast of Florida. His writing can regularly be found in a variety of regional and national arts publications. Additionally, Danny serves as the editor the non-profit arts and culture blog Articulate and director of the Clearwater Arts Alliance.
Accumulating Interiors will be on view through November 17, 2016. Gallery hours are Monday-Friday from 10:00 a.m.-4:00 p.m. and until 7:00 p.m. on Thursday.
Posted 10-10-16.