John Repa turns in sensitive, poignant portrayal of conflicted William Russell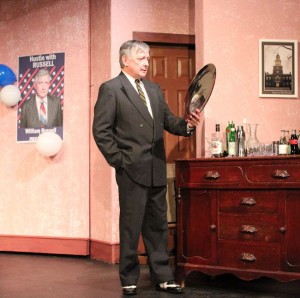 On stage now at Lab Theater is Gore Vidal's The Best Man, a political drama in which former Secretary of State William Russell and an aggressive, poll-watching Senator by the name of Joe Cantwell vie for their party's nomination for president on the eve of an open or brokered convention. Both men believe that they can garner the delegates they need for the nomination if they can only win the endorsement of their party's leader, former President Art Hockstader.
President Hockstader has come to the convention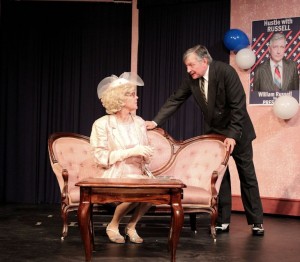 prepared to endorse Cantwell, which Russell full well knows. But even though he is a good judge of character, William Russell is a poor listener. Hockstader tells him that he cannot give him his endorsement because of Russell's notoriously rigid dedication to principle and indecisiveness. But rather than discuss these impediments, he tries to persuade Hockstader that Cantwell's lack of moral compass and ruthless, opportunistic behavior disqualify him from assuming the highest office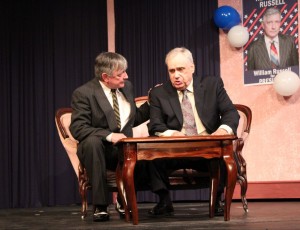 in the land. Sound familiar? Today, we call that "pivoting," and the art of ignoring criticism (even when it is constructive) and shifting focus to the opponent's perceived weaknesses has become an art form in the minds of political candidates and their advisors and a frustrating, nauseating anathema to the American voter that prevents any meaningful discussion of each candidates qualifications and position on the issues of our day.
John Repa plays the part of William Russell. In Repa's hands, Russell comes across not as indecisive, but rather as conflicted. He's conflicted because he judges himself and his opponent by the standard of how the leader of the world's greatest democracy should act and what he should aspire to be. Coming from that vantage point, he finds it repugnant on every level to use blackmail, extortion and innuendo to threaten and smear his opponent just to curry favor with President Hockstader and the delegates who will choose their party's nominee. In this sense, Repa's portrayal of his character is sensitive, enlightened and deeply poignant.
Just as a strong, complex and layered antagonist is essential to any play or novel, a deeply flawed protagonist is necessary to engage the audience's sympathies and induce them to become invested in the outcome of the plot. In The Hero's Journey, protagonists are often described as reluctant. They are loathe to get involved but are forced by events beyond their control to engage and undertake the challenge they are dealt. But Russell does not engage Hockstader, Cantwell or the conventioneers to reject negative campaigns, smear tactics or political blackmail and extortion. He does not try to convince Hockstader to punish Cantwell for releasing his psychiatric records to the delegates by giving him his endorsement. He does not address the delegates about the reprehensibility of this tactic either before or after the release. No. No. No. Instead, he accepts them as inevitable aspects of the modern political process, and though he believes this erodes the underpinnings of both the country and our democracy, he declines to fight for the type and quality of political discourse that he thinks should prevail in political elections.
Director Rick Sebastian and John Repa are to be applauded for highlighting Russell's internal conflict, but in making that decision, they bring out something even more troubling. Repa's William Russell, a former Secretary of State and dignified statesman is meant to be noble. But is he really? Or is he just as egocentric and self-absorbed as Joe Cantwell? The Senator certainly has no soul. He threatens, intimidates and steamrolls anyone and everyone who gets in the way of his blind ambition and quest for power. But Russell chooses to keep moral convictions and ethics private and personal even though he believes the country is harmed by the type of politics Cantwell employs and represents. He does not fight for the principles in which he professes to believe. He does not risk rejection of his ideals or the greater good of his country. He simply indulges his presumed moral superiority in a dissatisfying and distasteful display of revenge that targets Joe Cantwell but not the larger socio-political issue he represents.
And so, in the final analysis, this revival of The Best Man is a modern-day reality show which demonstrates the dire consequences that often flow when good walks away rather than assumes the fight against evil, when good and decent people remain silent rather than denounce that which they see and believe as wrong.
John Repa is an actor, comedian, playwright and more recently, an author of a zombie apocalypse novel titled Blood Creek Eulogy, which is told from the viewpoint of the zombies!
Many Southwest Florida residents and visitors have seen him perform, among other venues, at Florida Rep, Theatre Conspiracy and on the Seminole Gulf Railway Murder Mystery Dinner Train. He has also performed Chicago and Seattle. Most recently, John played the role of Sir Toby Belch for Lab Theater in last season's production of Shakespeare's Twelfth Night, and he will appear in The Last Night of Ballyhoo at Lab Theater in April.
As a playwright, John has written a two-man show called Biblically Speaking, which will be read at Theatre Conspiracy this season. As a member of the Theatre Conspiracy Playwriting Group, he penned a one-act play in 2014 called Harker's Journal, a take-off on Bram Stoker's Dracula in which Harker's wife, Mina, must consider the possibility that her husband has gone mad after she receives and reads the journal he wrote during his recent trip to Transylvania. John wrote his first script in grade school when he found out that a group book report could be done as a staged scene – but his group had read Jack London's White Fang. He went on from there to study playwriting at SIU at Carbondale and Columbia College Chicago, where he graduated in 1990.
Because John started out as stage crew member and scenic designer, he has a very practical approach to staging. Having worked extensively as an actor, he has a strong sense of what an actor can do onstage to captivate an audience. He seeks to combine thoughtful theater with a quirky sense of humor that provides heartfelt laughs during a performance and something deeper to think about later.
RELATED POSTS.