Haitian paintings donated by Richard Stephen and Ingela van Essen Conley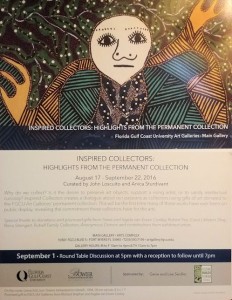 Inspired Collectors: Highlights from the Permanent Collection opened August 17 in the Art Gallery at FGCU. The exhibit includes ten Haitian paintings that have been donated by Richard Stephen and Ingela van Essen Conley.
The ten paintings included in this exhibition offer an introduction to some late 20th century art styles from Haiti. The Saint-Soleil art movement started in the 1970s and is one of the more well known, represented here through images of Loa, which are emanations of a supreme being, as well as evolved spirits of the dead. The paintings by Levoy Exil and Prosper Pierre Louis are examples of artists depicting Loa. Two paintings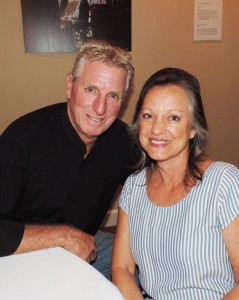 by Etienne Chavannes and Laurent Casimir are market scenes. These paintings, along with Louisiane Saint Fleurant's and Gerard Fortune's depiction of women, reveal additional genres coming out of Haiti.
Included in museum collections and private collections, recounted in books and publications, these artists continue to inspire study and enthusiasm. Haitian art is imaginative, colorful, and often surreal.  With its echoes of Africa, it tells stories of resilience, resistance and hope. The work strongly reflects the passions of the artists to create, to thrive and express a view of the world where, as Selden Rodman aptly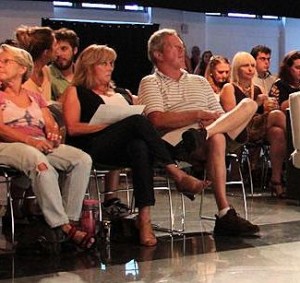 expresses, "Art is Joy." Despite the misery and poverty that plague the country, Haitians artists always seem to find ways to include the joyfulness of the people in their artistic expression.
The Conleys began their Haitian collection by accident rather than by design. They acquired the first pieces from a gallery in Charleston, South Carolina. "We were attracted to the Saint-Soleil style, and then gradually, over twenty five years, we both added paintings and sold a number as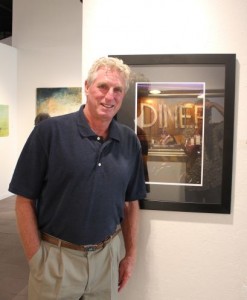 well," relate Steve and Ingela. "With each piece, we became more educated on the artists, all of whom are well recognized."
The Conleys will participate in a round table discussion with reception to follow that begins at 5:00 p.m. on Thursday, September 1.