Ran Adler exhibit reminds that art can exert its influence in indoor environments

Opening January 30 in the Wasmer Gallery at Florida Gulf Coast University is Presence, a collection of large-scale organic works by assemblage artist Ran Adler.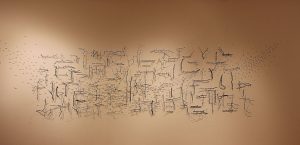 For most people, public art conjures images of outdoor sculptures – like Albert Paley's Cross Currents or Robert Roesch's Transition 2012 here on campus – or murals like those you'd see in Hotel Indigo courtyard in downtown Fort Myers or in Miami's Wynward Art District. But with this exhibition,
Ran Adler reminds us that art can also exert its presence in indoor environments – not just magnificent galleries like the Wasmer, but in airport and cruise ship terminals, convention centers, hotel and hospital lobbies and even shopping malls. And because of the enclosed intimacy of such spaces, artworks such as these can have an even more profound impact on the people who encounter them.
Public art works subliminally to convey a variety of messages. They tell viewers: This is a place that values art and culture. This is a place that honors its historical underpinnings. This is a place that acknowledges its connection with the local ecology. And because art in public spaces creates an important first impression for visitors and symbolizes a community's maturity, it says, We value what you think and how you feel.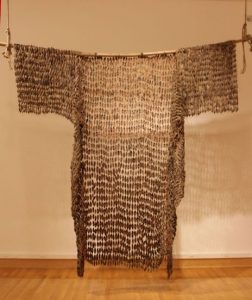 There's something mnemonic embedded in the experience of viewing large-scale art, particularly when you encounter it in unexpected places. Just like hearing a song from your past can transport you back in time, artworks you see while traveling, vacationing or attending a business conference can become woven into a neural tapestry entwined with the people, season, sights, sounds and smells associated with that event – especially where, like here, the art conveys a calming, serene, meditative feel.
Leo Tolstoy once wrote that "Art is the transfer of emotions from one person to the other." There's an evolving body of empirical evidence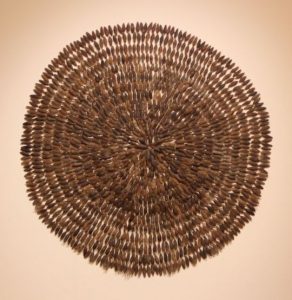 called "Positive Transference Theory" that strongly suggests that viewers hone in on the thoughts, feelings and emotions an artist experiences during an artwork's creation. So as you interact with the pieces in Presence, allow yourself to tap into not only the tranquility, but the respect, reverence and gratitude for life and nature that Ran Adler and Gallery Assistant Marcela Pulgarin incorporated into each of these works.
And ask yourself the larger question: what would passengers in a busy airport or anxious family members in a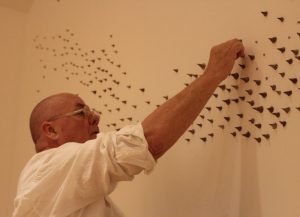 hospital lobby or waiting room experience if they could gaze upon works like these?
Finally, through their purchase and donation of Medallion to FGCU's permanent collection, the Wasmer Family reminds us that public art needn't be the exclusive province and domain of federal, state and local governmental agencies. Individuals, groups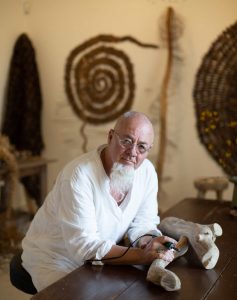 and corporations can also play a role in providing the images and messages that dominate our public spaces and shape our visual landscape.
Presence will be on display in FGCU's Wasmer Gallery January 30 through February 27.
January 19, 2020.
RELATED POSTS.
Adler's 'Presence' affords opportunity to cross-pollinate ideas across art forms