Spotlight on 'Tropical Reunion' artist and FGCU alum Megan Kissinger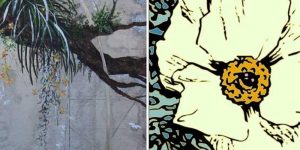 Opening in the ArtLab Gallery in Library West at Florida Gulf Coast University on October 4 is Tropical Reunion: Megan Kissinger and David Shepard. Kissinger and Shepard are two FGCU alumni. Both conservationists, they are bringing together in this exhibit art aimed at inspiring and motivating viewers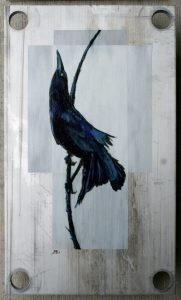 to appreciate and protect the natural world.
Megan Kissinger is an FGCU class of 2004 alumnus. She resides in Fort Myers, FL and works as a Museum Conservator and Exhibit Designer for Edison and Ford Winter Estates. In her work as a museum conservator, Kissinger is well aware of the damage wrought both manufactured and the natural world over time. As she goes about her duties, her work has her examining everything – how objects work, what condition is it in, what factors affect an object's stability, and what repairs can be made that won't eventually do more damage than just leaving it alone? This is how Kissinger has begun to think about our natural world. While a museum conservator preserves cultural heritage for future generations, she often wonders who will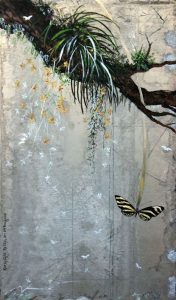 preserve our natural heritage.
In her paintings, Kissinger depicts the art of southern North America in all its wild glory in order to show viewers the beautiful natural world that is disappearing before their very eyes. In this way, she is pondering nature as a relic. "When it is all over, this grand party we are enjoying called modern life, who will pick up the pieces?" Kissinger muses. "Who will make right what has been overturned? Who will be the responsible one and mop up the spills?"
Megan Kissinger is profiled on Art Southwest Florida. If you'd like to know more about Megan and her art, please read here.
The opening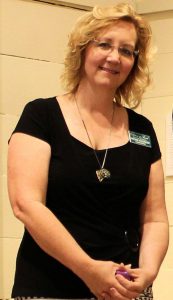 reception for Tropical Reunion takes place from 5:00-7:00 p.m. on October 4 in the ArtLab. The exhibition will remain on view through November 8.
Tropical Reunion is curated by Anica Sturdivant and sponsored by The Beaches of Fort Myers and Sanibel.
Gallery hours are 10:00 a.m. to 4:00 p.m. Monday through Friday, with extended hours to 7:00 p.m. on Thursday.
For more information, please visit http://www.fgcu.edu/artgalleries.
September 10, 2018.
RELATED POSTS.