Megan Kissinger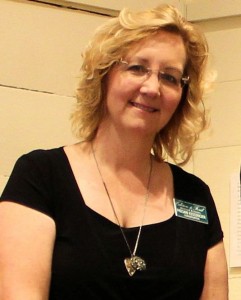 Name:  Megan Kissinger
Genre:  Realist
Galleries: WildChild Art Gallery, 4625 Pine Island Road, Matlacha, FL  33993 (239)-283-6006. www.wildchildartgallery.com
Website:  http://www.megankissinger.com/
Her Art: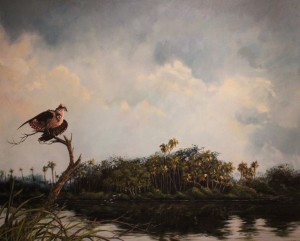 Perhaps it is her background in scientific illustration that helps her to present the beauty and the connectedness that she sees in every aspect of the natural universe, but it is Megan Kissinger's passion that drives her attempt to "make viewers aware of how everything in the world is connected in some way." Toward this end, Kissinger loves to get up close to things that normally aren't accessible, like birds and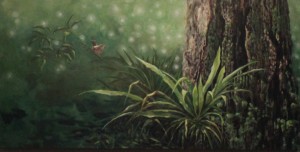 butterflies, to bridge the magical distance that wild things have learned to maintain for their safety.
A Florida native and an award-winning acrylic painter, Kissinger's specialty lies in wildlife conservation art and botanical illustration. She is a member of Artists for Conservation International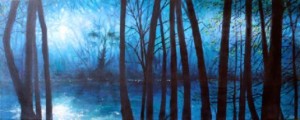 and is one of the ten charter artists working with the Florida Wildlife Corridor.
Kissinger grew up in Perdido Bay near Pensacola but has lived in the Everglades for 25 years. "I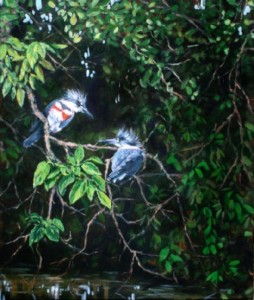 really love the sense of place we have here on the southwest coast. Especially if you visit some of the inland small towns like LaBelle and Alva that are east of Ft. Myers on the Caloosahatchee River. The people there go back a few generations and they can tell you things about the history and the environment you would never know if you didn't have those conversations." She often paints scenes along the Caloosahatchee River near the Town of Alva because it overlooks a couple of oxbow islands. "I've always loved these river islands because they are so much a part of Old Florida—when you kayak around them, you still see how the
river looked when it was allowed to make its own decisions on where it wanted to go. The sabal palms and oak trees create such a wonderful contrast with each other. As an artist, painting that combination, you can't beat the shadow play that can happen at any time of the day. And the habitat on the oxbow islands seems to stay more stable without all the invasive non-native plants so they are also great places for rookeries and wildlife."
But it's not just about modelling and motif for Megan. Her detailed precision is complemented by combinations of radiant colors in the sweeping settings in many of her
paintings. Her compelling compositions betray her fascination with light and line. "I can get lost," Megan concedes, "in late afternoon and twilight shadows—sweeping and arching lines— and in scenes like the dappled light of oak hammocks and pine scrub."
Megan Kissinger employs classical painting process to craft her realist works. "I begin every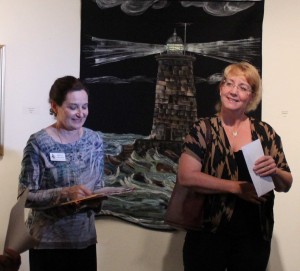 new piece with charcoal sketching and I under-paint in a wash of complimentary color before beginning the final painting," she reveals." I like to put the paint on in many thin layers, sometimes hundreds, using both glazes and scrubbed in paint to get the feeling of light and shadow. While I sketch and take photographs of my subject matter, I prefer to paint in my studio so that the light is consistent and I can take lots of time to really think about the piece."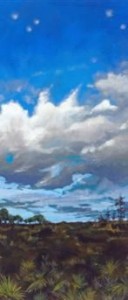 In 2014 Megan's art was also exhibited with the U. S. Museum of the Interior in Washington, D.C. (http://shop.thecreativeactionnetwork.com/collections/megan-kissinger), Vancouver, B. C. and the American Embassy in Bahrain, United Arab Emirates.  In addition to numerous group exhibitions, Megan has enjoyed a number of solo shows, including:
Of Water—Shining: The Art of Megan Kissinger, The Museum of the Everglades, Everglades City, Florida, January, 2013;
Edison's Garden Illustrated, Edison & Ford Winter Estates, Fort Myers, Florida, Fall 2010-Spring 2012;
Natives & Other Endangered Species, Recent Works by Megan Kissinger, WildChild Art Gallery, Matlacha, Florida, 2011;
A Living Splendor—Florida's Wildlife Illustrated, one-person show, Ave Maria University Canizaro Library, Naples, Florida, September 2010; and
The Art of Megan Kissinger, Sidney and Berne Davis Art Center, one-person show, Fort Myers, Florida, May 2009.
Her acrylic painting In Singing, Not to Sing – The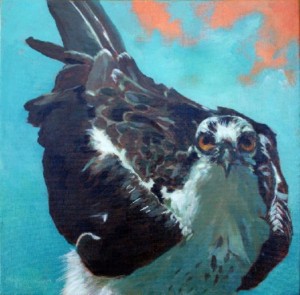 Ovenbird caught the eye of new Baker Museum Curator Frank Verpoorten, who awarded her third place at the Alliance for the Arts 27th All Florida Juried Exhibition in 2013 for In Singing, Not to Sing, one of three works that he juried into the show. Megan also received a Juror's Choice award in the 26th All Florida Juried Exhibition in 2012.
Megan has a BA in Art from Florida Gulf Coast University. She shares her talents with other aspiring artists as an art instructor at the Alliance and other venues. As a complement to her fine art endeavors, she is also as a Conservator at The Edison Ford Winter Estates in Fort Myers.
Rare Portrait of Helen Johnson Hendry for Fort Myers Founding Females Portrait Exhibition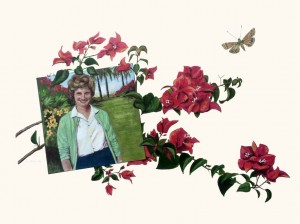 Megan has rendered a rare portrait of landscape architect and horticulturalist Helen Hendry for the Fort Myers Founding Females portrait show that is on view in the historic Caretaker's Cottage at the Edison & Ford Winter Estates through May 28, 2015.
Fate played a role when, at the age of six, Helen Hendry and her family moved from Georgia to a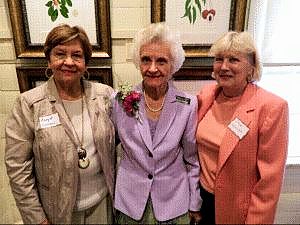 house located behind the first nursery in South Florida, the 40-acre Everglades Nursery on McGregor. When she was 12, the nursery hired her to pull weeds. Around that time, she also wandered onto the grounds of the Edisons' 13-acre estate and subsequently consulted with Mina during her visits to the Everglades Nursery. After Mina deeded the estates to the City of Fort Myers in 1947, Helen helped design landscaping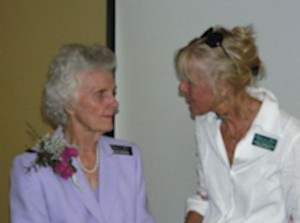 installations at the Estates that included the traffic-stopping rosy-pink bougainvillea hedge along the north boundary behind the museum. Planted  in the 1950s, it is one of the most famous landmarks in Fort Myers and many consider it to be among her finest designs. In fact, Helen Hendry played such a critical role in the beautification of the nonprofit property and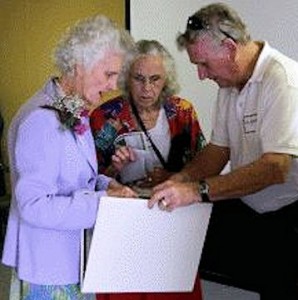 throughout the region as a "tree pioneer" that Estates President/CEO Chris Pendleton endearingly says Hendry "built her career from the ground up."
Helen worked with many prominent clients in Naples, Fort Myers, Sanibel and Captiva Island. She left an indelible mark as far south as Key West through her expert efforts in beautifying private residences, municipal and government projects, and commercial developments. As a result, Hendry was honored by numerous organizations during the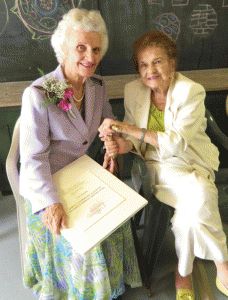 course of her six-decade career, including by the Florida Federation of Garden Councils, Florida Nursery Growers Palm Chapter, and the PACE Center for Girls of Lee County, which designated her one of their Grand Dames.
Striking out into the field to practice the art of landscape architecture in 1987, she became a director of the Florida Nursery and Grower's Association, where she lobbied the Florida State Legislature for passage of a bill requiring registration and examination of landscape architects. She served on the Board of Landscape Architects for 14 years and was the third person and first female certified by the State of Florida's Board of Landscape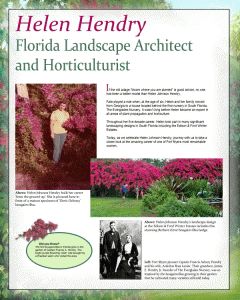 Architects. Her permit simply bears the numerals "03" in the space where the license number is printed.
Helen credits her mentor, Everglades nursery owner and future father-in-law, James Hendry, Jr. with teaching her everything she knows. "The young Helen and her employer and mentor shared a deep sense of mutual admiration," wrote correspondent Cathy Chestnut in Tropicalia following an interview in April of 2014. "He hybridized and named a thorn-less bougainvillea variety for her; she propagated and named a yellow hibiscus for him. (To date, there are a very few varieties of thorn-less bougainvillea and the one named for her is still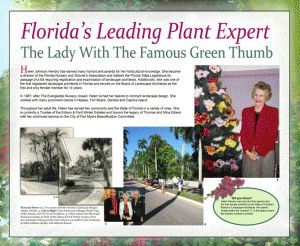 popular.) 'He said that I had no thorns. I think that was a great compliment — for anybody,' she says. The Everglades Nursery, in fact, played a key role in the cultivation and popularization of bougainvillea regionally and nationally, a passion that grew out of Southwest Florida pioneer Capt. Francis A. Hendry's garden. (He was Hendry's grandfather, and also was the first to boast a bougainvillea in Florida, a gift from a sea captain
who was visiting the area.)" She married James E. Hendry III in 1969, and they ran the nursery together until 1987.
"She is one significant personage," Pendleton says. "She has a feeling for a plant, what's healthy, what's not, and what needs to be done or moved."
Helen is currently a Trustee of the Edison & Ford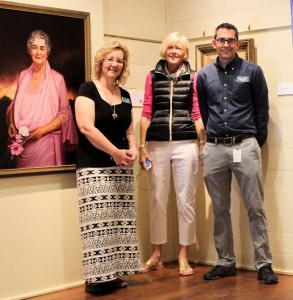 Winter Estates and honors the legacy of Thomas and Mina Edison with her continued service as a consultant for the County Roadside Beautification Committee. Hendry has slowed down in the past few years, but still gets calls from long-time clients for consultations and advice. "I still have people who call me, and they won't take 'no' for an answer," Hendry told Chestnut for the Tropicalia piece. "If you love plants and love to grow things, you never tire of that."