Blue Pearl Fine Art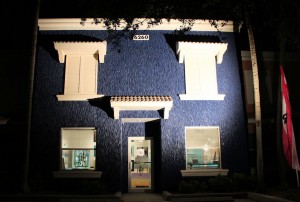 Located in the heart of the Naples Art District, Blue Pearl Fine Art is the artistic home to Minnesota transplants James and Diane Whiting.
The Gallery. Blue Pearl is divided into a spacious gallery space and generous working studio where James and Diane create and display individual and collaborative artworks.
The gallery is essentially rectangular, featuring clean eggshell walls, white clamshell baseboards and  nondescript dark carpeting that forces viewers' eyes on the artworks displayed around the perimeter of the room. Many paintings are hung salon style from the walls, but others are arranged on easels or are merely propped against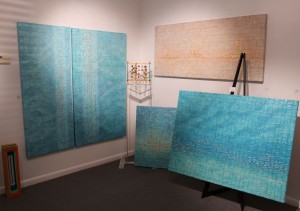 open walls. Three dimensional works are interspersed among the paintings.
The studio is divided into two work areas – one which is air-conditioned and finished; the other consisting of a light-industrial-style warehouse complete with gray concrete floors, unpainted concrete block walls, and exposed white rolled insulation stretched over rust-colored metal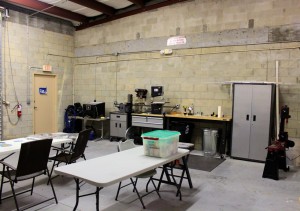 purlins supporting a screw-down metal roof. This is where Jim Whiting does shapes the metal that he fabricates into his 2 and 3-dimensional art pieces.
Diane's Abstracts. Today, Diane G. Whiting is a painter. But long ago, he was a fabric weaver. When she stepped away from the loom to embrace the easel, she wanted to find a way to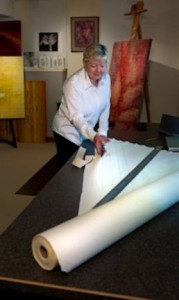 blend the two art forms into a single process. She did that by constructing unique, nontraditional supports composed of woven cotton canvas strips and strings carefully stapled to wood stretchers.
She cuts the strips on the bias from a roll of cotton canvas, washing and drying them to enhance the edges. Then she attaches them to her stretcher bars. After that, she weaves a second set of strips through the first set and carefully staples them to the stretcher. "Weaving strips of canvas came naturally," Diane reports, crediting the many years she spent weaving on a loon.
In her recent works, Diane also weaves other materials into the support,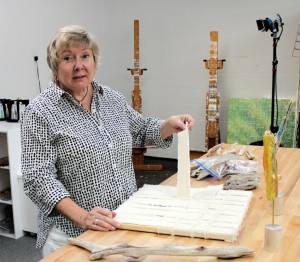 such as thin metal rods, string and, her favorite, bamboo sticks. Then she applies a couple of coats of gesso to lock everything in place. When it dries, the surface is ready for paint.
Most painters have favorite colors, and Whiting is no exception. "My paintings are inspired by hues and patterns of sea, sky and stone," notes Whiting, who professes a deep and abiding love of nature and time spent outdoors. "The intention is to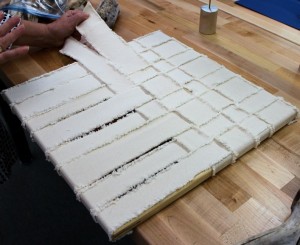 convey the feelings that I associate with these natural elements, sometimes light and airy, but occasionally rich and deep."
Whiting has no problem figuring out what aspect of nature to borrow from. Thanks to her husband's nature photography and their extensive travels, she has a ready supply of inspirational subjects. "Sometimes, just a tiny portion of a photo will spark my imagination,"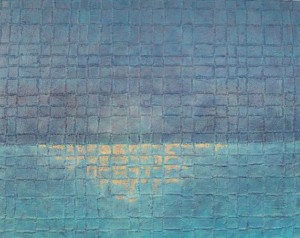 Whiting remarks.
The combination of weaved canvas strips, found objects and pigment work symbiotically to produce richly textured nature-based compositions. In this, she shares a tradition embraced by Gauguin and van Gogh when they painted together in Arles on burlap supports in order to give voice to their expressive brushstrokes and generous use of impasto.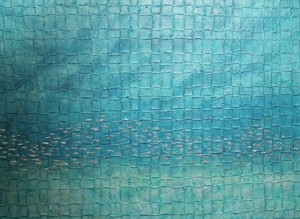 "When you see my paintings, you may notice the colors gently lifted by the patterned background," Whiting points out. "There is a third dimension that produces soft shadows on the surface. I am determined to show the free forms of earth elements lightly laid upon the orderly framework, a hint of structure to nature." And this allows her paintings to compliment rather than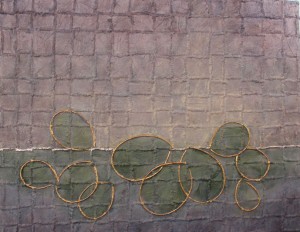 overpower the style of any room, whether contemporary, traditional or eclectic.
Diane graduated with honors from the University of Wisconsin with a degree in art education. Degree in hand, Whiting could either teach art or become a professional artist. "Realizing that teaching wasn't for me and that selling enough art to make a living would be difficult, I decided to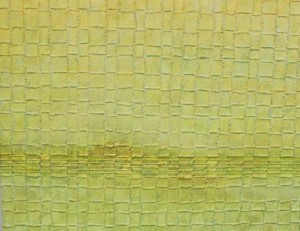 look for other work," she recounts. She felt drawn to Minneapolis, where she accepted a position in the financial industry and met her husband, Jim. 
After spending many years in the financial industry in Minneapolis, she and Jim moved to the lakes area of northern Minnesota. Having the luxury of time, she pursued a variety of artistic endeavors. A passion for gardening led to floral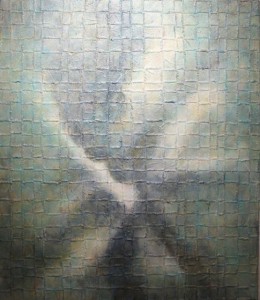 design and pencil portraits of flowers. A studio in a renovated historic building in Brainerd, Minnesota provided a place to brainstorm with other artists and experiment with fiber and metal structures along with acrylic painting. Adjacent to the studio, she and Jim designed and built the Q Gallery, which became central Minnesota's premier exhibitor of regional art.
After years of visiting different regions of the country, it became apparent that Sante Fe, New Mexico was a location that would inspire continued artistic exploration. But five years in the high desert drew her back to the sea, and she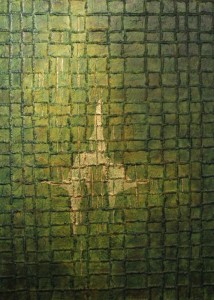 now resides with her husband here in Naples.
"If you savor warm breezes on the seashore, starry summer evenings, and a quiet forest trails, I invite you to see what can happen when a fabric weaver becomes a painter," the artist entices.
Collaborative Pieces. [Coming soon]
Jim's Art. [Coming soon]
Physical Address. Blue Pearl Fine Art is located at 6260 Shirley Street, Suite 604, Naples, FL 34109.
Web Address and Telephone Number. You can reach the gallery by telephoning 320-217-3680 or emailing dgwhiting@mac.com. Diane's website is located at http://www.dianegwhiting.com.