Rosen Gallery & Studios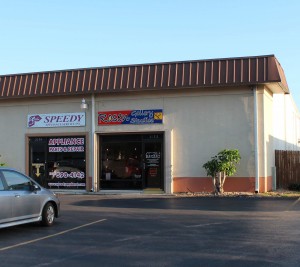 The Naples Art District in Pine Ridge Industrial Park in North Naples is dotted with companies that cater to people who are building or renovating their homes. But among the rows of offices, warehouse and flex space occupied by architects, interior designers, building contractors, cabinet makers, wood workers, granite and stone fabricators and lighting showrooms are more than two dozen art galleries and working artist studios. Just as these gallery owners and artists have banded together to form Art Alliance Naples, six artists with unique styles and backgrounds have joined forces at Rosen Gallery & Studios to create and show their art under a single roof.
Location. Rosen Gallery & Studios is located in North Line Plaza at 2172 J&C Blvd., Naples, FL 34109. One block south of Trade Center Way, J & C Boulevard forms the southern perimeter of Pine Ridge Industrial Park, which is sandwiched between Goodlette Frank Road and Airport Pulling Road.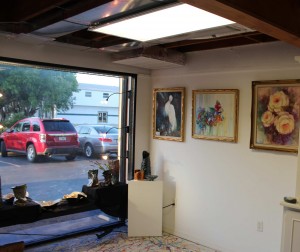 Facilities. Rosen Gallery & Studios is a deceptively large facility that occupies a long, narrow combination office/warehouse space. It is divided into three distinct areas, a 250 square-foot front office with paint-spattered concrete floors that is used for the display of featured wall art and sculpture; a 1,500 square-foot warehouse that is dedicated to both the display and creation of 2D and 3D art, especially ceramic and raku pieces; and a second floor 250-square studio that overlooks the warehouse.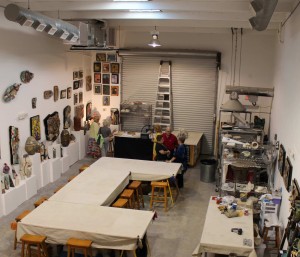 Not surprisingly, the warehouse functions as the heart of the studio. It is dominated by three long banquet tables configured in a C-shape in the center of the warehouse. Lined on both sides by oaken saddle chairs, the arrangement is conducive to an exchange of ideas and inspiration both by the studio's own artists and the myriad students who enroll for a variety of classes, including ceramics and raku. Another large table is situated adjoining the steps leading to the second floor studio, creating plenty of working surfaces in this section of the gallery.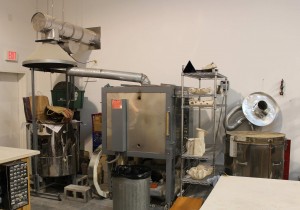 The warehouse is also home to three kilns. Two are powered by electricity; the third by propane. They are nestled in a group in the southwest corner of the warehouse, adjacent to a 10 foot wide by 12 foot tall overhead door which can be rolled up when the kiln is in operation so that freshly-fired ceramics (called wares) can be placed into aluminum cans that are left outside for the often-smoky cooling process called post-firing reduction. [See below.]
In addition to classroom and working studio, the warehouse's long, uninterrupted 14-16 foot tall sidewalls also function as gallery space. A bevy of white cubes, cuboids, rectangular prisms and cylinders running the length of the eastern demising (tenant separation) wall support Rosen's 3D ceramic and Raku sculptural pieces, while the wall itself supports a number of his collages and ceramic wall hangings. The other artists utilize blank wall space along the near, rear and west exterior wall, shadowing the steps to the second floor working studio.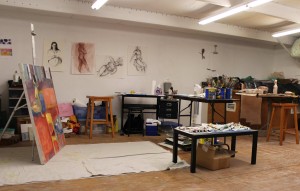 The second floor studio is surprisingly deep and spacious, and commands a view of the warehouse floor. But this is a space given to the creation of art rather than its display or instruction, with wet canvases leaning against easels and tables crammed with tubes of paint, jars of linseed oils and coffee cans filled with brushes, palette knives and spatulas.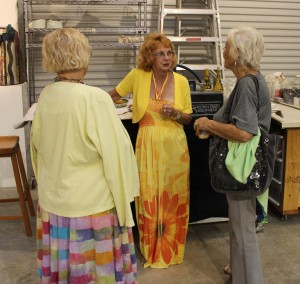 The Artists. Six artists share space, supplies and artistic drive at Rosen Gallery & Studios. They include alphabetically Christine Murphy George, Richard Rosen, Tracy Magen Rosen, G. Todd Vaughn, Sara Wood and Nancy Wood Woltz.
Painter Christine Murphy George (middle, in yellow dress in photo on the right), a Rochester, New York transplant, exhibits in the west room in the front gallery.
Ceramic sculptor Richard Rosen works in the back warehouse and exhibits along the east demising (tenant separation) wall.
Painter Tracy Magen Rosen (posing in front of her assemblages in photo on the right), is a graduate of the Philadelphia College of Art. Her media include oils, watercolors, pastels, pen and ink, collage and assemblage. A grouping of her assemblages hang on the east wall, just inside the warehouse.
G. Todd Vaughn is another ceramic sculptor. A resident of Allen Park, Michigan, Todd creates tree frog clay sculptures that are fan favorites at art festivals across the country.
Sara Wilson crafts hand-built, raku fired clay sculptures.
Nancy Wood Woltz has been painting all her life, but "you never stop learning," she says of her commitment to develop and refine her skills by continually taking courses and 12-hour marathon workshops by renowned artists such as Graham Nickson. Woltz also works as a docent at the Patty & Jay Baker Naples Museum of Art.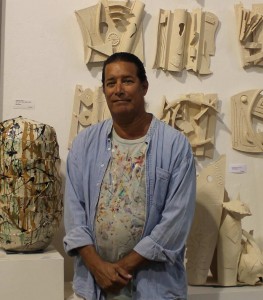 Richard Rosen' work combines sculpture, painting and occasionally woodworking as well. He expresses himself in both wall hangings and free-standing 3D pieces. The artistic process begins for Rosen with the conception or visualization of an idea that is often informed by people he's met, places he's visited and world events that he has experienced, whether directly or vicariously. "The freedom to improvise and allow for the natural flow of  ideas is essential."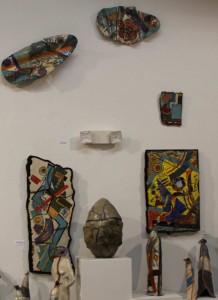 Rosen can often be found listening to a variety of music as he works in his studio, building ceramic pieces by hand in a natural, tactile process that he finds both calming and therapeutic. After the piece dries, Rosen bisque-fires it before applying underglazes and glazes that consist of finely ground colored glass that enable him to "paint" the clay with color. That done, the piece is re-fired using contemporary raku firing methods that add an element of surprise and spontaneity which is attributable to the unpredictable reactions of the clay and glazes. These reactions often result in dramatic cracking and brilliantly colorful metallic effects that are incorporated into the finished piece.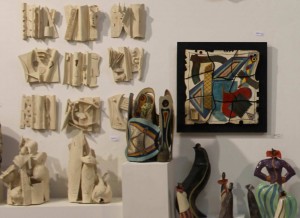 Rosen's work evolves intuitively and is inspired by shapes, textures and colors found both in nature and man-made constructions. For example, he finds organic and geometrical abstract images in clouds, rocks, trees and city skylines. His overarching desire is to make his art fun and stimulating for his viewers. Since his work is open to interpretation, viewers are encouraged to use their imagination while enjoying and contemplating it.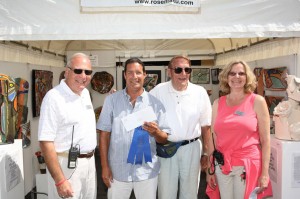 In 2009, one of Rosen's clay sculptures took Best in Show at the 30th Annual Naples National Art Festival in 2011. The festival was judged by Naples-based artists and art collectors Charles L. Marshall, Jr. and Richard L. Tooke. "Richard Rosen is taking the medium and pushing it into another dimension," Tooke said. "His work has unique shapes and form, and colors. He has a distinct color sense. His work is very mature. I was looking for someone who took the 3D medium and turned it into a voice of his own, and Richard did that." [At left, Rosen is pictured with former Naples Art Association director Joel Kessler, Sy Rosen and Festival Director Marianne Megela.]
Raku. Richard Rosen and ceramic artist Annabelle Johnson offer a class called "A Taste of Raku" at the studio on Monday evenings and Thursday afternoons. Designed for beginners ("no experience necessary"), the five-week course teaches participants the history of raku, what various glazes do, how they affect the pot, and what the glazing process involves. Then Rosen and Johnson provide students with a "blank" ready-made bisque-fired pot or vessel for them to glaze. Their pottery is then placed in a kiln, fired, cooled and washed. Once the process is complete, each participant has a personalized example of raku pottery to display in their home. The cost of the class is just $195 and includes the vessels, glazes and other material needed throughout the course of instruction.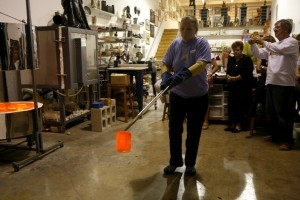 Raku is a pottery technique that originated in 16th century Japan, where it was developed by Korean potters under Japanese rule to produce simple, yet refined bowls for Zen Buddhist tea ceremonies. Like salt glazing and pit firing pottery techniques, raku primarily revolves around the firing process. In Raku, pottery pieces called wares are typically loaded into a cold kiln. The firing then proceeds at a rapid pace with the wares reaching a temperature of 1851 degrees in just 45 minutes (though raku firings can take as little as 15-20 minutes or last up to several hours depending on the individual pieces and their firing requirements). Glaze maturity is judged by the trained eye without the use of cones or measuring devices. When the firing is determined to be completed the wares are immediately removed from the kiln. Since the glaze is still molten at this point, tongs or other lifting devices are used.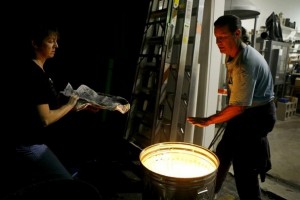 The white hot wares now go through a "post-firing reduction" cooling phase. They are transferred to a container such as an aluminum trash can that has combustible material inside such as sawdust, wood shavings or chips, leaves or even newspaper. The material may either be dry, damp or wet. Once the material ignites, the container is covered tightly with a lid. As the material burns, it gives off carbon. Once the fire consumes the oxygen in the container, it then draws oxygen from the glazes and clay body of the pot or vessel. These carbon off-gassing and oxygen consumption chemical reactions serve to finish the pot or vessel and the glaze, imparting unique effects to the surface of the wares. Some of these effects are metallic and crackled glaze surfaces and others are black un-glazed clay. When the wares have cooled, they are washed with an abrasive cleaner and water to remove any residue of soot and ash.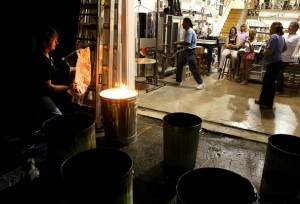 What's so enticing about raku is that the results are normally unpredictable. Pots that once promised to be luminescent blue can turn shimmery copper. Spidery black and white lines may develop, or they may not. Smokey streaks are created, or they aren't, and whatever design the budding artist tried to impose upon the ceramic vessel could be exactly what was wanted — or an inexplicable alternative. "Same glaze, same process, different results," notes Rosen. "Mother Earth puts her five percent in there. That's part of the allure of doing this."
Another reason for raku's popularity is that it provides almost immediate results. "It gives people instantaneous gratification," Johnson says. "We're able to take ceramics, which is typically a long process, and shorten it so it can be done in an evening."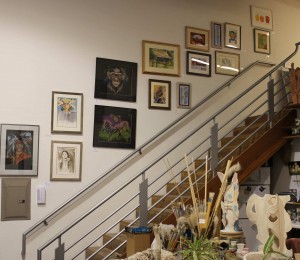 Hours. The gallery's hours are not posted online, so it is best to call for availability or to arrange a gallery tour or private showing.
Telephone and Website. You may reach the gallery by telephone at 239-821-1061 or visit it online at www.rosenraku.com.
Ownership. The gallery, which is operated as a sole proprietorship under a fictitious name, is owned by Richard W. Rosen.
Related Articles and Links.