Transition 2012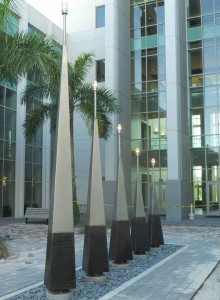 On the mall leading to Lutgert Hall, five corten and stainless steel spires rise majestically from a bed of black river rock in ascending heights from 7 to 15 feet. Each ends in an LED beacon that sends shafts of light throughout the mall at night just as FGCU graduates will carry the illumination they receive at the university into the world beyond. The spires are called Transition and their sculptor is internationally-renowned artist Robert Roesch.
Roesch reveals that Transition's spires "represent the promise of great things ahead." Metaphorically, the change in metal from the 3-foot bases of corten steel to tops of reflective stainless steel symbolizes the change that will take place within each student as a result of the educational process. The sculpture dovetails with the strong verticality of the business school and the surrounding architecture inside the mall. The spires, in fact, echo the grid pattern repeated throughout the mall.
The power source for the LED beacons also coincides with FGCU's commitment to energy conservation and green initiatives. "I favor solar power," says Roesch. "In fact, 90 percent of my studio is powered by solar panels; everything except the hand tools I use. But when I came to FGCU's campus to visit the site where Transition would go, I noticed an entire field of solar panels and was told that the university derives 20 percent of its electricity from solar power. So it would have been redundant to have the beacons have their own solar power sources. Instead, I tied them into FGCU's power grid, but by making them LED, they cost a mere $2 per year each to operate, so they are both cost and energy efficient."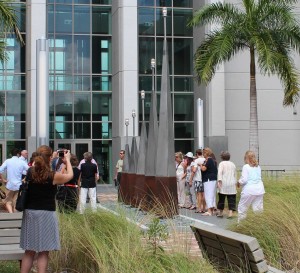 Artists must often make budgetary concessions when designing a site-specific public art piece, and Roesch was no exception when it came to Transition. "I would have preferred to have ten spires that ranged in height from 10 to 25 feet instead of five that go from 7 to 15 feet. That would have allowed the tops of the spires to create a smoother, more aesthetic curve and let the beacons more closely resemble stars."  Taller spires would have also contributed to a stronger sense of movement, "a feel of taking off."
Roesch's favorite venue in which to erect public artworks is on university campuses. "Universities is where you find young people who are concerned about saving our planet and making contributions to society. As a seasoned artist, I want to have some play in that. So I love to build in those environments."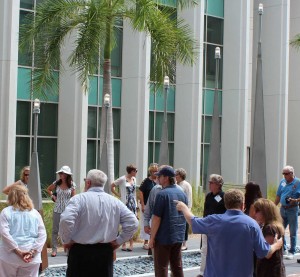 Since its completion, students, faculty and visitors to FGCU's campus alike have luxuriated in the subliminal metaphorical and allegorical stories Transition tells. This is as the artist intends, a feature recognized by art critic Burton Wasserman in his earlier [February 2010] article in Icon Magazine (pg 11). Roesch is "a seasoned master of a style best described as the abstract sublime…., Wasserman writes. "To feel the vitality of his awesome artistic geometry is to identify with mighty presences at work in the universe at large. Joined together with a touch of virtuosity, they open existential realms of perception, amplifying rare metaphysical states of dynamic expansion. They are realities able to plumb the core of one's innermost sense of contact to the past, the present and the future. In their own terms, they embody a profound sense of poetry. "
About Robert Roesch

Born in New York State, Robert Roesch lives today in Pennsylvania and works in a studio in the New Jersey Pinelands. He holds a B.F.A. from the School of Fine Arts of the Pratt Institute in Brooklyn, and a B.A. from the School of Art and Design of the State University of New York in Farmingdale. A member of the Philadelphia Art and Architecture Commission and Chair of Sculpture at Pennsylvania Academy of the Fine Arts, Roesch has received 12 grants, including 2 Fulbright Specialist Awards to lecture and exhibit throughout Japan in 2006-2007 and to represent the USA in the Baku Biennial (2009).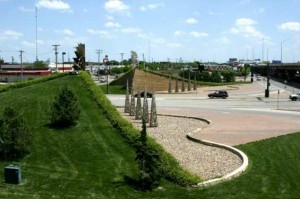 Roesch's work can be found in museum collections worldwide. He has completed 20 major public art projects in the United States alone. His most ambitious U.S. project is Wind Spirit Gateway, which consists of ten 16-foot lighted stainless steel spires with two 20-f00t stepped limestone berms, each topped by two 18-foot stainless steel shapes. Together, they serve as the gateway to the city of Wichita, Kansas. "It's the first thing visitors see as they enter the city," Roesch notes with pride of the project, which took one year to complete. "To walk away from a site where you've formed the earth and left icons behind is just an amazing thing, especially when you've given it meaning."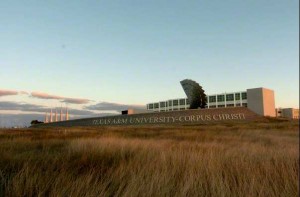 Roesch's largest monumental sculpture in this hemisphere is Momentum, a massive 280-foot-long by 46-foot-high sculpture that sits at the entrance to Texas A&M University in Corpus Christi. "It's my happiest piece because it gave me the chance to completely stretch out," says Roesch of the project, which is located across the street from the Gulf of Mexico. "The fan that's located on one end is now the University's logo," adds Roesch with satisfaction, who finds large-scale works magical. "I love, love, love building large works. There is a certain amount of joy I get out of finding my sculpture on Google Earth."
Roesch found Takeflight in Norwich, Connecticut to be a very satisfying project because he was able to get involved with the architect during the planning stages of construction. As a result, the building was actually designed to showcase the 2009 sculpture, which flows onto the building and appears to echo its title.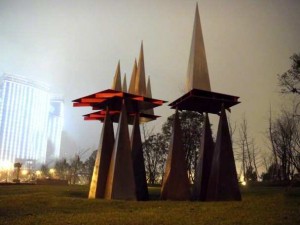 Roesch and his wife, artist Suzanne Horvitz, collaborated in 2008 on a mammoth public art installation at the Academy of Fine Art in Hangzhou, China's West Lake region. Called Transduction, it features a series of pyramids above and below a table or plane made of gold and Corten steel. The name signifies that moment in time "when the atmosphere transfers from one point to another," for example air to water, love to hate, over world to underworld. Roesch traces the concept to his extensive experiences in sailing. "When boat, sailor, water and wind are in harmony, it creates a perfect state of mind." Transduction, a term supplied by one of Robert's sons, who is a neuro-scientist.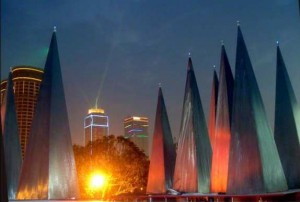 Transduction is solar driven. "It lights itself up at night," Roesch reports, "and re-charges itself during the day." Solar power and sustainability are topics that have caught the sculptor's fancy, and his recent monumental work in Mexico (which consists of three pyramids 35 feet high) is also solar driven.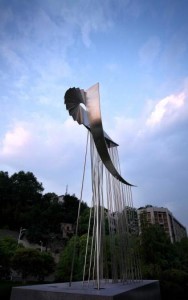 Roesch completed a second work in China in 2010. Called Rainwall, it is located in Jiande.
Roesch and his wife and fellow artist, Suzanne Horvitz, have also served as Cultural Advisors to the U.S. embassies in Azerbaijan, Egypt, Syria, Argentina, Ecuador and Myanmar. Roesch was an invited artist in the 2007 and 2009 Biennials in Egypt. Roesch teaches construction techniques, sculpture composition, sculpture seminars, sculpture projects and digital imaging in the Certificate/BFA program at the Pennsylvania Academy of the Fine Arts. He also teaches courses in the Continuing Education program.
A Note about Corten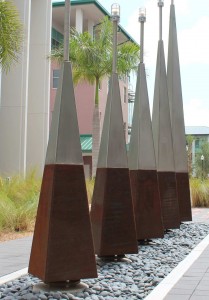 Corten is the trade name given to a group of steel alloys developed to eliminate the need for painting. When exposed to the elements for several years, corten forms a protective layer that has a stable, rust-like appearance  but which actually resists further corrosion. For that reason, corten (sometimes called weathering steel) is popularly used in exterior building facades and outdoor sculptures such as the large Chicago Picasso Sculpture.
It is important to note that weathering steel is not rustproof in itself. If water is allowed to accumulate in pockets on or around it, corten will experience continued corrosion. For that reason, Transition's five spires are set several inches above ground level. Corten's normal weathering can also lead to rust stains on nearby surfaces, particularly sidewalks and decorative curbing. This factor no doubt explains in part why Transition has been sited in a bed of river rock, which ensures that dew and rainwater drains into the soil beneath the stone.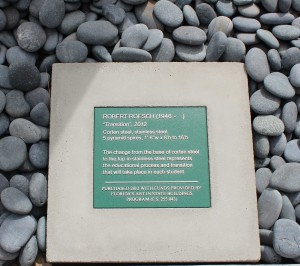 Weathering steel is also sensitive to environments that have a lot of salt in the air. In such places, the protective patina can fail to stabilize, leading to catastrophic corrosion. That is what happened to the former Omni Coliseum built in 1972 in Atlanta, which never stopped rusting and had to be demolished just 25 years after construction when large holes appeared in the structure.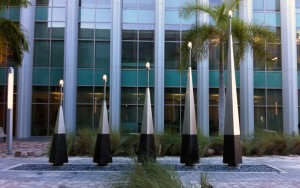 Nevertheless, Roesch himself is less worried about the longevity of the corten than the stainless steel he used in Transition. "The stainless steel is one step down from a polished surface," the sculptor notes. "I didn't want the tops of the spires to be too bright or blinding in south Florida's intense sunlight, but my fabricator in Texas and I had to be careful not to destroy the passivity of the polymers we used." He was first introduced to those polymers by a NASA aerospace scientist while he was designing Momentum, the massive 280-foot-long by 46-foot-high sculpture that sits at the entrance to Texas A&M University in Corpus Christi (see above). "It's the same composition I used for the Florida Atlantic University piece [Alchemy, mentioned below]. The polished-back stainless steel should last forever," Roesch predicts. "But I still worry about that late at night because stainless steel contains iron after all or it would be too brittle to use."
Were the polymer to fail over time, the stainless steel could yellow.
Fast Facts.
Transition was installed on January 5, 2012.
The cost of the sculpture was $71,750.
The sculpture was purchased with funds provided by the Florida Art in State Buildings Program (Fla. Stat. s. 255.043), which mandates that 0.5% of the cost of constructing academic buildings paid for with Public Education Capital Outlay (PECO) funds be spent on public art.
The art purchased for each building is determined by a committee convened for that purpose and is generally comprised of a representative of FGCU's president, the building's architect, a representative of the building faculty and two other members of the art community in the Fort Myers area. The committee issues a "Call to Artists," reviews the submissions received and selects the artist with whom they desire to work.
Roesch became interested in steel working on tugboats in East Long Island, New York.
In addition to wife Suzanne and his two boys, Roesch has two loves: sailing and west coast jazz, especially from the '50s and '60s. "Without sailing and jazz, there'd be no Roesch art," the sculptor has avowed.
His favorites are jazz saxophonist and composer John Coltrane and trumpeter, bandleader, and composer Miles Davis. Roesch met Davis at a gallery show, and the two ultimately became friends. "He collected me pretty heavily," Roesch adds with pride.
Roesch credits as his greatest teacher and motivator an incident that happened to him at sea in 1979. "A friend invited me to crew with him on a boat he was bringing from Martha's Vineyard to Long Island for a defense attorney in Manhattan. A fog came in and we were hit by an Exxon barge and tug boat. The captain was killed and for two and a half hours, my friend and I were left to our own devices, not sure we'd survive. That experience has given impetus to every drawing I've made since then."
Transition is not Roesch's first sculpture under the Florida Art in State Buildings program. In 2002, he completed a work called Alchemy, which consists of three 16-foot corten and stainless steel spires that sit outside the entrance to the Senator James A. Scott Education and Science Center at Florida Atlantic University.
"Great art tells a story," Roesch observes. "For example, around the time Andy [Warhol] did his Campbell soup cans, my mother, who was an avid country cook, stopped making meals from scratch and went almost exclusively to using processed foods." Roesch sees Warhol's Campbell's soup series as symbolic of this fundamental societal change and hopes his public artworks similarly capture significant historical world events. "If you don't have art, you don't have a true visual history of how people live."
Related Articles and Links.
Transition is registered on cultureNOW.org, on online public art database that encompasses more than 11,000 sites, 21,000 images, and more than 1,050 podcasts by artists, architects, historians and curators.