The Sweet Art Gallery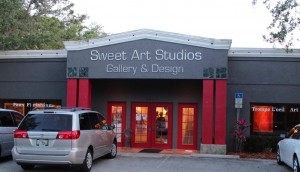 Location. Located at 2054 Trade Center Way, The Sweet Art Gallery is ensconced in a neighborhood populated by building contractors, interior design studios, lighting fixture showrooms and granite & marble fabricators. At first blush, the area looks more like an industrial park than an up-and-coming art district, but on and around Trade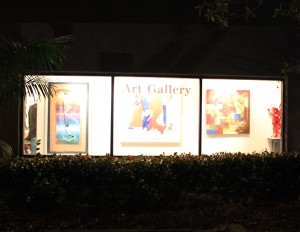 Center Way is a collection of art galleries and artists' studios among which The Sweet Gallery is the oldest and largest. In fact, Sweet Art is one of seven galleries and 25 artists' studios located within half a mile of each other.
Facilities. The gallery is deceptively large. With more than 7,000 square feet of display space, Sweet Art is the largest art gallery in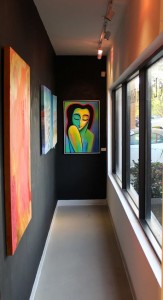 Southwest Florida. Inside, paintings, assemblages and sculpture are exhibited in a series of interconnected viewing rooms, alcoves and discovery zones. "But because the gallery's frontage on Trade Center Way is modest, people don't realize how big this building is," comments gallery owner Dede Sweet, who has kept just enough of the pre-engineered steel building's architectural elements to pay homage to the industrial park character of the Design District. The entry and front viewing spaces feature 12-14 foot high ceilings which are bisected by white-painted purlins, electrical conduit and horseshoes of gallery spotlights. Beyond the front entry, the painted concrete floors unabashedly reveal the control joints cut into the concrete when the foundation was poured. The walls are finished drywall, painted white to place the focus on the artworks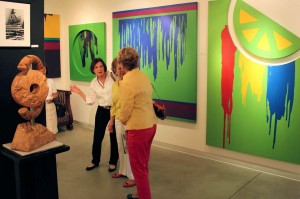 hanging from the walls. Here and there, boxed steel columns can be seen angling toward the structural beams that support the metal roof.
With a tasteful chandelier and bronze-colored stonework, the entry is inviting and provides an inviting space for welcoming the throngs of guests who flock to the gallery for opening night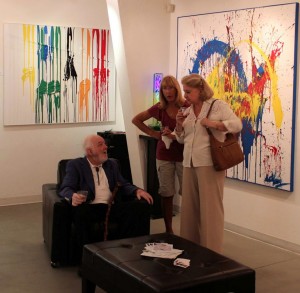 receptions and other events. Long walls just a few feet removed from the front showroom windows enable the gallery to showcase selected artworks without sacrificing the privacy and comfort of guests once they find their way inside. Across from the front doors is a private viewing room that features a drop ceiling with two-foot square acoustical tiles, a black-painted accent wall and sand-tone berber carpeting. Black accent walls, paired armchairs and strategically placed pedestals bearing free-standing sculptures add scale and stylistic flourishes.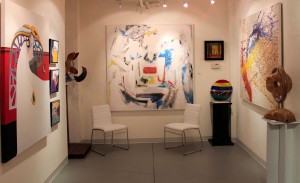 In sum, Sweet has created a sophisticated, urban environment that complements the artworks and which is ideally suited to viewing the abstract and modern contemporary art on display at The Sweet Art Gallery.
Genres and Media. The gallery gravitates toward abstract and modern contemporary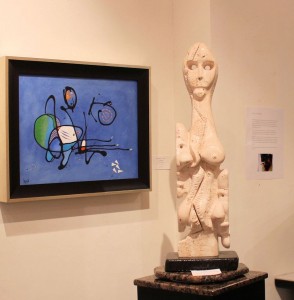 paintings and sculpture rendered by emerging local talent and internationally-acclaimed artists. Sweet features artists who have their Masters in Fine Art while simultaneously cultivating and showing artists who are just starting out. In all, Sweet represents 45 blue chip artists, including painters Clemente Mimun, Mary Ann Flynn-Fouse, Sharon Erbe and Stephen Mancini, and sculptors Marton Varo and Dennis Elliott.
"Our venue changes twice a month at least, with 35 artists showing at a time," notes Dede Sweet. But so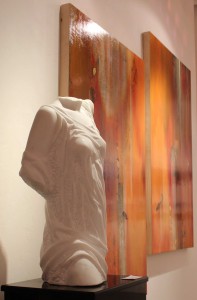 close are the artists represented by Sweet Art that even those who aren't being featured attend many of the gallery's shows and other events. And because Sweet handles all the marketing and business matters that artists hate and are not trained to do, they have more time to create so that the art on exhibit never gets old or stale. "For every work on the wall, there are two more by the same artist in storage," notes Sweet. "More often than not, the collector falls in love not with the piece they first see, but with the one we bring out."
While the gallery is dedicated to advancing the careers of the artists it represents, its overarching goal is to help collectors, whether neophytes or experienced, find art suitable for their taste, viewing environments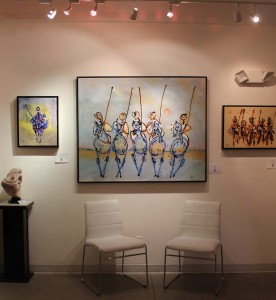 and acquisition budgets. "We go across the board to help make all original art affordable so everyone can enjoy art as an investment," says Dede Sweet. "So when people visit our gallery they know we have done our homework. We want to make art affordable for everyone." She notes that their prices range from under $500 to over $5,000. "Art is not really a trend; it's about what makes you happy. Art creates reaction and that's what our gallery tries to do. We try to create attractions and reactions for our art patrons."
Representative Artists. Among the 45 artists represented by the gallery are: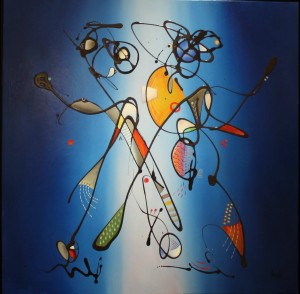 Clemente Mimun. Born in 1937 in Italian Tripoli, North Africa, artist, Clemente Mimun lived his childhood years in the ex-French colony of Tunisia.  Raised between three cultures, Clemente immersed himself in the museums of LeBardo and Carthage, abundant with Roman and Phoenician art, all of which left an indelible impression.  At the age of 16, Clemente moved to Paris where he spent countless hours in the coffeehouses absorbing the philosophical conversations of elder artists.  To this day, Clemente acknowledges these experiences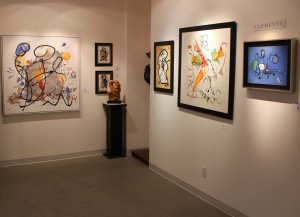 in the development of his own personal philosophies on existentialism and self-responsibility – all of which transpire in the motivation for his artwork. Today, his universal language is spoken through his art. Clemente explains that his work is born of a synergy between memory and imagination.  He uses no models, pictures or still life arrangements when creating a new work of art.  A self-proclaimed "observer," Clemente chooses to elicit an intellectual formula for his subject matter that he describes through a hierarchy of interpersonal understanding.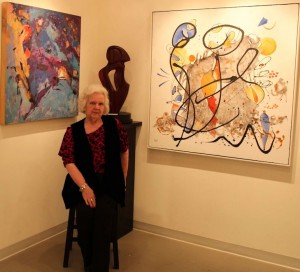 Mary Ann Flynn Fouse. Flynn Fouse began her career in the 1950s at Kent State University.  It was an exciting time to be an artist with visionaries like Pollack, DeKooning, Rothko and Motherwell doing paintings that would shift the center of the art world from Paris to New York City.  Their paint drips, gestural brushstrokes and glowing soft edged rectangles of luminous color shook the established art world to its very core. But the radical, avant-garde cache' of abstract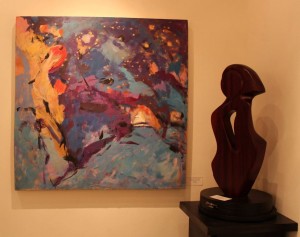 expressionism appealed to Mary Ann Flynn Fouse.  Reflecting back on her nearly 60 year career as an abstract painter, Mary Ann calls her work "splashy, gestural coloramas." "It was certainly all about the energy of action painting; the immediacy of expression," she adds. "I love the uniqueness, learning this new language of art and expressing the colors and shapes in my own individual way."
Sharon Erbe. Sharon Erbe's paintings reflect a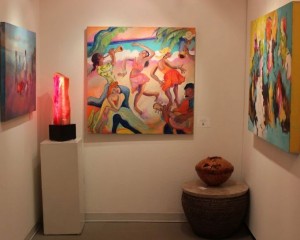 lifetime love of music, dance, and theatrical flamboyant affinity. "I feel that my true nature expresses itself in my art – being in the moment, celebrating the freedom of explosive color – and the jubilance of dancing figures affirming a positive life force," says Erbe. "I look for repetitive shapes to articulate my outsized energies and feelings.  The Caribbean motif, I often use, is the exemplar of a free spirit approach to life, even in the face of adversity. I try to capture an essence of humor and dignity as a statement about the indomitable human spirit."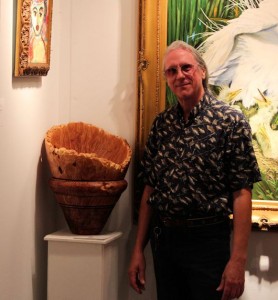 Dennis Elliott. Wood sculptor Dennis Elliott also has a musical background, but during his first decade as a sculptor, he scrupulously concealed that between 1975 and 1993, he was the drummer for the mega-rock band Foreigner. "It was important to me to succeed or fail as an artist on my own merits." Elliott sculpts turned burl wood vessels, wall hangings and kinetically-infused 3-D sculptures that engage viewers interactively. He begins in the center and works outward toward the edges, uncovering and discovering the wood's unique characteristics like an archaeologist on a dig in the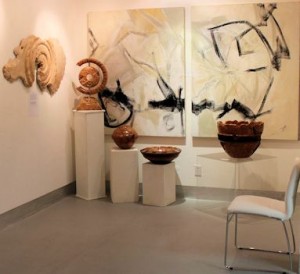 Valley of the Kings. Then he carves the wood with various tools to give each piece a tactile feel. "People rarely touch a painting, but I encourage them to my vessels, wall hangings and orbital pieces." In his current series of wall sculptures, Elliott adds detail to each piece with carving tools and chainsaws, often burning sections with tiny markings before finishing each piece. Some areas are burned with abstract images, others represent stars, planets, and nature.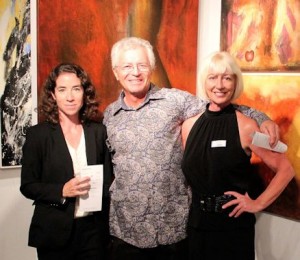 Marton Varo. Marton Varo is an internationally-recognized artist who combines elements of classically Greek and distinctively modern sensibilities. He is considered one of the premier stone sculptors of the modern era. His eye for formal relationships combined with a modern aesthetic produces defined figures. His style of sculpture stems from the Greek style prominent in the mid-fifth century B.C. and especially the sculpture associated with Phidias, who designed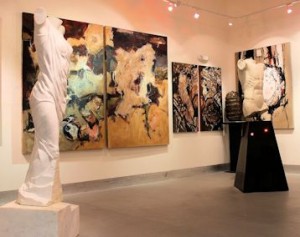 the sculptures found on the Parthenon. A major component of his sculptural output consists of draped female torsos and female figures, which are inspired by Greek sculptures and similar subjects. Born in 1943 in Szekelyudvarely, Transylvania (now Romania), Varo attended the Ion Andreescu Institute of Fine Art in Cluj, where he received training in classical fine art. His work is included in museums and private collections worldwide,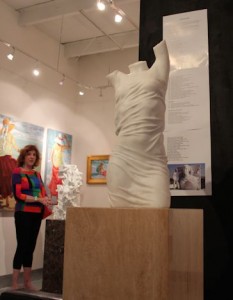 including the Stedelijk in Amsterdam, the National Gallery in Budapest, the Central Finland Museum of Art, the Art Institute of Southern California and the University of California in Irvine.
Hours. The gallery is open Tuesday through Friday from 10 a.m. to 5 p.m. and on Saturday from 10 a.m. to 1 p.m. In addition, the gallery opens for 1st Wednesday Underground Art, which takes place from 6-9 p.m. on the first Wednesday of each month from November through April, as well as from 6-8 p.m. for receptions marking the opening of exhibits which the gallery announces periodically throughout the year.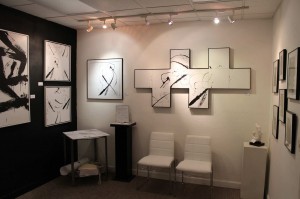 Telephone Number and Website. You can reach the gallery by telephone at 239-597-2110 or online at http://www.TheSweetArtGallery.com. You may also follow the gallery on Facebootk at  http://www.facebook.com/pages/Sweet-Art-Gallery-Cafe/110952945640508.
The staff monitors the gallery's website regularly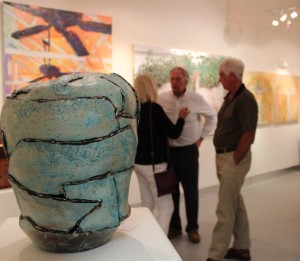 and responds quickly to requests for additional information, from canvas sizes to the availability of other work. Sweet Art also shares information about upcoming shows and new work via email and Facebook. But social media remains a point of entry. "Our contacts are one on one," Sweet is quick to point out. "We take the time to get to know our clients, their homes, their collections and their tastes. If a work comes in that we know they'll love, we call them and we let them know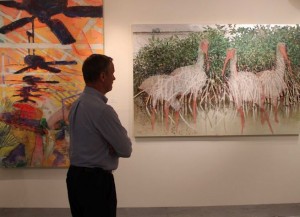 there's something they just have to see. They appreciate that, as evidenced by the fact that we've had many of the same clients for the last eight or nine years. We even have some who have been with us since we first opened."
Owner. The gallery is owned by Sweet Art & Design, Inc., a Florida corporation that was established on April 14, 1997. The company is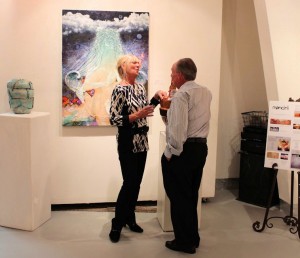 owned by Diane L. (Dede) Sweet. Sweet has a background in interior design. In fact, she majored in interior design and merchandising at Bauder College in Atlanta. To help pay her way through school, Sweet did illustrations for fashion design students, and she ended up becoming an illustrator before landing in fashion design. "I modeled for 12 years and did local theater here in southwest Florida," Dede shares. "One day I was unloading my own personal art during a move and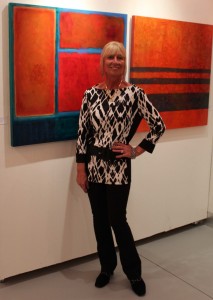 an interior designer liked what she saw. She asked me to do a painting for one of her projects. Then I started doing art out of the garage where I was living in Naples. She eventually opened a studio on J&C Blvd. The studio grew and Sweet moved to Trade Center Way to be in the heart of the Design District. When Hurricane Wilma blew through in 2005, Sweet Art sustained massive structural damage and flooding. When Sweet rebuilt, she adopted the mantra of "nothing on the floor," which inevitably led to the decision to create a full-fledged art gallery. She raised the ceilings and installed art lighting, and Sweet Art Gallery was born. Today, The Sweet Art Gallery works with clients all over Southwest Florida, Miami and West Palm Beach, and ships paintings all over the world.
Staff. Each member of the Sweet Art staff is fanatically trained. When guest walk through the gallery's front doors, they are treated to a tour that initiates an educational process designed to enable them to place a value on the works they see and evaluate why they are priced the way that they are. "They get to know the background of the artist – where they were educated, the museums they are in, the shows they have hung, the awards they have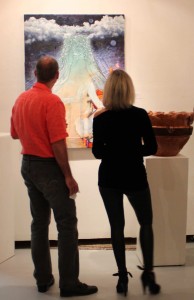 won. So that they can begin forging a relationship with the art they are going to put in their dining room or den. Every painting has a story, and it's not about the frame or a print number or even the type of material it's made with."
Each staff member is and functions as an art consultant or advisor, rather than a sales person. "On a normal day, we spend hours in our clients' homes making sure they get the right work of art for the space and look they are trying to create. It's a lifestyle statement, and it can take weeks, sometimes months, to define and refine what that statement is and what the collection should express. Plus, everything looks differently in their home than it does under the gallery's artificial lights –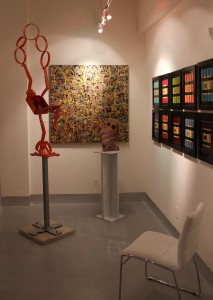 especially given the scale of some of these grand foyers and great rooms," comments Sweet. With that in mind, Sweet Art frequently lets collectors try out a painting or sculpture for several weeks and swap it for something else as their views or tastes change as they live with a piece over a period of time.
Fun Facts.
The Sweet Gallery is an outgrowth of Sweet Art & Design, a decorative art company specializing in faux finishes that Dede Sweet established in 1991.
When Sweet Art officially opened on Trade Center Way in December of 2005, Robert Rauschenberg unexpectedly dropped in and demanded to know (tongue in cheek, of course) who had the temerity to open a gallery without inviting him. That story is reproduced below.
Related Articles and Links.
Below are additional articles about Sweet Art, its artists and exhibits that have appeared in Art Southwest Florida:
Dede Sweet reflects back on the night Bob Rauschenberg popped into the grand opening of her North Naples gallery (10-29-14)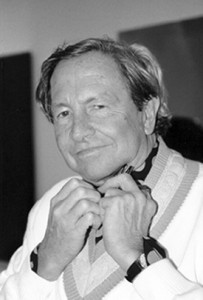 "Who owns this gallery?" Robert Rauschenberg demanded loudly as he walked through the red French doors of Sweet Art Gallery in North Naples. He was alone, wearing a festive holiday vest, clearly on his way to a Christmas party somewhere else in Naples later that night. But that's not what the gallery's owner, Dede Sweet, was thinking as she ran up to meet him.
"Are you Code Enforcement?" she asked, frantic. Just her luck. She'd jumped the starting gun and opened without having her C.O. (Certificate of Occupancy) in place, and now she was about to suffer the embarrassment and indignation of being closed down on opening night with a gallery full of first time guests and potential lifelong patrons. Someone on Trade Center Way must have turned her in.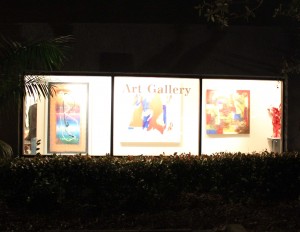 In spite of turning almost hypoxic, Sweet was taken aback by how handsome the inspector was. "He looked like Peter O'Toole," Sweet recalled as she recounted the story on what would have been the artist's 89th birthday a handful of days ago.
"No one ever opens a gallery without inviting me," the man chided. "I'm a collector," he added with a grin, allowing Sweet to breathe again now that he'd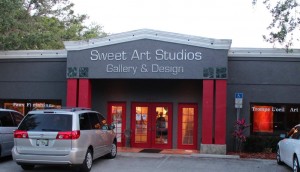 reassured her that she'd dodged the Code Enforcement bullet.
But now a new form of anxiety welled up in Sweet's computer-efficient business mind. She had apparently offended an important local private collector by omitting his name from her extensive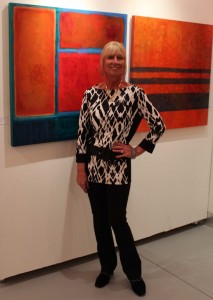 guest list. How could that happen? "Do you live in Naples?" she asked, scanning in her mind's eye the Naples communities she'd scoured for invitees to her grand opening.
"I live on the beach," Bob said flatly as he allowed the tall, statuesque blond to take him by the bicep and escort him around.
"I'm sorry. That's my bad," Sweet apologized. "I'm Dede Sweet and I'll make it up to you," she told him. He reached out a hand to her. "I'm Jonathan Green, and you could start by offering me something stronger than a glass of wine."
Sweet glanced at the Woodbridge on the makeshift bar. "I'm sorry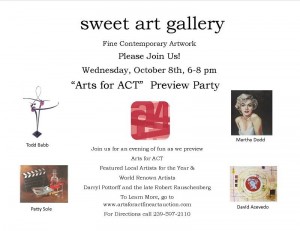 for the second time," she said shaking her head woefully. "This is all I have."
Sweet fretted about the encounter the rest of the night. "I really felt that I'd insulted him by not having him on my guest list," she says, thinking back on that night several years ago. "So the next day I tried to find Jonathan Green in Port Royal, on Gulfshore Drive, in Old Naples. I was going to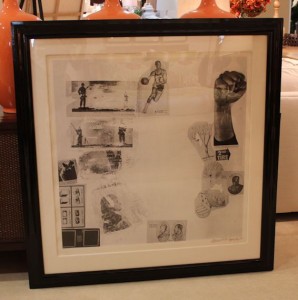 send him a flask of the best Vodka I could find with a note saying that from now on he would never be left off my invitation list. But I couldn't find any address for a Jonathan Green on the beach."
As luck would have it, a girlfriend invited Dede to go with her some time later to a birthday party for a friend by the name of Jonathan Green. "Could it be the same Jonathan Green," Sweet asked herself on the way to the party. But this Jonathan Green didn't live on the beach and when her friend introduced her, Sweet was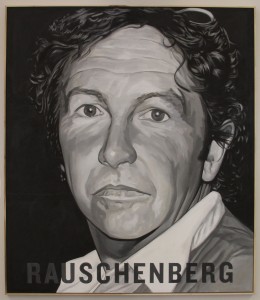 disappointed to find that it wasn't the same man. As she told the actual Jonathan Green her story, he tilted his head back and roared. "That was Bob Rauschenberg," he told a dumbfounded Sweet between peals of laughter. And it had been his Christmas party that Bob had been on his way to the night he'd dropped in on Sweet's grand opening.
Sweet never did get to see Rauschenberg again. "I was at abstract artist Mary Ann Flynn-Flouse's house when we heard the news that Bob had died. We both cried and shared a moment of grief over having lost one of our great ones," says Sweet, choking up even now.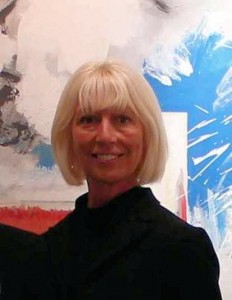 Just this past month Sweet got to share her story with Darryl Pottorf's sister, Jennifer Benton, at the Arts for ACT Fine Art Auction preview that Sweet Art hosted. The Abuse & Counseling Treatment director knew Rauschenberg well. Not only was her brother Bob's closest friend, studio assistant and artistic collaborator, but Bob supported ACT's mission by donating prints and original works to the Arts for ACT Fine Art Auction for years preceding his death in 2008. In fact, three Rauschenberg prints will be included in this year's fine art auction in the Harborside Event Center on November 8.
"Sounds just like him," Benton said when Sweet completed the story.
And what would Sweet have done had the artist given her his real name that night at her grand opening? "If he would have told me he was Bob Rauschenberg, I would have fainted on the spot," Sweet admits. "But he was such a card. He was cutting up that night and didn't want me to know who he was. He wanted to remain incognito."
It was just Bob being Bob, and that night, it was Dede Sweet who got to deal with it.
_____________________________________________________________________________________________
Stephen Mancini mixed media works at Sweet Art break artistic rules (11-27-13)
On exhibit at The Sweet Art Gallery in North Naples are works by contemporary realist Stephen Mancini. His paintings make an important statement about the nature of human consciousness.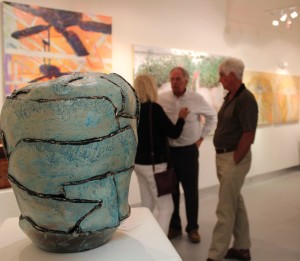 Just as the Impressionists taught the world to rethink how the eye processes color, Mancini's multi-layered compositions explore the method by which our brains simultaneously process concurrent streams of data and information. When we're in a crowded room talking to someone, we are peripherally aware of the people, movement, colors, fragmented bits of conversation, laughter, music and other sounds that envelop us no matter how hard we try to focus on the person with whom we are speaking. "To leave out the opportunity to talk about all the things going on around us does not fulfill the promise of the painting or the reality of what's happening all around us," Mancini asserts, expressing a profoundly humanist point of view.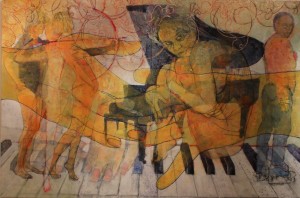 Baby Grande is a case in point. In this semi-autobiographical piece, Mancini uses the eponymous Billy Joel/Ray Charles song to exquisitely transform a Steinway into the love of a woman. But that love is not depicted at a single moment in time. Rather, by providing glimpses of his muse's delicately-long fingers, outstretched hand, crouched and full figure and mysterious portraiture, Mancini gives the viewer an ephemeral sense of the total woman in contrast to the solid presentation of the piano and its keys. Everything going on in the room is gloriously on display, and it is left to the viewer to assess and sort out all the information, which is just what our neurocomputers do every waking second of every single day.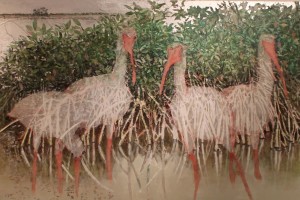 In this effort, Mancini is not bound by the laws of physics. Instead, he employs evocatively-applied layers of translucent paint to magically portray his subjects at various points along the time-space continuum. By engrafting looser, more abstract elements over accurately painted details, he is able to express multi-faceted thoughts and feelings about nature and the human condition in a complex way few other artists have dared to attempt. And to underscore his message on a subliminal plane, the artist elicits color in a novel and unexpected way.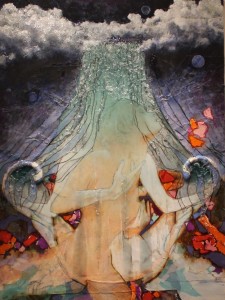 "Color is by its nature opaque and therefore two-dimensional," Mancini observes. For more than 30 years, Mancini has been triangulating color to achieve a more natural, transparent, translucent, three-dimensional result. In Muse, for example, Mancini does not simply paint a waterfall. Rather, he renders the cascading rivulets of water by layering one thin wash and glaze over another, and another and another. In this way, he makes that quantum leap of taking nature apart and reassembling it on canvas in much the same way that our neurons and synapses disassemble and assimilate information in our brains.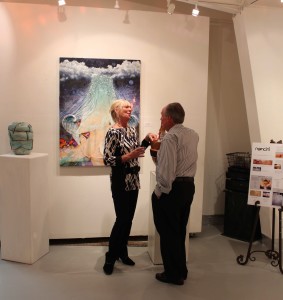 True, works like Baby Grande, Muse, Ghosts in the Mangrove and Metamorphosis break a lot of artistic rules, but that, after all, is what artists from van Eyck to van Gogh have been doing for centuries – forcing viewers and artists to look at the world in new and unconventional ways. And that's why viewers cannot just glance at one of Mancini's mixed media works and move on. His multi-layered, multi-dimensional approach to paint, color, composition and theme demand that viewers stop, sit awhile and reassess that which they thought they knew.
Articles in Examiner.com: