City Fest Naples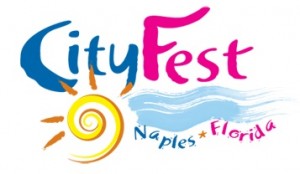 Name: City Fest Naples Festival of the Arts
Date: October 6 & 7, 2012
Times: 10 a.m. to 6 p.m. both days
Place: 10th Street South, near the Naples Depot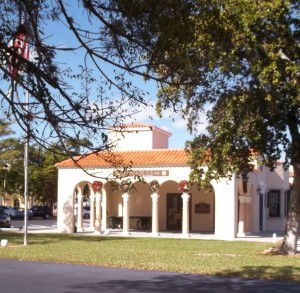 Description: "We hold this show in cooperation with the Collier County Museum on Fifth Avenue in Downtown Naples," reports organizer Richard Sullivan of Boulderbrook Productions. "The festival will be held at The Naples Depot, the most central and visible location in downtown Naples right on 41 and Fifth Avenue. You may have seen this location in your Florida travels; it is the old train depot.  We are excited about this event as it is being held during The City of Naples CityFest, a week long event that includes several other major events. Each year Naples CityFest attracts between 30,ooo to 40,000 people. Trolley shuttles, water taxis and pedestrian traffic flow from event to event."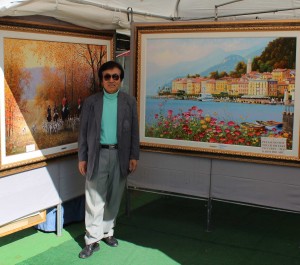 This festival will feature between 80 and 100 highly successful and skilled artists who bring and exhibit paintings in oil, acrylic and watercolor, drawings and pastels, 2D and 3D mixed media and collages, photography and digital art, woodworking, sculpture, ceramics, glass, fiber art, and jewelry. The festival is devoted mainly to fine art, with some fine crafts entering into the mix.
Participation is restricted to a small number of artists in order to avoid duplication and repetition. But to ensure that festival patrons are exposed to the highest quality art, festival director Richard Sullivan attends art shows, fairs and festivals every weekend he's not hosting a festival of his own. "I know who's the best and I try to get them to do my shows. It's a selection process, not an application process. We send out invitations …. We know who we want and we go out and get them."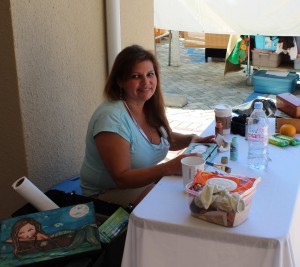 Sullivan also limits the size of his festivals in order to give participating artists and festival goers a reasonable opportunity to converse about the art on display in the show. "Our artists need to spend time with the collector," explains Sullivan. "To explain what he has has value and quality. He can only do that at a small show that's designed to bring in sophisticated patrons …. People [who] appreciate art."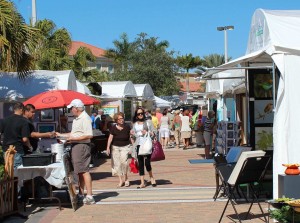 The show's size and intimate setting encourages visitors to interact with the artists, find out about what inspires them, learn how they made their artworks, and purchase fine works of unique art at reasonable prices directly from the artists (or commission a specific work of art if they don't find precisely what they want). It's all very laid back, with many art lovers turning out to enjoy a casual stroll among a plethora of works of fine art.
City Fest. CityFest Naples is a 10-day series of events held bi-annually in May and October that is hosted by Naples' five downtown districts: Third Street, Fifth Avenue South, The Waterfront District, Crayton Cove and the Tenth Street Design District. It highlights and celebrates the variety and uniqueness of Naples' downtown retail and waterfront areas, restaurants, cultural destinations, traditional or newly-established social and cultural activities. City Fest's anchor events include a swamp buggy parade, Taste of Collier, stone crab festival and an outdoor art show organized and produced by Boulderbrook Productions.
Organizer: Boulderbrook Productions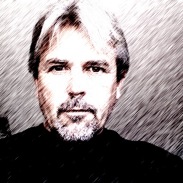 Director: Richard P. Sullivan, a native of Wellesley, Massachusetts. Not only is Sullivan on site throughout the festival, he knows just about every artist at every show that Boulderbrook produces throughout the year. "I want to know them and know their work. I'll go to someone's house just to talk to them about their art." So conversant is Sullivan with each artist's work, that he's been known to expound upon an artist's work to potential collector's while spelling them in their booth.
Website: http://www.boulderbrook.net
Facebook: http://www.facebook.com/pages/Naples-City-Fest/223320677716364?sk=wall.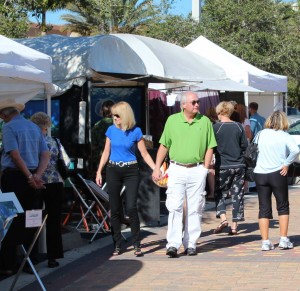 Related Boulderbrook Festivals. In addition to City Fest Naples, Boulderbrook will also produce the following festivals in southwest Florida during the 2012-2013 season:
Sanibel Masters Art Festival at the Community House on Sanibel Island (November 23 & 24, 2012)
Naples Masters Winter Art Festival (January 19 & 20, 2013)
Sarasota Masters Art Festival (February 2 & 3, 2013)
Ole Art & Jazz Festival at Lely Resort in Naples (February 16 & 17, 2013)
Paseo Art & Jazz Festival in Fort Myers (February 23 & 24, 2013)
Naples Masters Bay Fest (March 2 & 3, 2013)
Peace River National Art Festival (March 16 & 17, 2013)
Boca Grande Masters Art Festival (March 23 & 24, 2013)
Gulf Coast Masters Art Festival at Gulf Coast Town Center in Estero (March 30 & 31, 2013)
Marco Island Masters Festival of the Arts on Marco Island (March 31-April 1, 2012)
Craft Event at CityFest in Naples (May 4 & 5, 2013)
Historical Note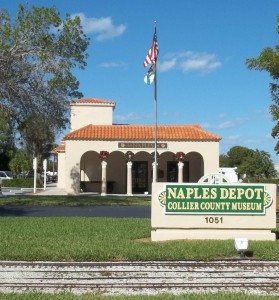 The festival takes place near the recently restored (January 2011) Naples Depot, the newest of Collier County's historical museums. Located at the corner of Fifth Avenue South and 10th Street South, the depot was originally built in 1927 by the Seaboard Air Line as a passenger station serving travelers arriving and embarking on the Orange Blossom Special. The depot played an important role in the development of the Naples area until its closing in 1971.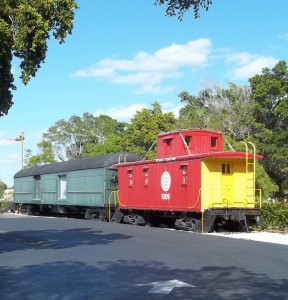 Listed on the National Register of Historic Places, the former passenger station takes visitors back in time to the Roaring Twenties and the boom days of Florida's railway system. Fascinating exhibits and artifacts tell how trade and travel transformed Naples from a napping village of 300 residents to today's glittering Gulf Coast resort. In addition to the station, the museum maintains a 1947 club car, 1920s baggage car and an early 1900s caboose.
Fun Facts.
May of 2012 marks City Fest's third anniversary.
In the '80s, Festival Director Richard Sullivan spent time in film and television production. For years, he hobnobbed with everyone from Steven Tyler of Aerosmith to James Taylor. "I not only got to the meet them, I had lunch with them," he says.
His work in music videos then opened the door to filming high-end commercials for products including Reebok. He traveled around the globe, from Milan to Brazil, filming famous athletes.
Visiting his parents' home in Naples, he met a girl and decided to stay permanently. Needing something to occupy his time, so he approached the newly-opened von Liebig Art Center about raising funds to build a dark room on the premises. His success in that fundraising effort prompted The von Liebig board of directors to seek his assistance with its most famous event, the Naples National Art Festival, a two-day event that attracts high-caliber artists from far and wide.
When Sullivan left nearly seven years later, Naples National had gone from being rated the 11th to the fifth best festival in the nation by Sunshine Artist Magazine.
Today, Sullivan produces art festivals throughout Florida and as far north as Nashville, Tennessee through his own business, Boulderbrook Productions, named after the brook in which he caught frogs near his Massachusetts childhood home.
Articles and Links.
Boulderbrook issues call to artists for 14 festivals in its 2012-2013 season (07-21-12)