Katherine Boren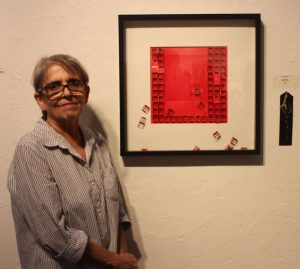 Name:         KATHERINE   BOREN
Genre:         Abstract, textural relief-collage
Gallery:      Not under representation
Website:     http://www.katherineboren.com
Facebook:  http://www.facebook.com/profile.php?id=1278510684
Her Art
Boren states that her "current work experiments with multiple mediums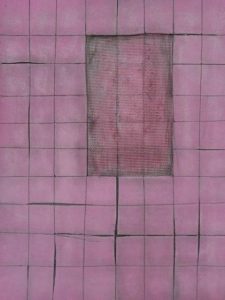 in two dimensions. By focusing on a monochromatic palette and utilizing a combination of untraditional materials in unexpected ways, I emphasize the reflection of light, varying textures and shapes, and differing grades of color saturation."
Boren's abstracts fall into three categories. Pictured left is the first, which is characterized by either a raised or indented rectangular field set in a highly-textured backdrop of roughly the same color, although a different hue. The richly patterned background resembles a matt or basket weave like that found in upholstery and certain types of draperies. She achieves this textural aspect through the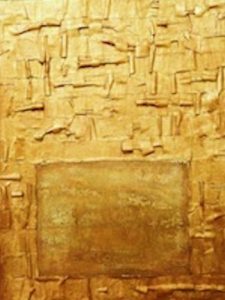 use of thick impasto into which she blends or folds non-artistic objects such as cracking paste, sand, clay, mortar or textiles in the fashion pioneered by Zoltan Kemeny and Jean Dubuffet. By restricting her palette to a single color, she is able to add an experiential quality to the work. As you move around the canvas, the composition appears to move or change. This occurs because the raised areas refract light differently back to the spectator's eye, simulating motion in the form of changing hue and patterns. Thus, the painting takes on a three-dimensional, sculptural quality which is highly prized by textural abstractionists.
The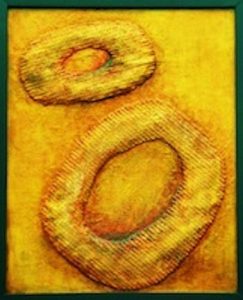 second category of Boren's abstracts have a more organic motif. Grouped into both her Alchemy Series and Landscape Series, works in this category contain round to elliptically shaped forms reminiscent of paramecium, protozoa or empty onion-skin cells on a background that is roughly the same color although not the identical texture. Here, the weave-like pattern of the backdrop provides a nice contrast to the rounded organic shapes, allowing Boren to inject an element of geometry which undercuts (yet doesn't undermine) the organic feel of the composition. In fact, there is almost a parabolic feel to many of the works in this category.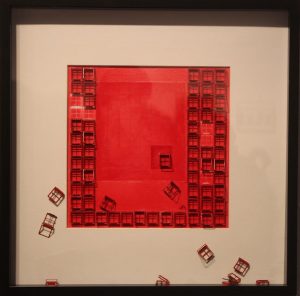 The third and newest category of Boren's work places a heavier emphasis on found objects. For example, in her piece Switched On, she employs a series of discarded electrical switch guards in her familiar geometric pattern, but has scattered a number of switches along the side and bottom of the composition to underscore that because they no longer work, they've been "tossed to the wayside" in much the same way that retired and disable people often are. Yet, there's a certain, intrinsic beauty in each individual piece as well as the overall fabric of the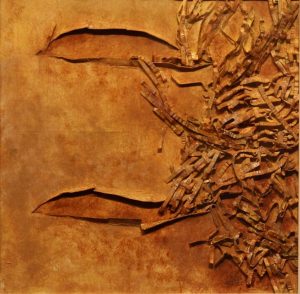 composition, which won first place in the Alliance for the Arts' Uncontained juried exhibition in July of 2019.
"I'm using a lot more found objects in my art," said Boren following the awards ceremony for Uncontained. Part of the impetus for this new direction is her decision since retirement to simplify and clean out "stuff" that she's accumulated in her home over the past 30 years. "It's been a wonderful process finding things like [the old electrical switch guards and some packing paper that she'd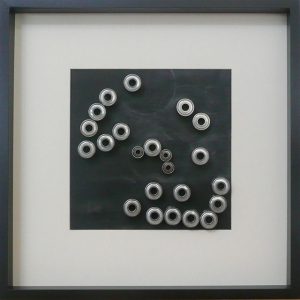 stored in a box in a closet and promptly forgot all about]. When the objects speak to me, I create the piece that they suggest." Sometimes she become so inspired, that she'll work 14 or 15 hours at a clip, even straight through the night. That's a luxury she's enjoyed since her retirement in 2015.
As with both Dubuffet and Kemeny's relief-like collages, there's both a decorative characteristic and an evocative feel to Boren's work, which undoubtedly explains the obvious popularity of her art here in Southwest Florida.
Historical Note/Comparison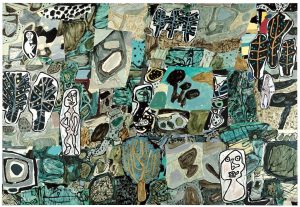 Many artists over the last 50 0r 60 years have expressed fascination with texture; that is, a substance's roughness, smoothness, density, opacity or transparency. In order to explore textural concepts, most have incorporated various materials such as sand, mud or sawdust in their pigments. Hungarian artist Zoltan Kemeny and French artist Jean Dubuffet (examples of his work are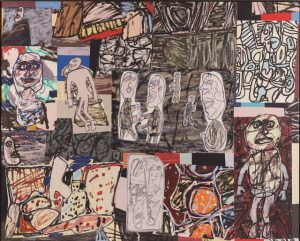 pictured here) are often credited with pioneering the use of non-traditional materials in their mediums in order to achieve a raised, relief/collage appearance, but other artists had actually paved this road much earlier. For example, Gauguin and van Gogh both used burlap supports during their time in Arles, France  in order to enhance the textural quality of their works, and Kurt Schwitters used discarded bus tickets,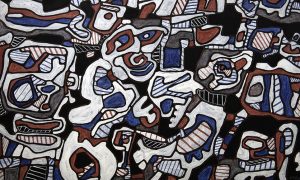 newspaper clippings, tags and other items which he glued together to create collages on paper like his 1947 work, Invisible Ink.
Exhibitions
Boren regularly exhibits at venues throughout Southwest Florida. She enumerates all the shows in which her work has been featured since 2009 on her website. Go here for all the details.
Education and Accomplishments
Originally from New York, Boren studied at New York University and The New School, graduating from the State University of New York with a Bachelor of Fine Arts with an emphasis in sculpture.
Katherine has served as Executive Director of the Young Artists Awards and Advisory Director and past president (2009) of the Lee County Alliance for the Arts
Boren was a nominee for 2011 Angel of the Arts Visual Artist of the Year
Katherine received Individual Artist Arts and Culture Grants from the City of Fort Myers in 2010, 2011, 2013, 2014 and 2017
She was Angel of the Arts 2007 Arts Volunteer of the Year
Member of jury panel for 2011 ArtFest Fort Myers
Head juror, 2010 Lee County Alliance for the Arts Art Royale: It's All Elemental
Sole juror, Cape Corall Art League's 2010 Festival of Art.
July 14, 2019.