Krista Johnson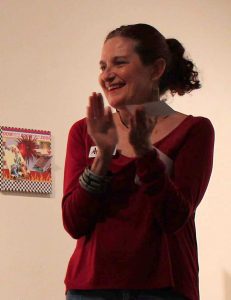 Artist:  Krista Johnson
Genre: Figurative Abstract
Her Art: 
Krista Johnson has spent her life in the lush nature of Southwest Florida and her paintings are spirited expressions that capture the color, abundance and mystery of the world she loves.
"I have arrived at a style which is intrinsically mine – my paintings have a part of me in them," states Krista. "When I am moved by something extraordinary I have seen in nature, I try to convey those feelings onto the canvas.  My hope is that it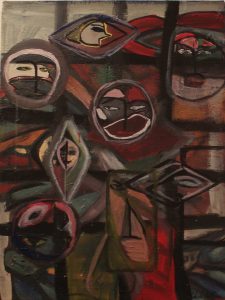 translates to the viewer"
Johnson's work has been exhibited locally and nationally. She enjoyed solo shows in 2002 at Broadway Palm Dinner Theatre, in 1999 at Syzygy Gallery, in 1998 at Liquid Café and in 1997 at Broadway Palm, all in Fort Myers. Group shows include Forever Friends at Watson MacRae Gallery in Sanibel (2020), Edison's Jungle in the Caretaker's Cottage at Edison Ford Winter Estates as part of the Thomas Edison Invitational (2019), Dia de los Muertos at the Alliance for the Arts (2018), the Fort Myers Individual Artist Grant Recipient Show at the Sidney & Berne Davis Art Center in 2017, the Southwest Florida Annual Juried Painting Exhibit at Rookery Bay in 2016,
Politikos at the Alliance for the Arts (2016), the Alliance for the Arts' 29th Annual All Florida Juried Exhibition (2015), FLOR 500 at Florida Gulf Coast University (2014), Honor, Country and Heroism for the Art in Flight Program at Southwest Florida International Airport in 2012, Community of Artists at FGCU in both 2012 and 2011 and the Alliance for the Arts' 24th Annual All Florida Juried Exhibition in 2010.
Her public commissions include the 2000 Floral Wall Mural at the Alliance for the Arts and the Hispanic Heroes Wall Mural at the YMCA in Fort Myers in 2000.
Bio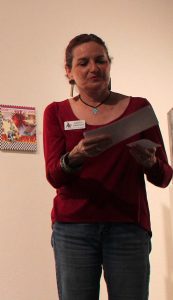 Krista earned her two-year degree from Edison Community College (now Florida SouthWestern State College) in 1972. For twenty years, Johnson co-taught a children's art program at the Alliance for the Arts in Fort Myers where she  also worked as the Exhibition Coordinator for 15 of those years.  In the latter capacity, she worked with artists from across the country, developing a keen eye for art. She curated the Everett & Miriam Ward Exhibit in May of 2016, Buell Whitehead: A True Southern Treasure in January of 2010 and Florida Seminole Indians: A Journey with the White Medicine Man in January of 2008.
November 5, 2021