Diane Monet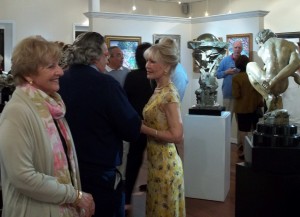 Artist:              Diane Monet
Genre:             Romantic Impressionist
Media:            Oil on canvas
Gallery:         New River Fine Art
Website:        http://www.dianemonet.com
Facebook:     no
Her Art

In the summertime, you're likely to find Diane Monet tending the flowers in her garden, if not painting the sprays of violet larkspur, yellow-orange marigolds, white zinnia and feathery red asters she groups behind her white vinyl picket fence. The artist loves flowers. Not just because they're pretty, but because they bring joy "even to men."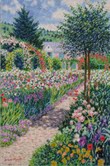 "It is my intent to uplift people," says Monet. "To give them a refuge from the pressures and stresses that crowd their daily lives." Flowers are a vehicle toward that end. Not only do they add rich color and texture to her compositions, they are associated with joy and happiness in virtually every culture.
Monet takes her artistry seriously. She doesn't paint scenes. Rather, she conveys her impression of the heart and soul of a place. "I want to communicate the atmosphere, the feeling of a place. If I don't get that feeling when I look at the finished work, my name doesn't go on the canvas.," she says emphatically.
Her quest for paintworthy material  – vistas that have the potential to bring joy and beauty to her collectors – is tantamount to a search for the Holy Grail. Monet sojourns regularly to France, Italy, Bermuda and Mexico not only to quell her wanderlust, but to find picturesque locations steeped in painterly tradition. "I went to sketch and photograph some gardens in Nice one time and discovered that Matisse had stayed in the same hotel."
While Monet does sketch on location, she does most of the heavy lifting in the studio of her home in Mount Vernon, New York. That's because she applies up to ten layers of paint and between 200 and 300 colors in order to draw out the depth and luminosity for which she is so well regarded. So she takes lots of photographs. "But feelings don't translate into photographs. The photos just trigger my memory." Not her visual recollection of the place, but total recall of  the feelings the location imprinted on her heart.
Because of the multiple layers of paint and glazes, each painting takes several days if not weeks to complete. She eschews using drying agents and rejects the idea of using quick-drying acrylics out of hand. "Acrylic doesn't have the nobility of oil." Fortunately, Monet is an adept multitasker. While she waits for a layer or glaze to dry on one painting, she is busily working on another, "although not more than three at a time," she's quick to add. More than that would impede her ability to convey her feel for the landscapes, cityscapes and gardens that she paints.
Stretching out the drying time and applying paint to the canvas in layers pays huge dividends. Monet's paintings are luminous. They simply don't require a gallery spotlight in order to shine. Her technique coaxes the light from within the scene itself.
Monet employs some additional props for connecting with the feelings she associates with each of her subjects. "There's always music on when I paint. If I'm painting a French garden, then I'll put on French music. If my subject is from Mexico, the music will be Latin."
She has never taken a class, never enrolled in a workshop, never studied under a master. Instead, she explains, "I go to museums and study great paintings. They inspire me. I look at them critically and ask myself, 'Why is this so gorgeous?'"
She guards her mental imagery with the zeal of a Papal Swiss Guard. Toward that end, she steadfastly refuses to look at mediocre work. "I don't want it in my head." She credits her great-granduncle, Claude Monet, Camille Pissarro, Hassam, Turner and Rubens as her greatest influences. But it is her incessant, almost obsessive drive to create that has enabled her to become a world-class artist.
"I'm a workaholic," she'll tell you with a chuckle. "I typically paint seven hours a day, seven days a week." She starts at mid-morning and frequently works well past dusk. More than once she's forgotten to turn on a light. "I paint with my mind's eye," she explains. And perhaps a sixth sense.
It all works, and it works well. Feelings pour out of every brushstroke of a Diane Monet painting. Hers are happy pieces. Uplifting pieces. Works of art that have the power to heal just like laughter has been known to cure cancer. Yet, Monet is almost taken aback by the stories she's repeatedly told of how her paintings have made homes happier and given strength and serenity to those who are infirm. One couple even credits Monet with saving their troubled marriage after they hung one of her paintings in their dining room where they'd be sure to see it at every meal.
Her paintings have enjoyed considerable success, particularly overseas. She's been exhibited abroad in Galerie Claude Marumo, Galerie EVERARTS and Salon des Artistes Independants in Paris, Omell Galeries in London, Seibu Gallery in Fujisawa and Mitsukoshi Galeries in Tokyo, Sendai, Hiroshima and Takamatsu, Japan. In the U.S., Galerie Nina's Choice in New York's Bergdorf Goodman, Venable-Neslage Galeries in Washington, and French Connection Gallery in Greenwich and Galerie Je Reviens in Westport, Connecticut have all showcased her work.
And in February, 2011, her career marked another milestone with her first show ever in the South. The venue there was New River Fine Art in Naples, Florida and Monet's well-attended solo show followed on the heels of a prestigious exhibition of watercolors, drawings and fine etchings rendered by the Master of Surrealism, Salvador Dali, for his friend and publicist of 50 years, Pierre Argillet.
Monet herself is as sunny and bright as a blue bird spring day after the winter snows have thawed. She's possessed of that rare ability to put people instantly at ease, which causes those who meet her for the very first time to feel as though they'd known her their entire lives. Part of her charm and affability inheres her infectiousness smile. Amble within the arc of her personal space and you'll quickly replicate her smile and pass it along to everyone else you meet.
But it's her paintings that touch the soul. She puts a little piece of her own heart into every painting with the hope of eliciting a reciprocal reaction from those who view it. "I want them to say, 'I have to have this; I can't live without it.'"
She means it on a deeply personal level. "Let my paintings put their arms around you. Let them raise your spirits and make you happy."
That's Diane Monet.
That's the spirit that infuses every one of her impressionist works of art.
Related Articles and Links