Rodriguez's '18 Occasions of Powder on a Puff' really a 'Different Stroke'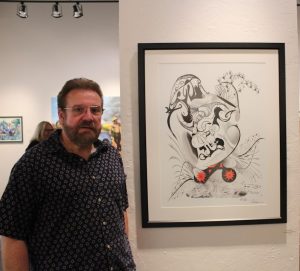 Roy Rodriguez is one of 72 artists with work on display in the Alliance for the Arts' member exhibition Different Strokes. "This one really is a Different Stroke for me," says Roy. It is a composite of 18 photographs combined and printed on canvas.
"One day I put some powder on a puff and noticed this incredible design made by the powder," Roy divulges of his inspiration and process for the unconventional artwork. "I was so taken that I rushed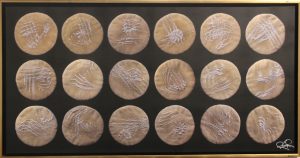 to photograph it."
The next day, an image reminiscent of waves crashing over rocks appeared when he powdered the puff.
"A trend started lasting over a month and I collected about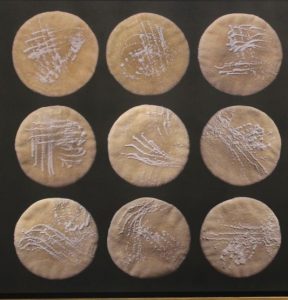 40 pictures. Seeing an Oriental theme develop, I selected 18 and combined it together on this larger canvas. I needed a title that would describe the process, hence 18 Occasions of Powder on a Puff."
Rodriguez is a Cape Coral fine art photographer and mixed media artist. Roy uses a variety of cameras to capture images that contain rich narrative, whether in the form of abstract compositions formed by the random remains of beet juice on the evening's dirty dinner dishes or arresting landscapes, skyscapes and seascapes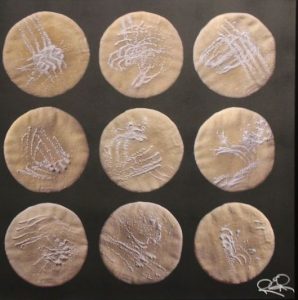 from such diverse local environs as Myakka River State Park, Jupiter or while simply waiting for the traffic light to change on a rainy afternoon. His images virtually shout out, "Look at what I saw. Notice how much beauty and wonder can be found in everything around us."
Go here for more on Roy and his work.
You can see 18 Occasions of Powder on a Puff in Different Strokes in the Alliance main gallery now through August 28. Gallery hours are 9:00 a.m. until 5:00 p.m. Monday through Friday and Saturdays from 9:00 a.m. until 1:00 p.m. during their weekly farmer's market. Admission is free, although donations are gratefully accepted.
July 16, 2021.