Leoma Lovegrove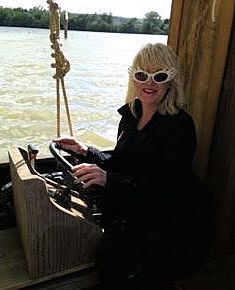 Name:  Leoma Lovegrove
Genre:  Impressionism
Media:  Oil on Canvas
Gallery:  Lovegrove Gallery & Gardens, Matlacha Island, Florida
Website:  http://www.leomalovegrove.com/
Facebook:  https://www.facebook.com/LeomaLovegrove
Her Art: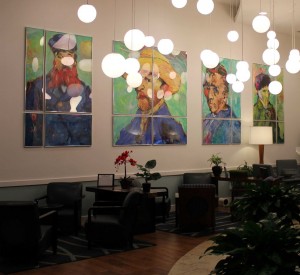 Leoma Lovegrove is known for impressionist works characterized by exuberant strokes (applied to canvas not only via brushes of all sizes and shapes, but with her fingers and hands as well) and a palette bursting with vivid tropical color. While she is popularly associated with Florida motifs that include birds, fish, palms and coconuts, Lovegrove easily adapts her quasi-expressionist style to portraiture. Her subjects have included former President Jimmy Carter (who hung his portrait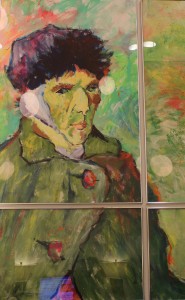 in his presidential library in Atlanta) and Sir Richard Branson (whose portrait was commissioned for Virgin Airlines' headquarters in London). The presidential library of George W. Bush also includes Lovegrove's work, as do the private collections of actress Sharon Stone and actor Jesse Metcalf. Lovegrove's homage to the father of expressionism, Vincent van Gogh, is on display in the lobby of Hotel Indigo in the downtown Fort Myers River District. Other of Lovegrove's works have graced the windows of New York's Rockefeller Center.
Lovegrove rendered a 6 x 6′ triptych of Mina Edison to serve as the centerpiece of the Fort Myers Founding Females portrait show, an exhibition designed to introduce to Southwest Florida residents and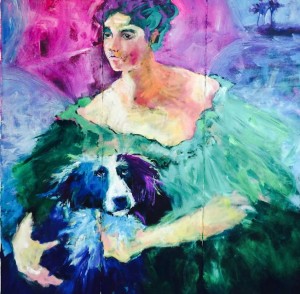 visitors the names, faces and stories of some of Fort Myers' most prominent female leaders, civic activists, philanthropists and entrepreneurs.
Please click here for more about Leoma Lovegrove and her art. Click above for more information about Lovegrove Gallery & Gardens. And you can follow all the news about Lovegrove and her events and exhibitions right here on Art Southwest Florida.
About Mina Edison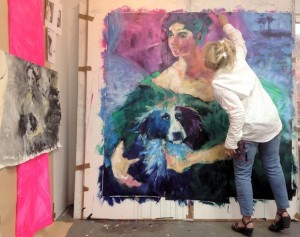 Mina Miller was born July 6, 1865, the seventh of the 11 children of inventor and Chautauqua Institute co-founder Lewis Miller. She graduated from Akron (Ohio) High School, traveled for a year in Europe, and studied music and the classics  at Miss Johnson's Ladies' Seminary, a finishing school located in Boston. It was here that Mina was introduced to the newly-widowed Thomas Edison by mutual friends Ezra and Lillian Gilliland.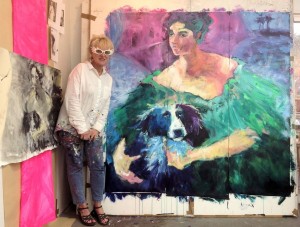 According to biographer Matthew Josephson, Mina "staggered" Edison. In contrast to the legion of fawning women that the matchmaking Gallilands had paraded before  Edison, Mina was not only young and beautiful, she was poised and aplomb, even in the presence of such a world-renowned figure. At the time, Edison was keeping a diary, and wrote this entry, which aptly sums up his growing obsession with the Miss Miller: "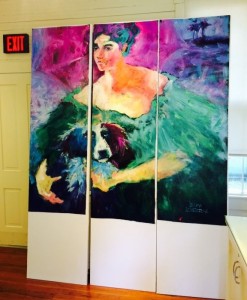 Saw a lady who looked like Mina. Got thinking about Mina and came near being run over by a street car. If Mina interferes much more, will have to take out an accident policy."
The couple married on February 24, 1886 at the Miller family home at Oak Place in Akron, Ohio roughly one year after first meeting. Edison brought his new bride to Fort Myers, where they honeymooned at Sara Titus and Daniel Kantz's Keystone Hotel while their winter home, Seminole Lodge, was being completed on the 13-acre riverfront estate that Edison had purchased from cattleman Samuel Summerlin the year before.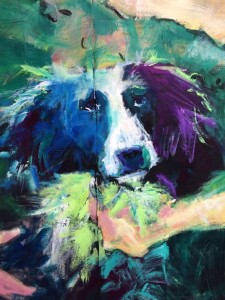 Mina's education and social status served her well as the young wife of an internationally famous inventor. Besides becoming a mother to Edison's three children from his marriage to Mary Stillwell, she and Edison had three additional children of their own.
As Thomas Edison supervised his "muckers" down the hill at home back in Glenmont, New Jersey, Mina hired and supervised a staff of maids, a cook, a nanny and a gardening staff. She even called herself the "home executive." After 1891 she, not her husband, owned the house, a strategic move designed to protect the house from being seized to pay the entrepreneurial Edison's debts should he ever find it necessary to declare bankruptcy.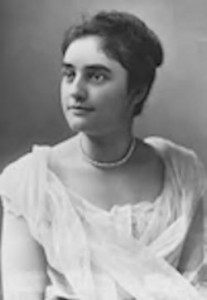 The influence of Chautauqua became apparent as Mina's children grew up and moved from home. During this time, Mina came into her own, and became active in numerous social welfare movements including the Chautauqua Association (where she served as president of the Bird & Tree Club), the American Red Cross, the West Orange Community League, the National Audubon Society, the local Methodist church, the John Burroughs Association, the Daughters of the American Revolution (where she served for a year as its national chaplain), and the School Garden Association of America. In Fort Myers, Mina was instrumental in the foundation of the Fort Myers Round Table, a group of local leaders whom she brought together
around the dining room table at Seminole Lodge in the interest of community improvement.
She gave numerous speeches to local groups in West Orange and in Fort Myers, often on the importance of garden clubs and neighborhood organizations, the role of recreation in the education of children, and the value of musical instruction. A dedicated conservationist long before that word became part of our everyday lexicon, she became close friends with and an ardent supporter of Jay "Ding" Darling, the renowned cartoonist turned conservationist who was tapped by President Franklin Delano Roosevelt in 1934 to head the U.S. Biological Survey (the forerunner of the U.S. Fish and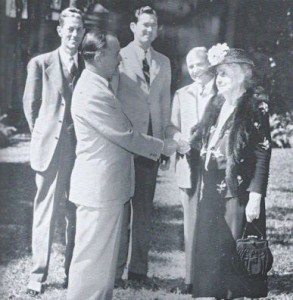 Wildlife Service).
After Thomas Edison's death in 1931, Mina's community involvement continued. She married childhood friend Edward Hughes in 1935, but after his death in 1940, Mina resumed using Edison as her surname. When the Thomas Alva Edison Foundation was formed in 1946 "for the advancement of education and scientific research," Mina became its honorary chair. A year later, she graciously deeded Seminole Lodge and the rest of the winter estate to the City of Fort Myers in order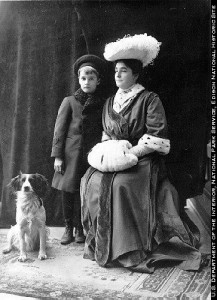 to perpetuate the Thomas' name and fame. She died shortly thereafter at the age of 82, and is buried beside Thomas Edison on the grounds of their home Glenmont in West Orange, New Jersey.
Titled Mina's Touch, Lovegrove's 6-by-6-foot portrait is a triptych, with each of the three panels measuring 24 x 72 inches. "This painting is something of a departure for me," notes the artist, who eschewed her customary drips and splatters for a rendition consisting entirely of loose and lively brushstrokes. Lovegrove rendered the painting on unstretched canvas while she was in California studying portraiture theory and techniques at a workshop. "That allowed me to roll it up and take it on the plane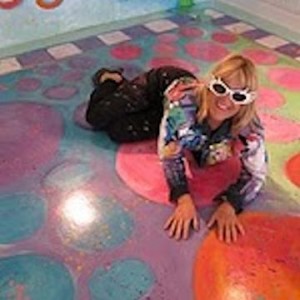 with me." The canvas has been mounted on one inch thick, acid free Gator board that the Edison & Ford Winter Estates special ordered for the occasion.
The portrait is based on an historical photograph that Lovegrove obtained from the Edison Historical Society. It depicts her with the family dog, Cinnamon.