Renate Reuter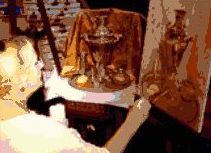 Artist:  Renate Reuter
Genre:  Realism
Motifs:  Portrait & Figures, wildlife, landscapes
Her Art:
Portrait and figure artist Renate Reuter possesses a broad background and interest in the visual arts, and while she is accomplished in various media, she concentrates in oil painting. Renate is classically trained, and paints in the tradition and style of the Old Masters, particularly those forged by Rembrandt, John Singer Sargent, John Waterhouse, Sir Fredrick Leighton, John Constable and Eugene Fromentin.
Renate's subject matter encompasses a wide variety of motifs, including Florida nature, wildlife in their natural habitat, and portraiture and figures portrayed in pertinent surroundings. She has participated in specialized studies in materials, techniques, color and composition with national instructors Steven Assael, Robert Liberace, Ted de Clercq, Frank Covino and Douglas Flynt. Reuter is an active member of the Oil Painters of America, Portrait Society of America, Western Artists and various other arts organizations. Her paintings have been included in numerous juried and invitational shows and can be found in private and corporate collections both in the United States and Europe. She creates only hand painted originals without any technical devices and uses good materials that last.
In 2005, Renate saw a need for more formalized portraiture and figure painting awareness in Southwest Florida. That inspired her to found the Portrait and Figure Painters Society of SW Florida, Inc., which she incorporated in 2007. Today, the Portrait and Figure Painters Society is a 501(c)(3) non-profit organization that is open to all fine artists. As president, she has initiated weekly open studio portrait sessions, instructed classes and workshops and sponsored scholarship programs. She is especially proud of introducing the art community to well-respected master artists from New York City, Washington D.C. and other areas of the country through drawing and painting portraiture workshops in both Fort Myers and Naples.
"By making these workshops, presentations and free art demonstrations available to the general public, local artists benefit with supportive networking while improving their skills and creative talents and increasing Southwest Florida revenue," Renate explains.
Portrait of Laura Hendry Thompson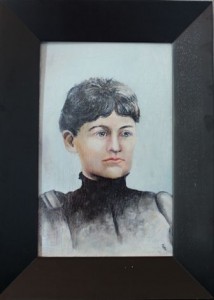 Fort the Fort Myers Founding Females Portrait Exhibition, Renate painted Laura Hendry Thompson. Laura Hendry holds the distinction of being Fort Myers' very first bride. She married C.W. "Waddy" Thompson on June 22, 1873. Laura was the eldest daughter of Captain F. A. and Ardeline Ross Lanier Hendry. Thompson was a telegrapher assigned to the Fort Myers relay station. The couple had four children, one of whom died while still a child.
Laura ran the telegraph office until her untimely death from tuberculosis on May 10, 1895. She was just 38. According to the obituary that the Fort Myers Press ran the following day, she "fully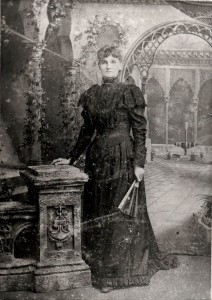 realized her approaching end, and calmly and resignedly met it, calling to her bedside her children to whom she left tender messages, and bidding loving farewells to all her family." The Press went on to describe her as "a woman of unusual force of character, keen perception, and bright and active intellect, which made her a strong and earnest advocate of whatever cause she espoused."
One of those causes was temperance, and in that regard, Laura played an instrumental role in organizing the W.C.T.U.. She also took up the cause of the Seminoles, writing a number of articles published in east coast papers that described the injustices the Seminole nation had suffered at the hands of the federal government and State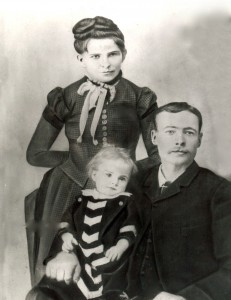 of Florida,
Hendry family folklore states that Capt. Hendry named the town of LaBelle in honor of his daughters, Laura Jane and Carrie Belle, who married Edward L. Evans. It was F.A. who named Lee County in honor of his hero, General Robert E. Lee, and LaBelle ultimately became the county seat of Hendry county after it ceded from Lee County and was created by the Florida Legislature on May 11, 1923, one day following the 28th anniversary of Laura's death.