Africa Valdez' award-winning 'Music Muse' makes moving metaphorical statement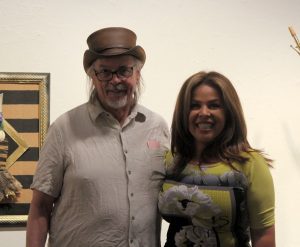 Juror Dale Weber awarded Africa Valdez second place in the Alliance for the Art's Uncontained juried exhibition for her kinetic sculpture, Music Muse. The piece consists of a turntable that her husband was going to throw out, parts from an accordion she found at a garage sale, strings and tuning nuts from a guitar, part of a trumpet her nephew no longer needed when he got a new one to take its place, and a hunk of wood from the branch of a tree in her yard that blew over.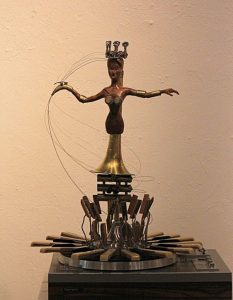 "Anything recyclable can be made into a work of art," Africa comments about her inspiration for Music Muse. "Even after it's trashed, you can give something a new purpose."
That can happen to people too, Africa hastens to add.
"When you think that it's over or that you can do nothing else with your life, you can shake things up and do something new. People can lose all their money or the love of their life or they get lost in drugs. But it's possible for them to find parts they never thought that they had which will give new meaning to their lives."
Africa made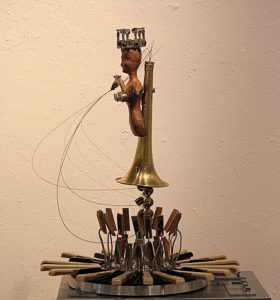 Music Muse kinetic because motion, in her estimation, is representative of life – always in flux, always in movement, ever changing and evolving. And it's an apt simile for an artwork made of musical instruments and a turntable. After all, symphonies, concerti, sonatas and chamber pieces are all comprised of self-contained movements, typically separated by a brief pause.
Africa relishes the chance to work in mixed media because of its ability to combine so many different mediums, from acrylic and epoxy to wood, metal and stainless steel. But her newest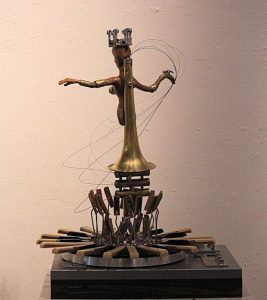 avocation is welding. She sees welded pieces as a significant component of her future body of work (although she'll never abandon her first love, which is portraiture in charcoal, pencil and acrylics.
July 14, 2019.