Celeste Borah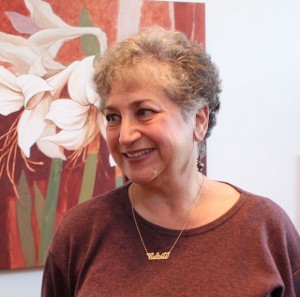 Artist: Celeste Borah
Genre: Realist
Motifs: Skyscapes
Her Art:
Some of Celeste's most notable works include large graphic drawings of the sky with clouds on canvas. These large, dramatic drawings are rendered with such amazing detail and clarity that they stop viewers in their tracks. She also devotes the same vision and energy to her Sky Paintings, one of
which, Lee Road Sky, garnered Best of Show in the National Art Encounter 2012-2013 exhibit at The von Liebig in Naples.
"I am awestruck by the fantastic, extraordinary Southwest Florida skies. I can watch them for hours, or steal a glimpse when stopped at a traffic light for just a few seconds," confides Celeste. "I am amazed by sunsets, exhilarated by lightning and mesmerized by cloud formations. My objective in my artwork is to convey the drama, excitement and impressiveness of the tropical sky by creating compositions that make the viewer sense the enormity and feel the thrill I get when I see this spectacular sight."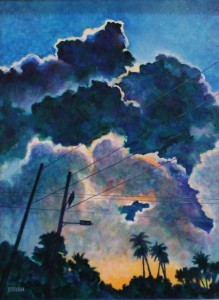 Borah has exhibited and won awards at many art organizations including the Naples Art Association at The von Liebig, the Center for the Arts Bonita Springs, the Visual Arts Center in Punta Gorda, the Alliance for the Arts, the Art League of Fort Myers and Fort Myers Beach Art Association. Her painting US 41 Sky recently (August, 2015) took 1st place honors out of 122 entrants in the Centers for the Arts Bonita Springs' It's Hot, It's Cold, It's COLOR show, which was judged by Anica Sturdivant, who is the Coordinator for the Art Galleries of Florida Gulf Coast University and has been with the Art and Gallery Program at FGCU since 2002.
Celeste's work has also been shown at several galleries from Naples to Fort Myers, as well as at Florida Gulf Coast University, Physicians Regional Hospital and the Broadway Palm Theatre Gallery.
Portrait of Fort Myers Founding Female Mary Florence Hill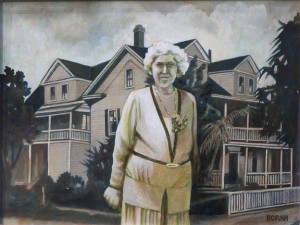 Borah was a participant in the Fort Myers Founding Females Portrait Show, which was exhibited in the historic Caretaker's Cottage at the Edison Ford Winter Estates between January 2 and May 29, 2015 and is returning to the Edison Ford March 6 through May 27, 2016. For this show, she rendered Mary Florence Hill, who owned and operated the popular Hill House from 1889 to 1918.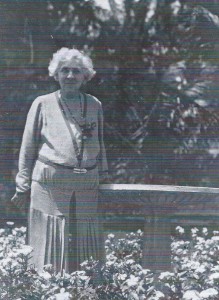 Mary started the modest boarding house in 1889 shortly after moving here from Alabama with her two daughters, Annie and Flossie. Over the years, Mary added a number of rooms to the two-story wood-frame structure that was located on the southwest corner of Lee and First Streets in the downtown Fort Myers business district. With its trademark white balustrade-lined sleeping porches facing First, Hill House became in time one of the town's leading hostels, rivaling Harvie Heitman's 41-room Bradford Hotel and Tootie McGregor's 100-room Royal Palm Hotel.
Mary almost lost Hill House on April 15, 1907 when the 3-story building across Lee Street caught fire. By the time the fire engine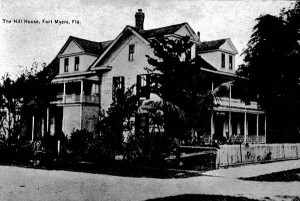 arrived, the top two floors of Carl Roberts' property were fully engulfed in flames. With the wind blowing out of the east, the entire town found itself in peril since, aside from Harvie Heitman's brick building on Jackson and the Bradford Hotel and Stone Block Building at Hendry and First, all the other buildings were still wood frame. But the volunteers saved the Hill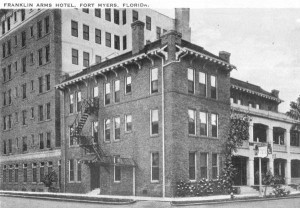 House and the buildings beyond. In fact, the next day's edition of the Fort Myers Press stated without qualification that "had it not been for the new equipment, the entire business section would have been destroyed."
In 1916, Hill decided that her establishment was in dire need of an upgrade, and so she tore down the wood structure and replaced it at a cost of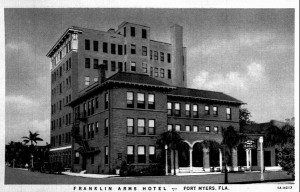 $15,000-$20,000 with 50 x 80 foot brick and stucco structure that had 26 rooms, most of which were equipped with their own bath. Although Mary's daughter, Flossie, was running her Ladies' Trading Place women's clothing store by then, she signed the contract for the construction, which suggests that the changes were made to increase the hotel's "curb appeal." Sure enough, two years later, Mary sold the Hill House to hardware magnate W.P. Franklin, who renamed the establishment The Franklin Arms Hotel.
After the sale, "Mother Hill" devoted herself to religious and community activities at the First Baptist Church and the Business & Professional Women's Club.
For her portrait, Celeste posed Mother Hill standing in front of the original two-story, wood-frame boarding house that she lovingly operated for nearly three decades.
About Celeste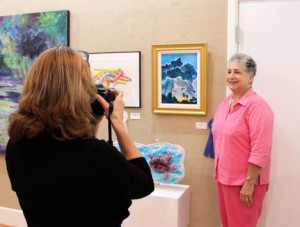 Borah grew up on Long Island. After receiving a BFA (Fine Arts) from Pratt Institute in New York, she worked as an art director at several advertising agencies and retail chains in New York City for 35 years. Celeste relocated from New York to Southwest Florida ten years ago. Always nurturing her talent for art, she pursued her interest in drawing and painting at Florida Gulf Coast University, where she met her late husband, Carl Schwartz, who was a professor of art at FGCU at the time.