Kevin Sloan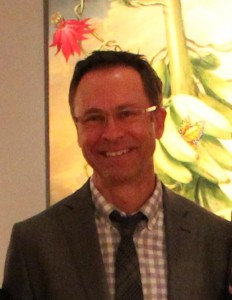 Artist:                       Kevin Sloan
Genre:                      Magical Realism
Media:                     Acrylics on canvas
Gallery:                   Gardner Colby Gallery, Naples, FL
Residence:             Denver, Colorado
Website:                  kevinsloan.com
Facebook:              no
His Art: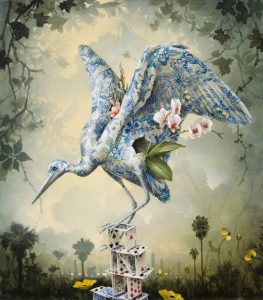 In his paintings, Sloan combines wildlife, still life and landscape painting into a single, tightly unified composition. Each work is vivid and richly drawn. "Mr. Sloan's distinctive work," observes Gardner Colby Gallery, "is characterized by its opulent, lush and often tropical landscape. His allegorical paintings are both real and imagined, and invite the viewer to use one's own intellect and awareness to create personal stories relating to each captivating painting."
It is this intellectual content that explains why many of Sloan's collectors acquire more than one of his paintings. Also undoubtedly at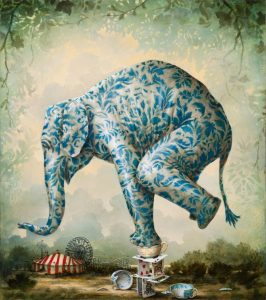 play is the touch of wry humor that belies many of Sloan's compositions.
Sloan works carefully, applying several glazes of acrylic to his gesso ground in order to achieve a very realistic end result. He works on fairly large canvases, which gives his paintings a powerful presence, and his images are so vivid, so three-dimensional, they seem to jump off the canvas and into the room. The latter attribute is all the more remarkable because Sloan doesn't always work with actual subjects. He takes hundreds of photographs and uses the internet, which he credits as a boon for artists because it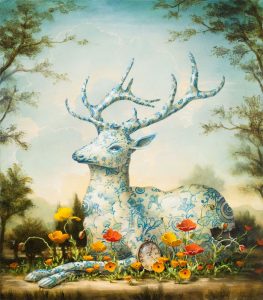 gives them a rich and virtually unlimited source of images to use as subjects.
"My cast includes everything from things that live in the sea to things that fly in the air, like insects," Sloan points out with the same fondness and attachment that a novelist would undoubtedly evince when describing the characters in his story. The analogy is not accidental. All of Sloan's work contains a narrative element, and in addition to the usual suspects, like the sea turtles and whooping cranes that headlined Sloan's 2011 Cabinet of Curiosities exhibition, toucans, parrots, fish and even an ape inhabit the landscapes that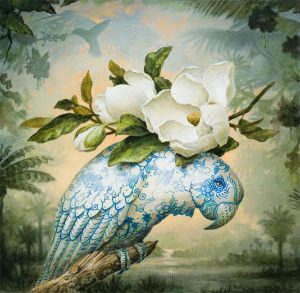 serve as backdrop in his 2012 Peaceable Kingdom series.
In sum, Sloan's paintings hold a spirit of wonder and reverence for the natural world with no sign of the disenchanted cynicism so common in the world today. Characterized by curiosity and bemusement toward the natural and man-made world and the mundane and often blunt reality of the modern era, his work – more poetic than merely descriptive – moves between direct starkness and lush theatricality. Infused with meaning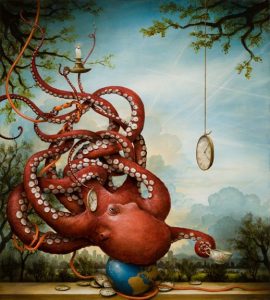 and symbolism, Kevin's storytelling technique invites the viewer to use their own imagination and awareness to create personal stories relating to each captivating painting.
Sloan received a BFA in Painting from Tyler School of Art, where he studied with Stephen Greene and Stanley Whitney. He has an MFA in Painting from the University of Arizona, where he studied with James G. Davis. His restlessness and love of travel has led him to live and work in a wide variety of cities across the United States including San Francisco, New York City, New Orleans, Key West, FL and Santa Fe, NM. Each has had a lasting impact on his practice.
His Inspiration for 'Cabinet of Curiosities'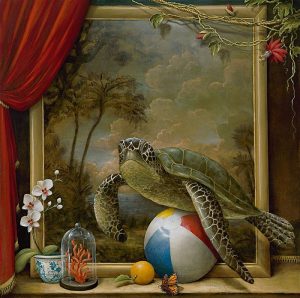 In March of 2010, Kevin spent two weeks viewing portraits of the royals in London's venerable museums like the National Gallery and the Tate. The experience inspired him to do his own series of noble portraits, but instead of royalty or celebs, he chose "regal animals" as his subjects.
At the Tate, Kevin was struck by something else. "As interesting as the artworks were, I kept finding myself distracted by the architectural features and flourishes of the rooms themselves," said Sloan during a Gallery Talk lecture at Gardner Colby in January of 2011.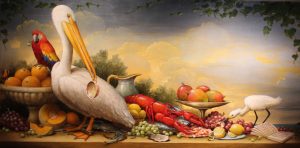 Every surface was treated. Even the ceilings were painted.
"It was art covering art." Like the ornate and opulent cabinets the Renaissance nobility commissioned in which to display the baubles and curiosities they gathered from around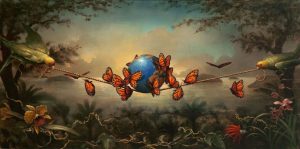 the globe. It was this insight that led Sloan to surround the paintings within his paintings with beautiful, artistic curiosities, or "art covering art."
More expansively, Sloan draws daily inspiration from John James Audubon, Martin Johnson Head and Edward Hicks.
Sloan and Magical Realism: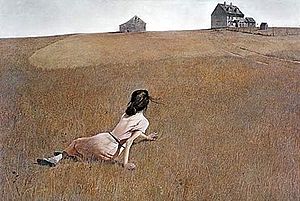 Magical realism refers to a genre of paintings that taps into the viewer's emotional reservoirs by hiding unsuspected or suggestive content in what might otherwise seem like a common, ordinary scene. Perhaps the most famous example of the genre is Andrew Wyeth's masterpiece, Christina's World. At first blush, Wyeth's painting seems to depict a young, dark-haired girl gazing at a distant farmhouse from a field of brown grass. There's an air of mystery or ambiguity, but the principle underlying magical realism is that we usually don't appreciate the true meaning of even the simplest phenomena. Upon closer inspection, you realize Christina is not young. She's in her 50s. She's not languorously reclining in that field either. Disabled, she is using her thin, deformed arms to drag herself toward home. Suddenly, what appears to be a peaceful, idyllic scene takes on a sad, even horrific tenor.
Typically, magical realist compositions are limited to ordinary, even banal objects, and the artist eradicates all traces of the painting process from the support. No impasto. No brushstrokes. Just a smooth, thin application of paint that disappears into the background suggesting the presence of a photography instead of a handcrafted work of art. In all, there are 22 traits that define magical realism, at least according to art critic Franz Roh's definitive 1925 essay on the subject.
While Sloan is an unabashed magical realist, he does bend the rules. He prefers to "play with what the surface suggests," retaining the swirls and ridges of the gesso he uses to prime his canvasses. And the subjects he layers into his compositions are anything but banal. Sure, Sloan populates his paintings with oranges, strawberries, bananas, beach balls, magnificent Monarch butterflies (which are symbols of change and renewal), porcelain vases and mounds of gold pocket watches. But the headliners of his paintings are rare and endangered species, such as whooping cranes, sea turtles and carrier pigeons, which he surrounds with just-as-rare man-made objects.
Thematically, Sloan's current body of work expresses and profound respect for and abiding love of nature that is tempered by a keen awareness that balance in the natural world is tenuous, at best. "For me, balance is a recurring theme," Sloan notes. In The Peaceable Kingdom, he conveys this awareness by balancing his subjects precipitously on a thin, narrow tightrope. In Cabinet of Curiosities, Sloan caused his birds and tortoises to balance themselves on everything from a house of cards and a stack of books teetering in a wheel barrow to an inflated beach ball. Kevin uses the metaphor to signify both the ecological balance the planet is struggling to achieve as well as the financial equilibrium each of us fights to restore in a recessionary economy. "It's not my intent to politicize this struggle," Kevin insists. "But it is an emotional state we're all dealing with, so it is my challenge as an artist to devise images that symbolize this struggle but which are aesthetic enough to transcend our mundane problems."
Exhibitions and Reviews: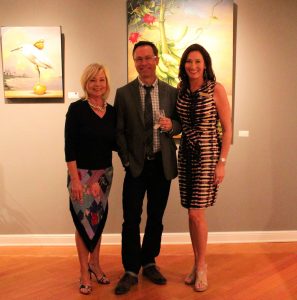 2012 marks Sloan's sixth one-man show at Gardner Colby Gallery. Overall, he has nearly 30 solo exhibitions to his credit. Sloan's resume also includes numerous group shows, including Magic Realism: A New Generation at Sangre de Cristo Arts Center in Pueblo, Colorado. His award-winning work can be found in numerous public collections including The Tampa Museum of Art, The Phoenix Museum of Art, the Museum of Fine Arts in Sante Fe, New Mexico, Chase Manhattan Bank, Hallmark Corp., McDonalds Corp, Princess Cruise Lines,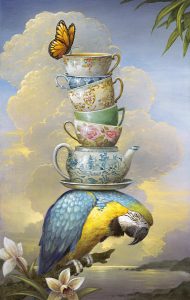 the University of California and the Tucson Museum of Art. His work also hangs in the Four Seasons Hotel in Scottsdale, the Venetian Hotel in Las Vegas and the St. Regis Hotel in Dana Point, California.
Sloan's work was selected as the cover story in both the January 2008 and January 2009 issues of American Art Collector magazine, and has been featured in three subsequent editions of the magazine, January, 2011 (vol. 63), January, 2012 (vol. 75) and January 2013 (vol. 87). New American Paintings, Number 36, published by Open Studios Press, also includes his work, and Sloan has been featured in Review, Art Talk and Southwest Art publications.
May 14, 2019.