Spotlight on Naples National Art Festival
ON THIS PAGE YOU WILL FIND ALL THE NEWS PERTAINING TO THE 37th ANNUAL NAPLES NATIONAL ART FESTIVAL.
* * * * * * * * * * * * * * * * * * * * * * * * * * * * * * * *
Naples National, ArtFest and Bonita National among top 50 national art festivals (06-22-16)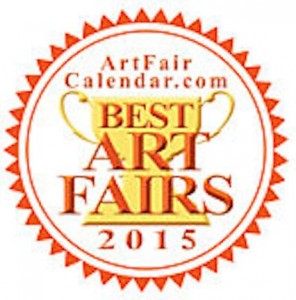 The votes are in, and according to the thousands who responded to ArtFairsCalendar.com's annual nationwide survey, ArtFest Fort Myers, Bonita Springs National Art Festival and Naples National Art Festival landed in the top 50 of their "must attend" outdoor art festivals and fine craft shows year in and year out! These three local festivals join such renowned Florida shows as the Las Olas Art Fair in Fort Lauderdale, Mount Dora Art Festival in Mount Dora, Coconut Grove Arts Festival in Miami, Winter Park Sidewalk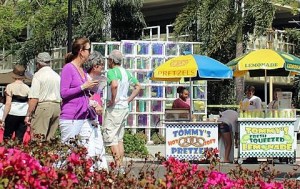 Art Festival outside Orlando, and Art Basel in Miami Beach. Naples National was the #2 "Best Southern Art Fair" with ArtFest Fort Myers garnering #5.
Among the criteria the respondents used to judge their finalists were quality of art (48%), venue setting & ambiance (12%), affordability/wide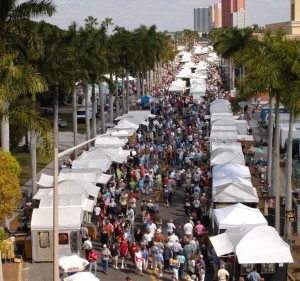 price range (10%), family friendly/kids activities (10%), number of exhibitors (8%), location, accessibility & parking (6%), variety of media (4%) and good food & music (4%).
Nearly one-third of the survey-takers said they have attended between 11 and 25 art fairs over the last five years, with 26.59% having attended 6-10, 21.36% having attended 1-4, and 19.09% saying they've attended more than they can count over the five-year timeframe. The average age of the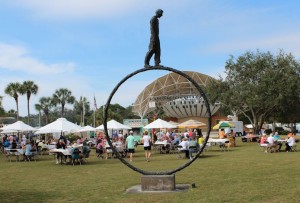 respondents was 59, with 72% being female. Of additional interest, the average income of the respondents was $127,843 with 46% of the survey-takers having either a law or masters degree and 42% having some post-graduate education.
ArtFairCalendar survey went out to over 50,000 e-newsletter subscribers and via Facebook last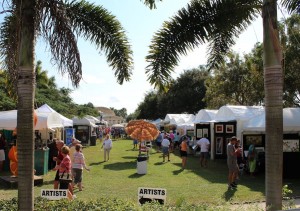 October with voting running into November. In all, ArtFairCalendar received completed surveys from nearly 2,000 voters. "Amazingly, 87% of the respondents completed the entire survey and followed all the prompts," noted ArtFairCalendar Publisher Connie Mettler. "No 'cat herding' was necessary." Voting was heaviest in the South and Mid-West.
Kudos to Naples National, ArtFest Fort Myers and Bonita Springs National Art Festival.
_______________________________________________
Naples Art Association outdoor art festivals make the grade (09-03-15)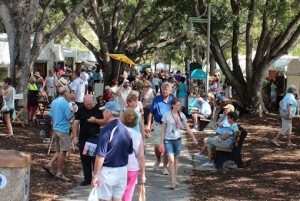 This just in. The September 2015 issue of Sunshine Artist Magazine has identified its 100 Best Fine Art & Design Shows in the country, and each of the Naples Art Association's winter art festivals made the list, with:
For more information on each art festival, please click on the hyperlink provided above.
______________________________________________________
Naples Art Association now accepting applications for Naples National Art Festival (06-21-15)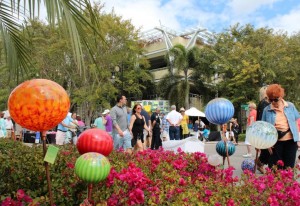 The Naples Art Association is currently accepting applications for inclusion in its three outstanding outdoor art festivals, The Downtown Naples New Year's Art Fair, Naples National Art Festival and The Downtown Naples Festival of the Arts.
Naples National is consistently voted among the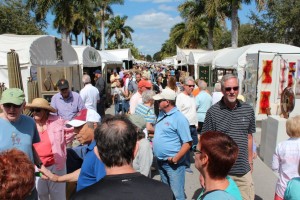 top 25 art festivals in the country by Sunshine Artist Magazine. As one of the oldest festivals in Collier County, Naples National is counted by the local community as among its premiere, must–see events, thanks to the high quality of art, the engaging personalities of the artists and the festive atmosphere.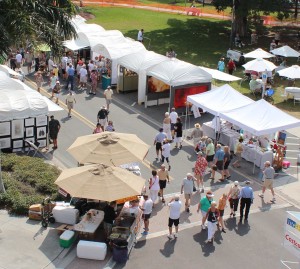 If you are interested in exhibiting in the 37th Annual Naples National Art Festival, here's what you will need to know:
Dates: Saturday & Sunday, February 20-21, 2016
Festival Hours: 10 a.m. – 5 p.m.
Location: Cambier Park & 8th Street South, downtown Naples
Max accepted:  270 artists
Application fee: $25
Booth fee: $475 for 10×10
Cancellation refund policy: Full refund: 1/8/16; 50% refund: 1/29/16
Set up specifics: Friday set up on 2/19,
Park and street setting
Application deadline: 11/5/15
Jury Process begins: 11/20/15
Status Notification: 11/30/15
Booth Fee Due: 12/18/15
Artist Info Sent: 1/28/16
Wait List Acceptance: 12/10/15
Application available online at juriedartservices.com beginning June 1, 2015 –
See more at: http://www.naplesart.org/callforartist/naples-national-art-festival-2/.
____________________________________________
Glass artist Scott Amrhein participating in this weekend's Naples National Art Festival (02-20-15)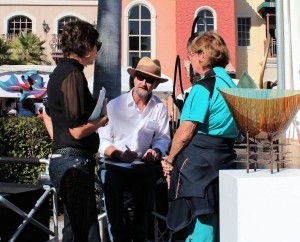 Glass artist Scott Amrhein will be one of the artists participating in the Naples National Art Festival this coming weekend. A perennial crowd favorite, Amrhein is a past Naples National Award of Distinction winner.
Amrhein characterizes his creations as evolutionary art glass, a term he uses to signify that he continually refines the process he developed to fire the glass at his Wisconsin atelier,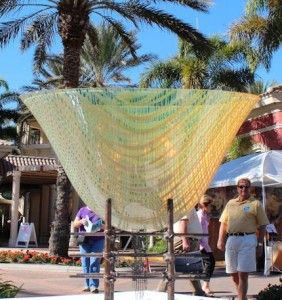 High Cliff Studio. To produce the beautiful organic patterns that have become the signature of each bowl, Scott applies a metallic glaze before he heats and stretches the glass in his kiln. But the glaze resists stretching, resulting in markings as unique as a fingerprint or the iris of the human eye. No two are ever the same.
Even the elliptical design of many of Amrhein's bowls came about as the result of trial and error. "I was trimming the glass on a bowl one day," Scott explained at a break during the Bonita Springs National Art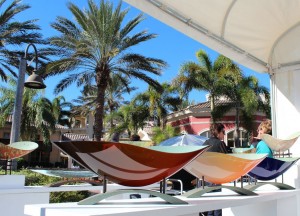 Festival in January of 2012," and one side cracked in an arc. I loved the pattern I'd gotten and didn't really want to throw away the glass, so I decided to cut the other side to match." The elliptical design became so popular, it is now a trademark of Amrhein's lumen bowls.
"To complement the lumen bowls," says Scott, "we have designed and fabricated a variety of primitive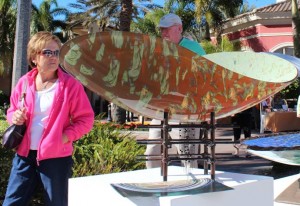 pedestals from charred wood and patinaed copper resulting in a striking presentation and a soothing blend of textures. Simplicity of design and the absence of primary color is beneficial when displaying this art in various settings." The striking pedestals are yet another example of Scott's unique and exceptional hand-crafted artwork.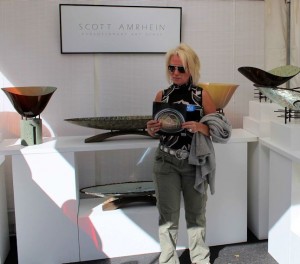 Amrhein's art glass has garnered numerous awards, including in just 2014 Best in Shows at the Port Clinton Art Festival in Highland Park, Illinois and New Orleans Jazz and Heritage Festival, an Award of Excellence at the Lakefront Festival of Art in Milwaukee, and Awards of Distinction in Art on the Square South Lake, Texas and Naples National Art Festival. As expected, his lumen bowls are coveted both by collectors and galleries and museums nationwide. Because they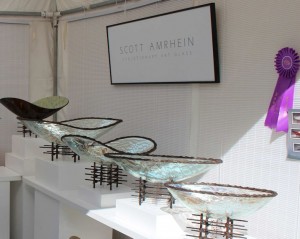 complement most architectural styles and home decor motifs, they work as well in showcase homes in Palm Beach as they do in rustic weekend retreats in Colorado and Wyoming. Today over 90 galleries in the United States, Canada and Puerto Rico display the lumen bowls, including the Corning Museum of Glass in New York and the Los Angeles Museum of Art.
__________________________________________________________________
Spotlight on Naples National printmaker and graphic artist John Costin (02-19-15)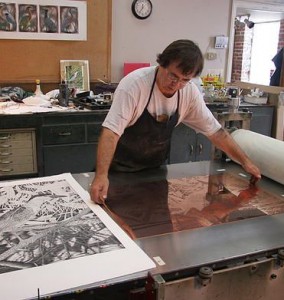 Naples National Art Festival opens in Cambier Park off Fifth Avenue South on Saturday morning. Among the 200 artists participating in the show is printmaker and graphic artist John Costin.
The Tampa resident became turned professional in the same year as the inaugural edition of Naples National some 36 years ago. Since then, Costin has distinguished himself as both a printmaker and graphic artist whose work can today be found in public and private collections statewide, including the Bank of America in Tampa, Board of Hillsborough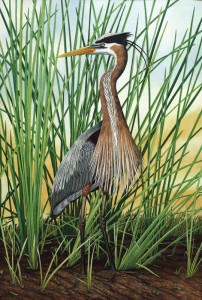 County Commissioners, City of St. Petersburg, City of Tampa, Commerce National Bank & Trust in Winter Park, the Department of Transportation in Leesburg, Eckerd College, the Mayo Clinic in Jacksonville, the Miami-Dade County Library, Moffitt Cancer Center, the Orlando Aviation Authority in Orlando, Raymond James Financial, Inc. in St. Petersburg, the State Library of Florida in Tallahassee, and the Tampa Museum of Art.
"My interest in art began at a very young age, using crayons on the walls in my grandmother's house," Costin recalls. She probably was not too happy about that, but Costin was undeterred. He went on to study art history and printmaking in college. "Though I started working as an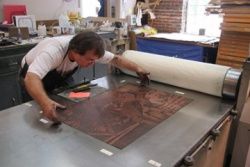 electrician in my early twenties, I knew it was temporary. I wanted to be an artist.
Costin has always been fascinated by birds, their captivating beauty and gravity-defying ability to fly. In 1988, he finally began translating his infatuation into detailed etchings and prints of examples of his favorite subjects, herons and egrets.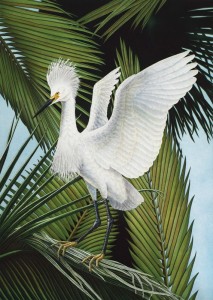 "I consider my work bird portraits," Costin explains. "Most of my subjects are depicted life size. I go out in the field and take hundreds of photos of whatever bird I want to work on."After studying and archiving the photographs, he then draws from memory, creating the backgrounds and posing the subject.  "I never use photographs while drawing because I do not want my subjects to look photographic. That is extremely important to me."
Costin enjoys the process of printmaking both challenging and enjoyable. His process involves individually hand wiping 1-5 copper plates with various colors of ink to create an image on paper. Then each piece is meticulously hand colored.  "The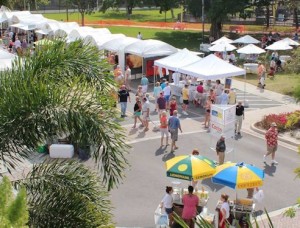 plates take months to create and many weeks of proofing are done before an acceptable piece is created." It is a combination of drawing, sculpture and painting. "It is the oldest printing process in the world. Rembrandt, Goya and other fine artists were printmakers. No computers or photography are ever used. Each piece is handmade and hand painted and though the editions may range from 1-250, no two pieces are the same."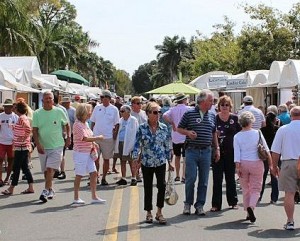 Not surprisingly, Costin's work has been receiving considerable attention and accolades. In 2013, he received:
Best of Category – Art on the Square, Belleville, IL
Award of Distinction– Bonita Springs Arts Festival, Bonita Sp., FL
Award of Excellence – 54th Annual Winter Park Art Festival, WP, FL
Purchase Award(s) – 54th Annual Winter Park Art Festival, WP, FL
Juror Award- Main Street Fort Worth Arts Festival, TX
Honorable Mention– Times Forum Celebration of the Arts, Tampa, FL
And in 2012, his accomplishments included:
Solo Exhibition– "Birds of a Feather" Kalamazoo Institute of Art, Kalamazoo, MI.
Group Exhibition– Museum of Florida Art & Culture, Avon Park, FL
Merit Award- Group Exhibition – Museum of Florida Art Biennial VI in Deland, FL
Best of Show –  53rd Annual Winter Park Art Festival, Winter Park, FL
Best of Show – ArtFest Fort Myers, Ft. Myers, FL,
Best in 2-D – Naples National Art Festival, Naples, FL
Award of Excellence – Art on the Square, Belleville, IL
Group Exhibition– "Five by Five" Tampa Museum of Art in Tampa
Please click here for more information on the Naples National Art Festival.
____________________________________________________________
Naples Art Association adding People's Choice award to this year's Naples National Art Festival (02-18-15)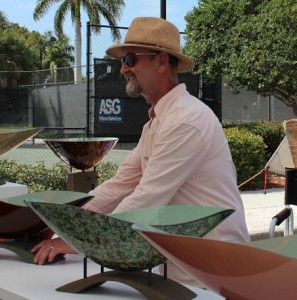 Naples National Art Festival is the Naples Art Association's only art festival where awards are conferred upon deserving artists. Cash awards are provided for Best in Show, Best 2D, Best 3D and 10 Awards of Distinction – 5 in 2D and 5 in 3D.
New this year, NAA wants the public to vote for a People's Choice winner. While this will distinction does not carry a cash award, the People's Choice will automatically be accepted into the 2016 Naples National Art Festival, bypassing the jury selection and application processes. Furthermore, People's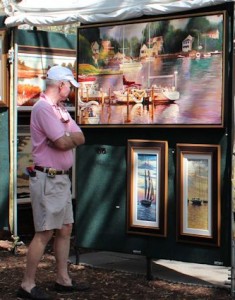 Choice Award winners will also receive a complimentary booth at the 2016 Naples National Art Festival from The Naples Art Association. To vote for the People's Choice award, simply stop by The Naples Art Association tent (booth #109) to cast your vote. The votes for People's Choice will be tabulated at 2:00 p.m. on Sunday and announced at the end of the festival.
Naples Art has selected two esteemed local artists to be serve as on-site jurors and choose 13 cash award winners. The artist awards will be decided on Saturday, February 21 and announced on Sunday, February 22. Cash awards will be awarded as follows:
Best of Show – $2,000;
Best 2D – $500;
Best 3D – $500;
Awards of Distinction 2D – 5 awards at $200 each; and
Awards of Distinction 3D – 5 awards at $200 each.
See more at: http://www.naplesart.org/event/naples-national-art-festival/.
_______________________________________________________________
Naples Art issues call for volunteers for Naples National Art Festival (01-30-15)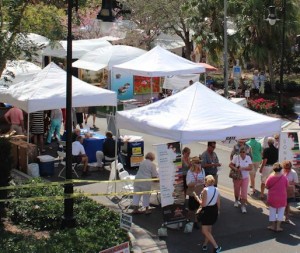 The Naples Art Association needs volunteers for Naples National Art Festival, which takes place on the weekend of February 21 and 22, 2015.  If you can volunteer to work on either or both days, please contact Volunteer Service Coordinator Yvonne Gibb at Yvonne.gibb@naplesart.org or by telephoning 239-262-6517 (extension 105).
Be prepared to tell Yvonne which day or days you can work and whether you prefer the morning or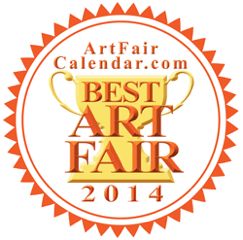 afternoon shift. NAA needs both gatekeepers and boothsitters. Volunteers meet under the gazebo in Cambier Park. Gatekeepers shifts are 9 a.m. to 1 p.m. and 1-5 p.m. Boothsitters shifts extend from 11 a.m. to 3 p.m. and 1-5 p.m.
Naples National Art Festival is Naples Art's biggest festival of the year. Located in Cambier Park, the local community counts Naples National among its premiere, must–see events thanks to the high quality of art, the engaging personalities of the artists and the festive atmosphere. Last year, more than 22,000 residents and visitors flocked to this outdoor weekend art festival to enjoy the art, live performances and festival food while basking in bountiful sunshine and Naples' temperate winter clime.
Please click here for more information on the Naples National Art Festival.
______________________________________________________________________
Teresa Hansen children's sculptures capture spirit, personality and likeness at a moment in time (01-14-15)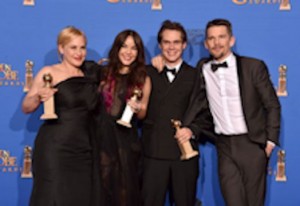 At last Sunday night's Golden Globe Awards, a film by the name of Boyhood won best motion picture, with Richard Linklater receiving accolades as best director and Patricia Arquette taking best supporting actress. Among the factors that made Boyhood so special is the fact that it was filmed over the course of 12 years. Its two child stars literally grew up and Arquette and co-star Ethan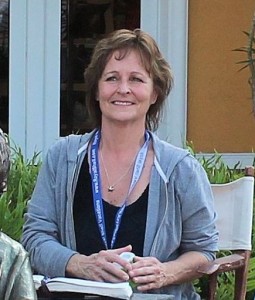 Hawke aged right before the audience's eyes. There may be no one who can better appreciate what Linklater has achieved than Loveland, Colorado sculptor Teresa Hansen. Because she casts bronzes of children, her subjects often grow, age and change between the time she starts and completes her commissions.
"I did a commission of three children for a couple in North Carolina that took me a little more than a year to finish," Hansen recounted at the Downtown Naples New Year's Art Fair a couple of weeks ago. "By the time I delivered them, the children's faces, bodies and even their personalities had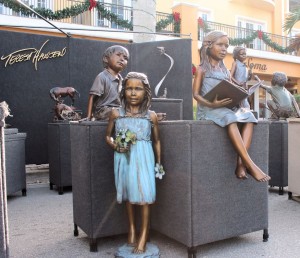 changed quite a bit. But the kids and their grandparents were happy anyway. They'll always have enduring 3-dimensional images of what they were like at that moment in their development."
That is especially true with Hansen's sculptures because she assiduously endeavors to capture not just the likeness of each subject's face and figure, but their spirit and personality as well. Her overarching intent is to communicate true,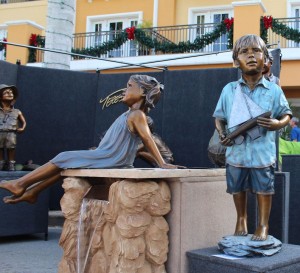 universal feelings expressed within a fleeting, ephemeral moment in time.  The admiration of her work along with her acknowledgements and awards reflect this ability.
Her process is time-intensive. While Teresa often works from photographs, she prefers to visit her clients and subjects so that she can observe them in their natural surroundings and view the place where the sculpture is to be installed. She then creates an oil-based clay model for the client and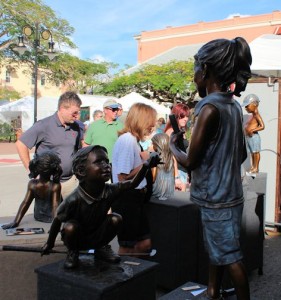 subject to review, which she tweaks and modifies based on the feedback they provide. At this point, she encases the original sculpture in layers of rubber supported by plaster. Most sculptures are rendered in multiple parts, with the head being one part of the mold, an arm another, and so forth. The original is now removed from the mold leaving the negative space inside.
"Wax is poured into the mold and then poured out evenly coating the interior walls of the mold," Teresa explains. "About three coats of wax are needed in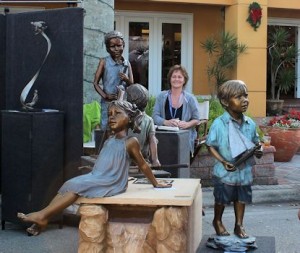 order to make a hollow wax replica of the original sculpture. After cooling, this hollow wax replica is removed from the mold and any surface imperfections in the wax are corrected. This part of the process is referred to as 'wax chasing.' And once that's done, wax rods or 'sprues' are added to guide molten metal into the piece, as are vents to release air when the metal is poured. The piece is then dipped into a heat resistant liquid or 'slurry,' and coated with a heat resistant sand or stucco. Six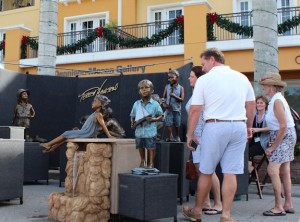 to twelve coats are required, and each has to be completely dry before the next coat can be applied."
But Teresa is far from finished. After the ceramic shell is fully dry, the piece is inverted and placed in a kiln at 1800 degrees, which hardens the shell. The wax melts and pours out of the ceramic shell. This empty ceramic shell is placed in a sand pit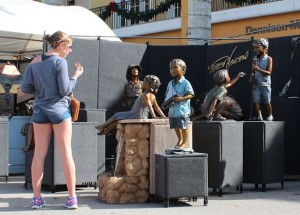 with the pouring cup at the top. Molten bronze heated to 2200 degrees is poured into the cup and down through the "sprues" into the cavities of the shell. After a cooling period the shell is broken away revealing the bronze casting. The next stage is metal chasing out any imperfections. The sprues are cut off, the sculpture is sand blasted, and any parts that were separately cast are welded back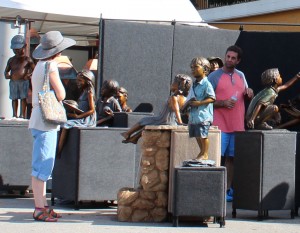 together. Then, finally, various compounds are brushed or sprayed onto the metal to create the "patina." Using hot and cold techniques, different formulations are applied to create a variety of colors.
"It's a 4,000-year-old process known as cire perdue or lost-wax metal casting," Teresa noted with pride amid the ebb and flow of the crowd at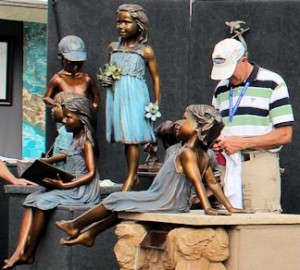 the Downtown Naples New Year's Art Fair. "Although materials have improved and new technology is employed, each step of the process of casting bronze today is the same as that used thousands of years ago."
And it's also why commissions can take a year or more to complete.
But the effort is well worth the time.
Among Teresa's most recognized commissions are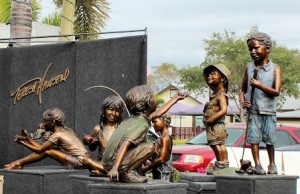 Healing Touch at McKee Hospital in Loveland, Colorado, Lil' Bo Peep and Lil' Red Riding Hood at R. W. Norton Art Gallery and Museum in Shreveport, Louisiana, Star Struck at University of South Alabama Children's and Women's Hospital in Mobile, Alabama, Hunter at Memphis Botanic Gardens in Memphis, Tennessee, and Turning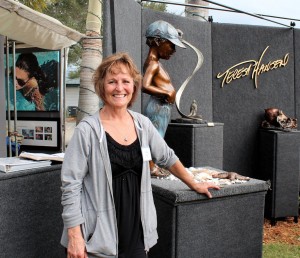 Point installed to honor the inventor of snowboarding, Sherman Poppen.
"Each piece of art is a learning opportunity and a new discovery," Hansen states expansively. " I am inspired by my diverse life experiences, most precious memories and my vision of the future.  As our lives can change in seconds, an expression, feeling, or emotion can change with the slightest movement of clay, pencil, or brush leaving a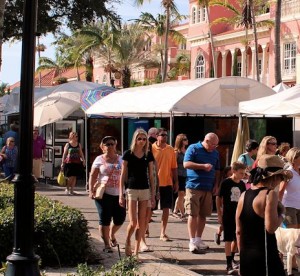 lasting impression.  My desire is to capture genuine emotion of each moment and to evoke a smile and a feeling of joy in all those who see my sculpture."
Teresa realized that art was her calling early on, and memories of time spent in front of her grandparents' fireplace on cool rainy days fueled her desire to be a full-time artist.  She followed this path by taking classes in various media, and while she became skilled in pewter, pencil, paper cast,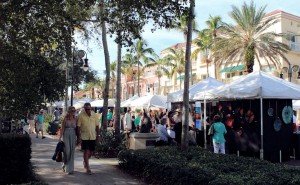 watercolor and oil, her media of choice is and has always been three-dimensional and relief bronze.
To perfect her craft, she moved to Loveland, Colorado to work with several renowned sculptors who helped her take her abilities to the next level. (Bonita Springs residents and visitors may recall that Loveland is also home to monumental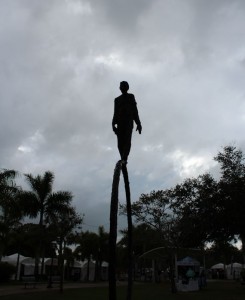 sculptor Jane D. Decker, who created Setting the Pace, Lords of the Forest and The Ties That Bind, three bronze sculptures that the City of Bonita Springs' Art in Public Places Board purchased in 2007.) It didn't take long for Loveland to recognize Hansen's unique ability to work in fine detail and capture likeness in stylized realism and figurative sculpture. Today, Teresa dedicates herself fully to her work, often conscripting her children and grandchildren as muses and hand models for specific pieces. In fact, her son Jason became so enamored of his mother's talent and process over the years that he has followed in her footsteps, something that gives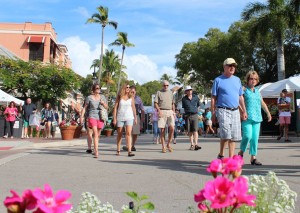 Teresa even greater pride than the numerous awards and accolades she has received over the course of her career.
Hansen credits her success on her ability to see things in people, nature and the objects that surround her that the rest of us miss. She notices the energy in every movement and sees the detail of every feature.  She intently studies her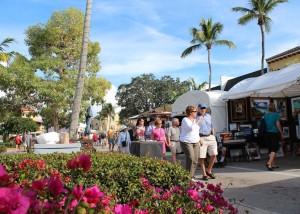 environment to be more precise and accurate in her work.  That is why if you were to ask Teresa how much time she spent on a particular piece, her answer would inevitably be: "My whole life".  While each piece is uniquely different, each shows her natural talent and the depth of her experience.
If you missed Teresa at the Downtown Naples New Year's Art Fair, you'll have one more opportunity this show season to meet her and preview her work. Hansen will take part in the Naples National Art Festival in Cambier Park on February 21 and 22. For more information, please visit www.naplesart.org.
___________________________________________________________________________
Southwest Florida considers Naples National must-see event of annual art fair and festival season (01-14-15)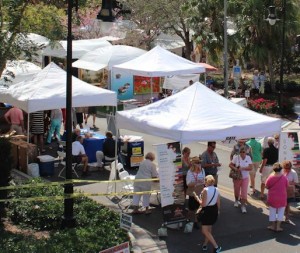 The Naples National Art Festival returns to downtown Naples on Saturday and Sunday, February 21 and 22, 2015. Because of its national ranking and the beautiful weather in southwest Florida during this time of year, Naples National draws some of the finest artists in the country. Together, they provide a diverse array of artworks that include original oil and acrylic paintings on canvas, panel and galvanized aluminum, watercolors on paper, 2D and 3D mixed media,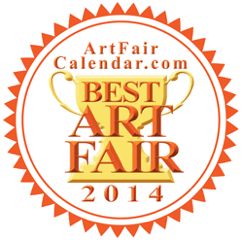 limited edition prints, photography, digital art, metal sculpture, wood carvings, ceramics, art jewelry, leather works and more. There's lots of art for every taste and pocketbook, so bring your credit card or checkbook.  More than 20,000 residents and visitors flock to this outdoor weekend art festival to enjoy the art, live performances and festival food while basking in bountiful sunshine and Naples' temperate winter clime. It's easy to see why the Southwest Florida community counts Naples National as one of the premiere, must–see events of each year's art fair and festival season.
For more on Naples National Art Festival, please click here.
_____________________________________________________________________
Naples National Art Festival wins 'Best Art Fair' award (12-08-14)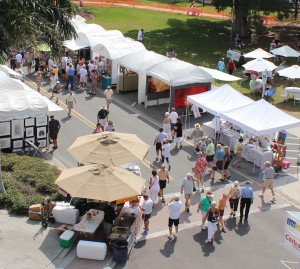 Naples National Art Festival is a winner in the national "America's Best Art Fair Awards" competition. Named as one of the "Best OVERALL vs. REGIONAL Art Fairs," the survey recognized Naples National Art Festival as one of the best juried fine art fairs in the country.
The survey was sponsored by ArtFairCalendar.com, the #1 website for art fair event listings. While other ranking services are typically confined to art fair insiders like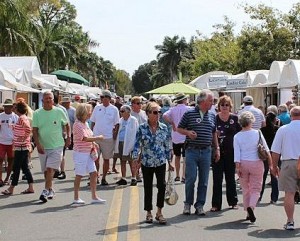 participating artists and show staff, ArtFairCalendar's 2014 online survey consulted art fair patrons, fine art collectors, and the public that attends art shows and festivals nationwide. In fact, it is the only national online survey of art fair event quality designed to recognize achievement in art fair event production and promote the cultural importance of fine art events across America. Please visit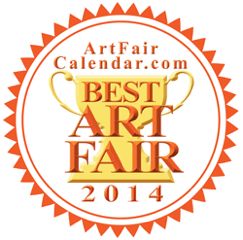 http://www.artfaircalendar.com/art_fair/americas-best-art-fairs-the-top-50.html or http://www.BestArtFairs.com for the complete list of Best Art Fair Award winners for 2014.
"Naples National Art Festival has always been popular among art fair lovers in the Naples area, but our 2nd annual national Best Art Fairs Awards survey proves that both art collectors and artists nationwide love it too," said Connie Mettler, Publisher of ArtFairCalendar.com. "We're happy to give a 'Best Art Fair Award' to Naples National Art Festival today."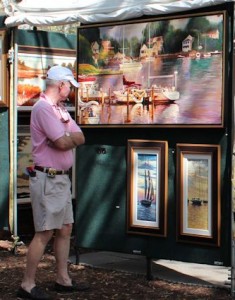 The mission of ArtFairCalendar.com is to help improve the economic performance of art fair events nationwide and support the fine artists who contribute so much to our culture. As the #1 Google ranked website for art fairs, ArtFairCalendar.com offers national calendar online of juried fine art fairs, shows, both festivals, and events. Founded in 2004, ArtFairCalendar.com is published by Connie Mettler, a long-term art fair industry veteran and consultant to fine art events nationwide.
"We're very pleased at this recognition of Naples National Art Festival by ArtFairCalendar.com's 'Best Art Fair Awards,' said Jody Anagnos, Events Coordinator of The Naples Art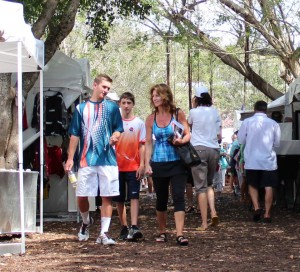 Association and coordinator of Naples National Art Festival. "We have a great team of staff and volunteers who work hard every year to produce this important cultural event that brings so much art, business, and fun to the Naples community."
Naples National Art Festival will be held on February 21 and 22 in scenic Cambier Park and along 8th Street South. Because of its prestigious fine art and artists, this Naples Art Association festival draws crowds in excess of 20,000 each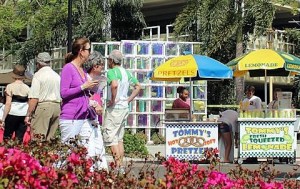 year. To facilitate parking and for convenience, a free shuttle is available to festival attendees during festival hours.
Please visit http://www.ArtFairCalendar.com for national fine art show listings and free regional email newsletters that can help you keep up with the art fairs in your community. And for the only comprehensive calendar of the art fairs and festivals taking place each season in Southwest Florida from Marco Island to Matlacha, please visit Art Southwest Florida.