Pine Island Art Show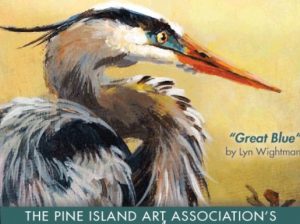 Name: 48th Annual Pine Island Art Show
Date: February 8 & 9, 2020 (always the weekend of or just before Valentine's Day)
Hours: 10:00 a.m. – 4:00 p.m.
Place: This year, the show is at a new location – the North Fort Myers Recreation Center, which is located at 2000 North Recreation Park Way, North

Fort Myers 33903.
Description: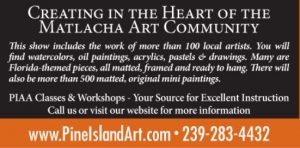 This art festival features works created by more than 100 local artists who range in skill and experience from novice to expert. Some are students. A number are professionals with their own following and gallery representations.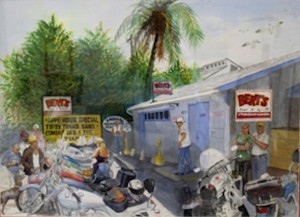 Almost all are members of the Pine Island Art Association, who work tirelessly throughout the year to prepare wall art in a variety of mediums just for the festival. "There will be watercolors, acrylics, oil and pastels painted by many talented and experienced artists," reports Art Association member Phyllis Dowd. "At this year's show, you will find a large selection of landscapes, seascapes,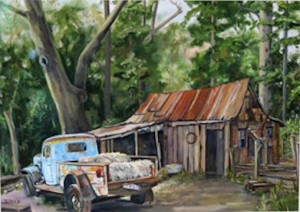 birds, flowers, fish and wildlife. The subject matter of these paintings and the warm colors used evoke the spirit of this laid back paradise, and paintings purchased at the show become treasured possessions in homes and collections throughout the area." All of the works available for purchase are professionally framed and ready to hang.
The weather was perfect and more than 2,700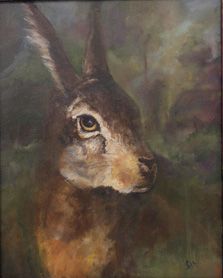 people came to experience the flavor and charm of historic Matlacha during last year's (2014) Pine Island Art Association Show and Sale. "More than 500 paintings were displayed by the 78 participating artists," reports the Pine Island Art Association. "Our customers purchased 162 paintings and more than 600 minis. Beginning with the excitement of a long line of visitors waiting for the doors to open on Saturday morning, and ending on Sunday afternoon with the satisfaction of a job well done, the Pine Island artists treasure this one-of-a-kind event. Already we look forward to next year's show."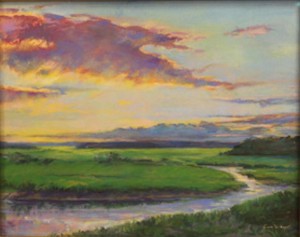 To induce the very best work from participating artists, the Pine Island Art Association awards cash prizes to the Best in Show and first place winners in oil, acrylic, watercolors, pastels, mixed media, pen & ink and small or "mini" paintings. At last year's show, Connie Krug took Best of Show honors with Earning Their Stripes (above); Jack Lovell has the #1 watercolor with Bert's Bar (above); best in oil was Karen Greb with Back in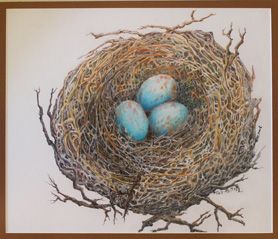 Time (above); the #1 acrylic went to Patty Sole for Now You Know Jack (above); best pastel was turned in by Grace DiMaura for Emerald Green Marshes (above right); Pat Potter earned honors for best Pen and Ink Drawing with Love Nest (right); Pam Rossman had the #1 mixed media work with Great Wall of China II (lower right); and Grace DiMaura also had best Small World work with Purple Shadows I.
The Pine Island Art Association encourages artists to

bring a wide selection of original "mini" paintings to the festival so that visitors with limited wall space budgets will have artworks they can purchase.  These small pieces measure just 3-1/2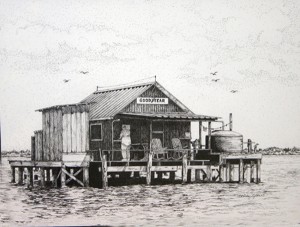 by 4-1/2 inches and all come double matted. According to Dowd, these minis are perfect for either gifts or keepsakes, and because of their compact size, they are easily shipped or packed in a carry-on flight bag. The minis sell for just $10 including tax. Also available for purchase are frame kits designed specifically to fit the minis, available for $10 as well.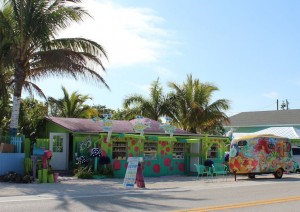 Now in its 44th year, the Pine Island Art Show and Sale has become the largest event on Greater PIne Island, drawing nearly 3,000 attendees from all over Southwest Florida. However, the PIAA goes out of its way to preserve its small town feel. "At the show," says Dowd, "our members will greet you at the door and invite you to sample their home-baked goods after you see their work. The artists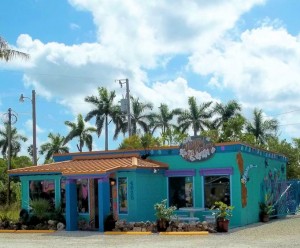 will be there to talk to you and it will be a trip back in time to a Florida that is rapidly disappearing."
Many festival goers combine the show with an excursion around the block to Matlacha's gallery row. Newcomers are often surprised to learn that the tiny island has 8 art galleries:  Bert's Pine Bay Gallery, Frills (featuring bead and other craft jewelry), Island Visions (colorful Floridian paintings and prints), Lovegrove Gallery &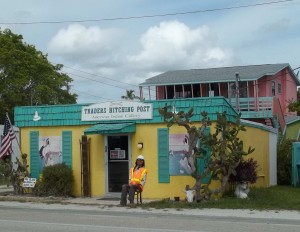 Gardens (wide array of eccentric pieces, from paintings to painted furniture), Trader's Hitching Post (Native American art and jewelry) and WildChild Art Gallery (serious to whimsical, beach scenes to wildlife and sea life motifs).
Cost: Admission is free.
Parking: Parking is free.
Organizer: The Pine Island Art Association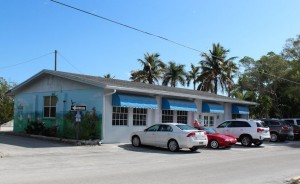 organizes the Pine Island Art Show each year. The PIAA occupies the historic Matlacha Fire Station building in Matlacha Park (right), which is physically located at 4577 Pine Island Road, Matlacha. With more than 200 members, the Pine Island Art Association holds memberships with the Arts Council of Southwest Florida, the Lee County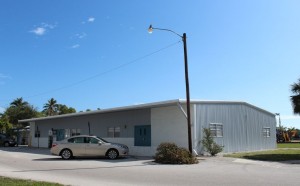 Alliance for the Arts and the Lee county Arts Coalition.
Website: http://www.pineislandart.com/artshow.html.
Facebook: None.
Fast Facts:
At 3.5 by 4.5 inches, the "minis" featured at the Pine Island Art Festival are a little too big to be considered "art cards." To fall into the category of Art Card Editions and Originals or ACEOs, a drawing or painting must be 3.5 by 2.5 inches, or trading card sized.
ACEOs are extremely popular at the moment, with thousands of ACEO-formatted originals being sold online every single day. In fact, there are currently 15,600 ACEOs listed on eBay at prices ranging from one cent to $2,200, and another 30,000 on Etsy at prices ranging from $1 to $2,999.
People who've never collected art before are acquiring ACEOs and minis because of their low entry level prices, and since they are small and lightweight, they are easy to transport and can be grouped together on a wall to create a collage-like effect that compliments most country and shabby chic interior designs.