Vince Giordano documentary furthers BIFF tradition of focusing on dance at festival opening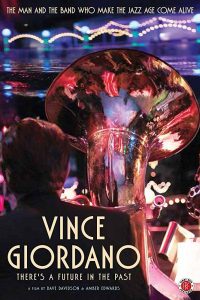 The Center for Performing Arts will open the 3rd Annual Bonita Springs International Film Festival with Vince Giordano: There's a Future in the Past, a documentary about a bandleader based in New York City who is preserving and archiving the sheet music for more than 60,000 big-band swing and jazz arrangements that were written, recorded and performed in the 1920s and 1930s. The film and VIP dance after-party further a tradition of opening BIFF with films that focus on the art of dance.
Last year, BIFF opened with a screening of German Kral's lyrical documentary Our Last Tango. That film tells the compelling story of Argentinian dancers María Nieves and Juan Carlos Copes, the most influential duo in the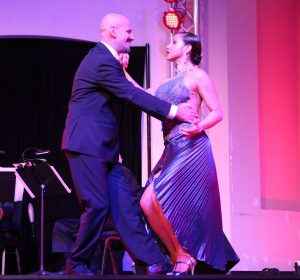 history of the tango. For more than forty years, Nieves and Copes transformed the art of the tango, taking it to heights of artistry and international recognition previously unknown. Now in their eighties, Copes and Nieves tell their own stories, illustrated with clips and photos of performance triumphs and dramatized by romantically-staged period reenactments featuring brilliant young dancers portraying María and Juan Carlos.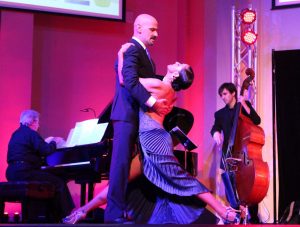 Following the film, VIP guests were treated to a live performance by local tango instructor/performer Pablo Repun and his gorgeous wife and Tango partner, Alicia Repun. With a full band and singer providing the music, the couple performed several dances before providing guests with an impromptu lesson on the wood dance floor of the Hinman Auditorium.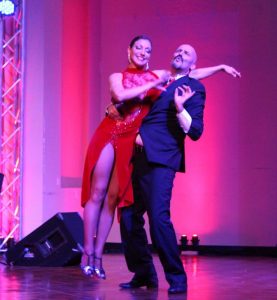 Repun is an internationally-acclaimed talent. He was born and raised in Buenos Aires- the city where Argentine Tango was born. Pablo undertook extensive training during his time in Buenos Aires, studying under top professional Argentine Tango masters including Carlos Hidalgo, Celia Blanco, Ernesto Carmona, Gustavo Naveira, Esteban Moreno, Pepito Avellaneda, Natalia Games & Gabriel Angio, Fabian Salas, Mingo Pugliese & Roberto Herrera. He supplemented this training by studying Graham Contemporary Dance and Parallelism Dance Technique at The National School of Dance in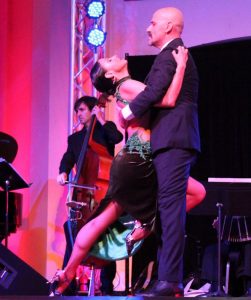 Buenos Aires.
For nine years, Pablo taught group classes, private lessons and workshops at local Milongas, cultural centers, universities and also at historical places like Café Tortoni and Café Homero Manzi in Buenos Aires. He also performed at numerous private events, public shows, hotel functions and corporate events. In 2013 Pablo created, produced and choreographed a critically-acclaimed tango show at the Naples Botanical Gardens for Arts Naples World Festival. The following year, he created, produced and choreographed "Estaciones de Tango" at the Sugden Theatre for Arts Naples World Festival, and in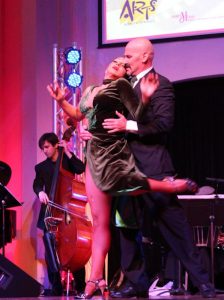 2015 he taught at CITA Congress 2015, the most important and prestigious Tango Congress in the world and the biggest in Buenos Aires. He also in performed and choreographed the tango for the Opera Tango Show "Maria de Buenos Aires" and "Opera Tango" at the Wang Center Opera Naples.
Pablo has performed on TV numerous times in Brazil, Costa Rica and the United States, and he has traveled with the Quintango quintet throughout the U.S.A., appearing on the cover of their last CD, which won a Grammy in its field. In United States, Pablo has performed at milongas, private events, public shows, hotel functions,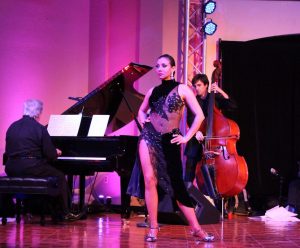 corporate events and universities.
For four years, Pablo taught group classes at "The International Club of Argentine Tango" (CITA) and five years at South Florida's most popular weekly milonga: "La Ideal" along with weekly classes in Aventura and Miami Dade Community College Kendall Campus. Pablo has been living in Florida since 2002. Several of Pablo's student have gone on to attain international recognition. Today from his studio in Naples,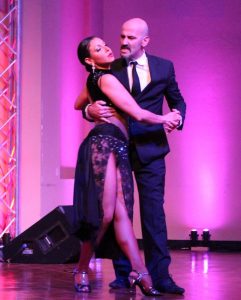 he teaches all styles of Argentine tango, including Tango Salon, Close Embrace, Open Embrace, Social Tango, Nuevo Tango and Performance Tango. His technique stresses the importance of posture, balance and technique for both leaders and followers.
In addition to teaching and performing, Pablo was one of the organizers of the "Miami Tangothon", an Argentine Tango marathon for Florida dancers. He was the Publisher and Editor of "El Milonguero Tango Magazine", the first Argentine tango magazine in Florida. Pablo and his wife Alicia personally introduce their students to the birthplace of Tango organizing exciting and fun-filled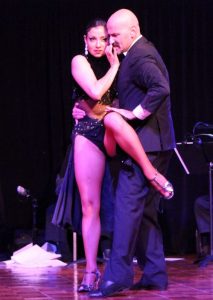 tours to Buenos Aires each year.
Following this year's screening of Vince Giordano: There's a Future in the Past, the Bonita Springs International Film Festival will provide VIP guests with a band that will play the music popularized by Giordano and his Nighthawks band, providing guests the unparalleled opportunity to employ their skills on the dance floor in Charleston, the Lindy and both East and West Coast Swing. In fact, many VIP guests are likely to dress in period costume, so there will be a number of flappers on the floor of the Hinman Auditorium.
January 20, 2018.
RELATED POSTS.