Ralph Klisiewicz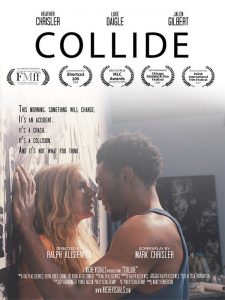 Among the short films that will be screened at this year's Fort Myers Film Festival is Niche Visual's Collide, directed by filmmaker Ralph Klisiewicz. It's a character-driven piece written for and starring Chicago's Jeff Award-nominator actor Heather Chrisler.
Klisiewicz's entrance into filmmaking was rather unorthodox. About seven years ago, Ralph was a musician in need of a musical video. Although several people with a film background helped him get the project a started, much of the work fell upon his own shoulders. In order to complete the project, Ralph was forced to learn and perform many of the filmmaking tasks. Since that initial project,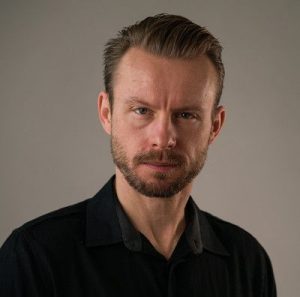 he has fallen in love with the entire process of filmmaking and has now produced a number of music videos along with five short films, vis: Perception (in post-production), The Artifact (completed), A Survivor's Guide to Writing in the Quarantine (2020), In the Driver's Seat (completed, 2018) and Collide (2018). He also directed the last four films, served as cinematographer on Perception, In the Driver's Seat, A Survivor's Guide and Moving-in-Law (2020), and wrote The Artifact and In the Driver's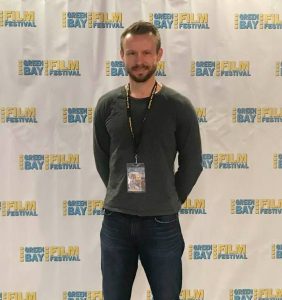 Seat.
His familiarity with each aspect of the filmmaking process was particularly important in connection with Collide. After the script was completed, it took nearly a year before Heather Chrisler  and her co-stars, Luke Daigle (who plays Tim) and Jalen Gilbert (Kevin) were available at the same time.
"She called me saying she had two weeks free at the end of August [2018] to film a project," Ralph recalls. "We rushed through all the prep and got the project ready to film in about a week."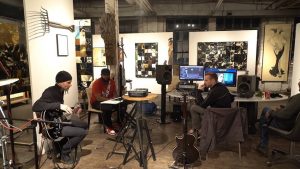 Jalen (Kevin) and Heather had just finished a play at Victory Gardens so it was a smooth transition for them to the film set.
"Luke (Tim) had worked with me on my previous short film, so I was comfortable with him and he with me. We had three major shooting days at three locations,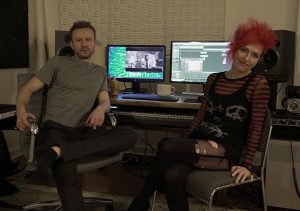 and a few short pickups." But they got it done.
At that point, Klisiewicz put his musical background to good use.
"At the artist's loft, where we filmed the sex scene, we build a quick studio where we recorded the score in three days."
He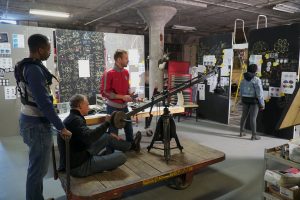 also composed the scores for The Artifact and In the Driver's Seat.
Klisiewicz's background as a self-taught filmmaker gives him a perspective and creative approach free of traditional filmmaking paradigms. Ralph is inspired by directors like David Fincher, Danny Boyle and Denis Villeneuve, but it is his degree in psychology that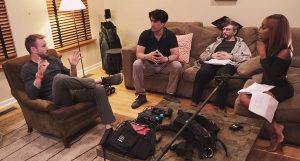 provides the skill and impetus to explore the deeper – and potentially darker – layers of the characters in his films. Always seeking a thorough understanding of what motivates and moves each character to behave, Klisiewicz'a films are renowned for their exploration of the convoluted layers
of the human psyche and the dynamics of interpersonal experience.
In addition to directing his own films, Ralph has worked as a DOP and an editor for other filmmakers. He strongly believes in building a community of filmmakers and related artists. He looks forward to projects that challenge him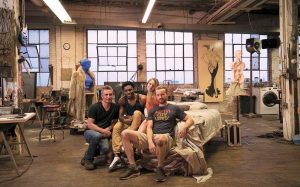 and push him to grow as a filmmaker. He now offers his filmmaking experience and approach commercially through Niche Visuals, a video production company that he founded in Chicago.
"Chicago is an ideal place for filmmaking," Ralph observes. "Given our theater scene here in Chicago, we have many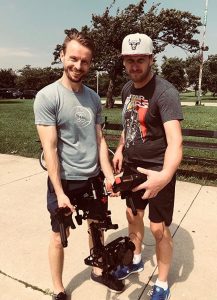 talented actors and writers. Chicago is a working city so we have people who want to roll up sleeves and build sets and props for video and film productions. And of course Chicago itself is a beautiful canvas upon which we create our films."
Ralph was born in Poznan, Poland. At age of 10 he immigrated to Italy and then moved to Unites States two years later.
September 27, 2020.