Numerous SWFL groups battling human trafficking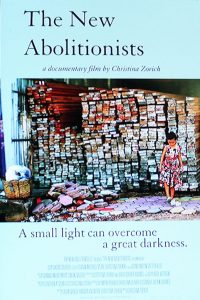 Actor/director Christina Zorich's sex trafficking documentary, The New Abolitionists, screens at the Fort Myers Film Festival at 10:00 a.m. on Sunday, May 16. It's an important film that tracks the efforts of four ministries and related NGOs (non-governmental organizations) to rescue children and teens who have been entrapped and enslaved in the sex trade in Cambodia and Thailand.
But human trafficking is a global phenomenon, and trafficking of all forms, including but not limited to labor and sex, is present in great numbers here in Florida.
In fact, last year Florida ranked third nationally when it comes to human trafficking cases.
"A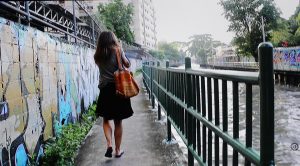 majority of those exploited are juveniles and trafficking is happening in Southwest Florida," notes Gina Birch, writing for RSW Living in a 2020 article titled "Sex Trafficking in Southwest Florida: How to protect your children – both girls and boys."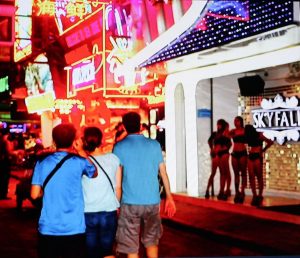 In the article, Birch points out those targeted by traffickers are often juveniles who were abused, neglected or the products of broken homes. Many times, it's a friend, co-worker or even a boss who introduces the teen to the trafficker. But internet chat rooms are often the place where predators first meet and begin to groom vulnerable adolescents, which they typically do by feigning romantic interest. Those spaces are not only available through Facebook, Instagram, Snapchat,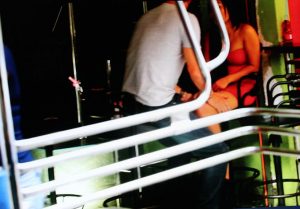 Tik Tok and other social media platforms, but on cellphone apps that offer private chat features.
Other risk factors for sex trafficking victimization include substance use/abuse, homelessness, recent migration/relocation and mental health problems.
Filmmaker Christina Zorich first learned about the scope and scale of human trafficking from someone she met randomly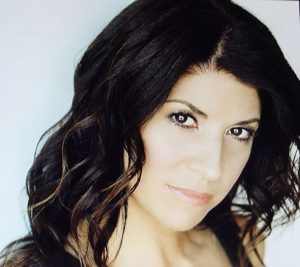 at a Christmas party who was providing housing for young people rescued from their sex trade handlers. Zorich regarded her newfound awareness as a call to action. "I deeply believe that when an evil is revealed to us it is our earthly responsibility to do all we can to stop it. It is what makes us MOST human."
The vast majority of us do not have the technical expertise, contacts or financial resources to make a documentary exposing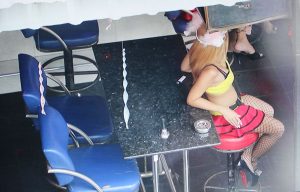 human trafficking conditions or set up and operate halfway houses that provide refuge for victims. But all of us can make ourselves more aware of the problem in an effort to prevent those within our circle of influence from being victimized and rescue and rehabilitate those who do.
"The movie ends with hope—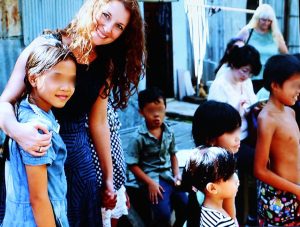 the ultimate awakening of consciences all over the world," states Zorich. "Every single person has a role to play, and everyone can do something about it."
Health care providers, particularly registered nurses and nurse practitioners, often form the front line in the fight against human trafficking. Toward that end, local organizations such as Christy's Cause and the Southwest Florida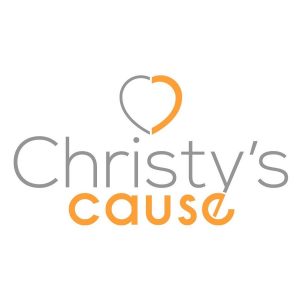 Regional Human Trafficking Coalition provide training to health care works as well as teachers and police on how to identify possible victims and how best to rescue them once they do.
Christy's Cause, in particular, works to eradicate child sex trafficking through education, awareness and justice initiatives. Christy Ivie is founder and president; Angi Jeffcoat, vice president; Advisory Council members are Sam Galloway III, Wayne Smith, Jeff Cecil, Francine Donnorummo, Lt. Dan Cote, Jason Perry and Sgt. Wade Williams.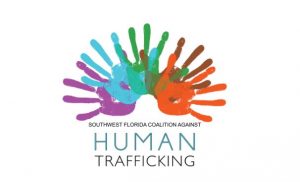 The Southwest Florida Regional Human Trafficking Coalition was formally initiated in 2009 as a collaborative effort amongst law enforcement, private agencies, faith-based communities, and concerned citizens committed to ending modern-day slavery in our area. Developed out of the Lee County Human Trafficking Task Force, the Coalition covers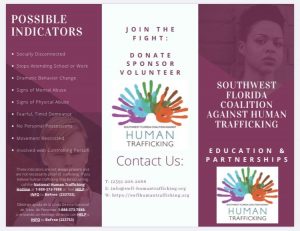 the counties of Lee, Collier, Charlotte, Hendry-Glades, and DeSoto. For more, either call 239-208-2088 or visit https://swflhumantrafficking.org/.
Abuse Counseling & Therapy or ACT is another organization that's in the trenches in the fight to combat human trafficking and provide a safe haven for victims.
While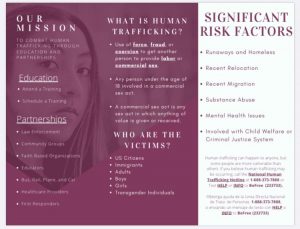 ACT may be best known for working with victims of domestic and sexual violence, it has also developed several partnerships within Southwest Florida to combat human trafficking through services, education, coordination, outreach and training. One such partnership is ARTREACH, an interactive creative arts program designed to instill a sense of awareness about human trafficking in boys and girls and to empower them to become peer spokespersons. ACT also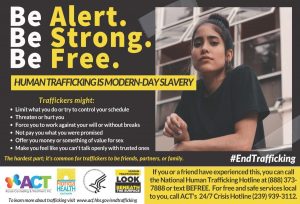 works arduously to promote community awareness of the crime by educating the public through the media and presentations to community groups as well as the general public. At the same time, ACT supports the work of service providers by coordinating training and resource development and coordinating community resources to facilitate the work of law enforcement and
victims' services.
"There is a need to enhance the interdiction, awareness and outreach of human trafficking in its various forms to both minor and adult, foreign nationals and domestic victims who are forced into prostitution, indentured servitude, peonage, or other forms of labor and sex trafficking," says ACT on its website. ACT's 24-hour helpline is 239-939-3112.
Below are anti-human trafficking and mental health resources available to Southwest Floridians at the national and local level: