German short film 'The Aftermath' is about the time between yesterday and today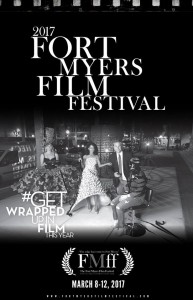 The Fort Myers Film Festival will screen a block of short films in the Sidney & Berne Davis Art Center at 3:00 p.m. on Thursday, March 9. Among the four films included in this block is Aftermath, a 10-minute comedy/romance shot in German and in Germany – with English subtitles that are easy to read.
Aftermath features a young woman who blacks out after binge drinking at a club and wakes up alone in bed in a strange apartment with no recollection of who she was with or what she might have done with him. But instead of pulling on her clothes and getting the hell out of there before her host returns, she becomes intrigued by his extensive collection of vinyl records, which are stacked on edge in floor-to-ceiling bookshelves. So she hangs around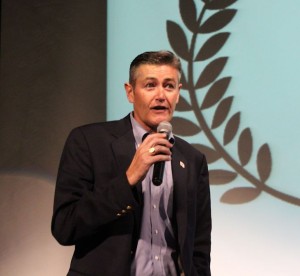 and discovers much to her own surprise that she could actually like the geeky guy with the "I love New York" tee who returns with donuts for breakfast.
Aftermath was shown at last September's TGIM, and the short received favorable comments from the celebrity judges and audience alike. Sanibel super lawyer Jason Maughan found the exchange between the twosome "bloody brilliant" in the tradition of his favorite film, Twelve Angry Men.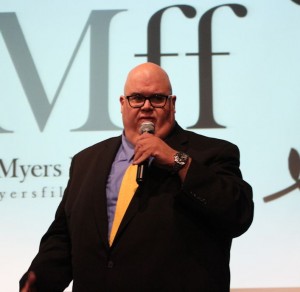 "Those two people, the dialogue between them, the chemistry, that was deserving of an award."
Harkening back to Robert DeNiro's observation that the sign of a good actor is his ability to eat a sandwich during a scene without anyone noticing that's what he's doing, Dan Miller was impressed by how well the woman in the film interacted with props. "She handled her cigarette like she's actually smoked before."
Singer/songwriter Julia DeTomaso honed in on one of the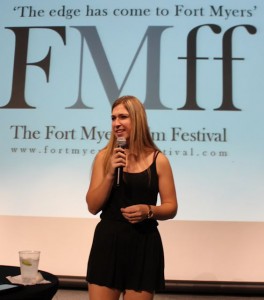 more pivotal sequences in the film, a seconds-long shot of the scars on the young woman's wrist that betrays the fact that she's a cutter. "It shows there are things you just don't know about random people," mused Julia. But more than that, it heightened the ending. After the two of them leave his apartment, they say their farewells and go their separate ways. But then, the young woman suddenly turns around and goes after him – a rather hopeful note for a self-sabotaging, NSSI binge-drinker who uses alcohol, drugs and cutting to reduce her negative emotions and feel something, anything, besides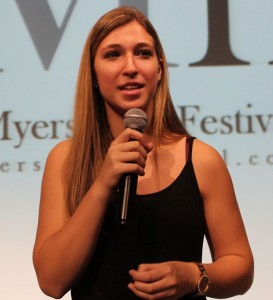 numbness and pervasive emptiness.
But even a woman with a deep-seated maladaptive personality can nonetheless make profound Nietzschean sense.
"The most important line in the film is when she says the past is an illusion and the present is the only thing that matters," remarked one audience member, prompting the rest of the TGIM audience to have that "aha" moment, realizing everyone else had missed the crux of the entire film.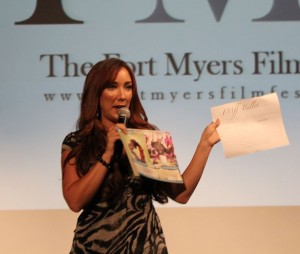 As the filmmakers observe themselves, Aftermath is a "film about the time between yesterday and today."
Aftermath is directed by Raif Beyerle. You can see it for yourself during the Thinkers Shorts block, which also includes The Bus Stop, Daewit and Timeless Charms.
March 6, 2017.
RELATED POSTS.