Elijah Green theme song encapsulates anticipation of T.G.I.M. screenings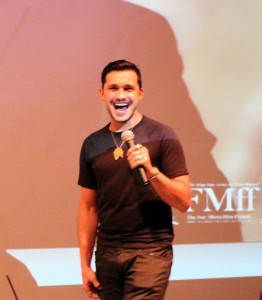 For most of us, Mondays can't suck enough. We're groggy and low energy as a result of the weekend's excesses and the distortion of our normal sleep patterns. And since we didn't pre-plan our workweek on Friday, we're desperately trying to recall where we left off and scrambling to figure out what we have to accomplish today, tomorrow and the next day. But sometime after lunch on the first Monday of each month between August and February, our mood suddenly brightens as we begin to anticipate T.G.I.M. In fact, we may find ourselves humming the melody of the Thank God for Indie Monday theme song.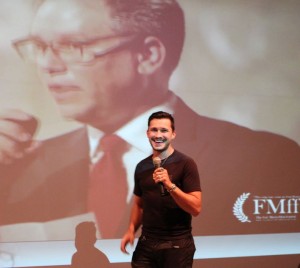 Written and recorded by local musician Elijah Green, the song encapsulates that air of anticipation and aura of positivity that you experience as you're waiting for T.G.I.M. to start. It's almost like Christmas morning. You know you're going to get presents, but you don't know if they're going to be good or bad, if you're going to like them or not. But still, there's that spirit of hopeful expectation.
The song evolved organically one night as Green was hanging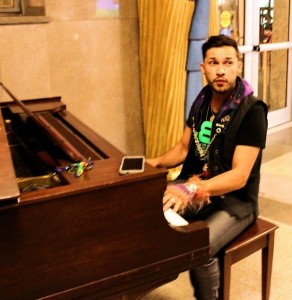 out with Eric Raddatz, Melissa DeHaven and several others following a T.G.I.M. "I just started making up this song as we were talking," Elijah recalls. "The weekend's gone and it's not the same. It just wrote itself on the spot in one sitting, from beginning to end. When it was done, Eric said, 'My God! We have to record that.' But until we did, I would come every Monday night and play it live."
For Green, musical inspiration comes in two different forms. Sometimes the lyrics come first, in the form of word pairings, and then he writes the melody around them, trying to find music that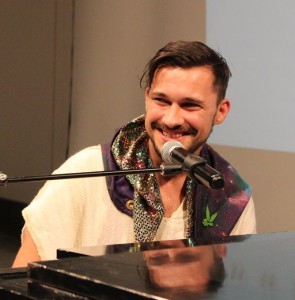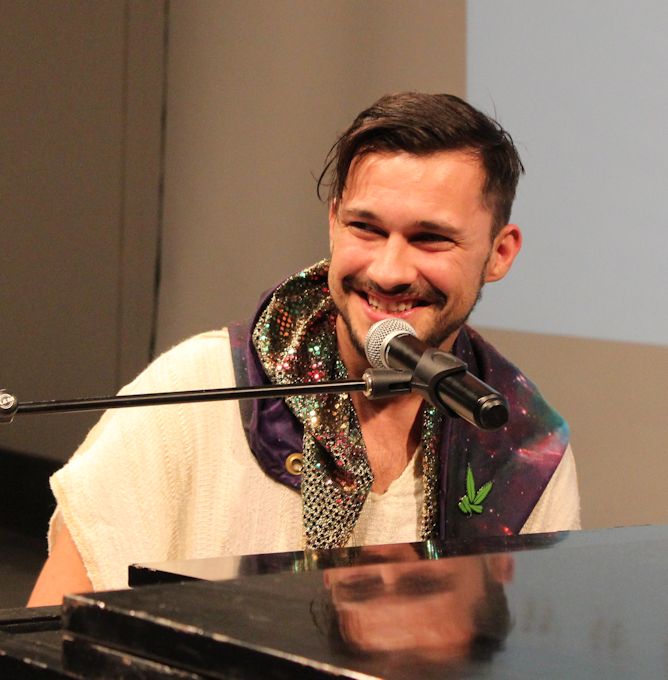 fits. But 90 percent of the time, the melody bursts into his mind like a thunderclap, and that's what happened with Thank God for Indie Monday. "Once I get a melody laid down, the lyrics come out on the spot. The hardest part is actually creating effective bridges in the songs. Bridges are my weak spot. Creating choruses and melodies is much more natural."
In the Fort Myers Film Festival's early years, T.G.I.M. screenings were held every Monday night between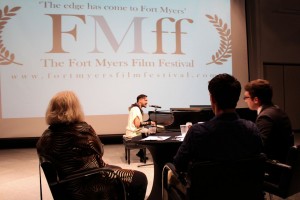 August and February. Green became part of the T.G.I.M. tapestry, crooning the lyrics and banging out the melody on the vintage 1920 Steinway grand piano that the Lee Trust for Historic Preservation donated to the Sidney & Berne Davis Art Center in 2009.
But Raddatz still insisted that Green record the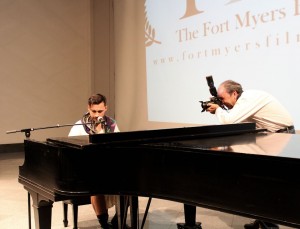 song.
"I never even thought about going into a recording studio until Eric asked me to," Elijah concedes. He hooked up with session drummer and producer Darrell Nutt at Definition Media's recording studio in Fort Myers. Green refers to the experience as both an honor and extremely gratifying.
It was then just a matter of time before Raddatz added the video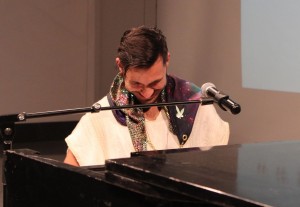 that now complements the inspirational song with Raddatz's unique brand of positive, fun-filled mugging and slow-mo antics that have become the trademark of T.G.I.M. screenings.
"Although a lot of the regulars know the words, we've joked about engrafting the lyrics on the screen so that everyone can sing along, karaoke style,"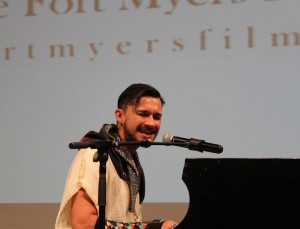 Elijah chuckles. When the mood's just right, T.G.I.M. co-host Melissa DeHaven has even orchestrated a sing-a-long or two.
"I wrote a new hook for the theme song, which I will be recording sometime this year," Green teases. "It's going to make the song one notch better."
Since 2009, Green has become a fixture in the downtown Fort Myers River District. I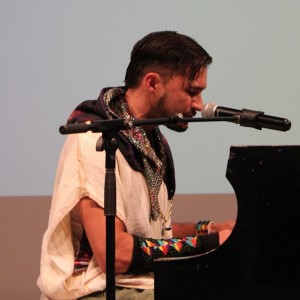 n addition to singer-songwriter and musician, he paints, has served as art curator at Space 39 and teaches creative spiritual development. The latter enables him to share with others the enlightenment he received as a result of an experience that Green describes as "supernatural."
"Prior to July 20, 2009, I was full of ego, going in the wrong direction, wasting my life," Elijah concedes. "[As a result of that experience], I went through a cathartic, internal cleansing that led me to realize that if I'm hating or hurting someone, I'm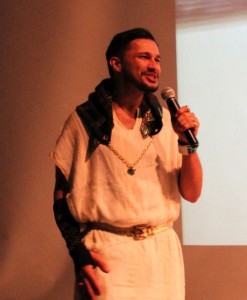 really hating or hurting myself since they're a reflection of me anyway."
Or as Elijah likes to point out, "We don't see things as they truly are. We see things as we truly are."
In fact, Elijah Green is a pseudonym or alias that represents the person he's become since his transcendental journey began. He refers to himself by his given name of Nathaniel Gromalski to differentiate the person his is now from the person he used to be.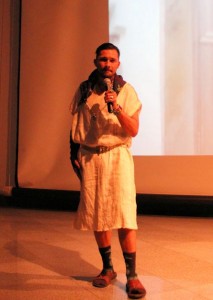 And he also dresses in metaphorical sackcloth on occasion to remind himself to let go of his ego and "introduce a little bit of magic into a magicless world."
And perhaps it's a healthy dose of magic that explains the feel and popularity of this T.G.I.M. theme song and other musical compositions. This past January, he debuted Curves and Straight Lines. With a book of more than 150 songs, he's considering recording and releasing an indie album and even performing a mini-concert at a venue yet to be determined at a time to be announced later this year.
I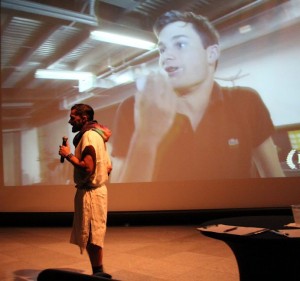 f you haven't heard Elijah's take on Thank God for Indie Monday, then it's about time you turned out for a night of indie short and short short screenings. Monday night's Labor Day edition of T.G.I.M. starts promptly at 7:00 p.m. with the song and associated video. Doors open at 6:30, so don't be late.
September 2, 2017.
RELATED POSTS.