Emmy-winning videographer Ilene Safron celeb judge at December 4 T.G.I.M.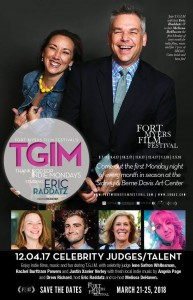 Hosts Eric Raddatz and Melissa DeHaven have assembled one of the most talented celebrity judging panels in the history of T.G.I.M. for the Fort Myers Film Festival's December screenings. Joining actor Rachel Burttram Powers and filmmaker Justin Xavier Verely is Ilene Safron Whitesman. Although normally hiding safely behind the viewfinder of her camera, Ilene has been out front a lot lately. She is the creative force behind Fort Myers, City of Palms – A Contemporary Portrait, a beautifully lensed coffee table book that features her images and lyrical commentary by Amy Bennett Williams.
In case Ilene Safron Whitesman is new to you, she is president and owner of Main Sail Video Productions, Inc. Whether it is designing digital art and motion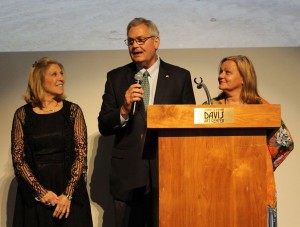 graphics, producing television commercials, promotional videos and documentaries, or "going live" on social media, Main Sail is a recognized leader in the video production industry. Since its inception in 1989, Main Sail has received many national and international awards and distinctions, including a Suncoast Emmy, Addy Award, Communicator Award and Telly Award. Not surprisingly, Main Sail's client list i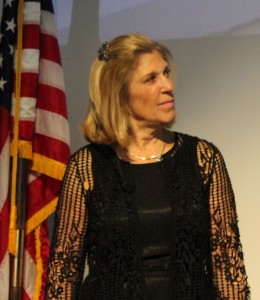 ncludes such prestigious concerns as NBC Nightly News, CBS Sunday Morning, PBS, E! Entertainment and New England Sports Network/FOX Sports, and a host of Fortune 500 companies.
A native of a small tourist town in the Catskill Mountains by the name of Ellenville, Ilene started seriously taking pictures and producing documentaries while she was still in high school. From there, she went on to earn a degree in environmental biography from the University of Connecticut. Her main focus (Ilene's pun) was bio-photography.
A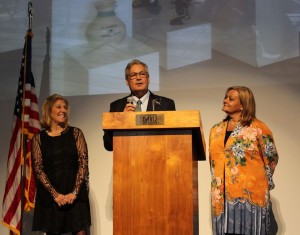 fter graduation, Ilene landed a job at ABC Network News in New York. One of her first assignments was carrying around Barbara Walter's mink coat. But ultimately, her formidable photography skills transported her around the world. Among her favorite assignments were the Winter Olympics in Calgary and the Summer Games in both Beijing and London.
Ilene's involvement in the City of Palms Contemporary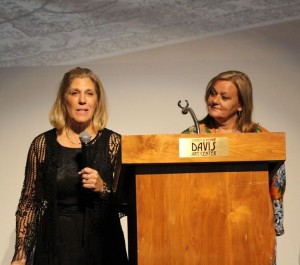 Portrait project was somewhat circuitous. Mayor Randy Henderson got the idea of doing a coffee table book promoting Fort Myers while attending the United States Conference of Mayors. That's where he also met representatives of publisher HPN Books. Because they are based in San Antonio, Texas, they asked the mayor to recommend someone locally who could assist with site selection and set up shoots. One name came immediately to mind. When HPN discovered Ilene's credentials,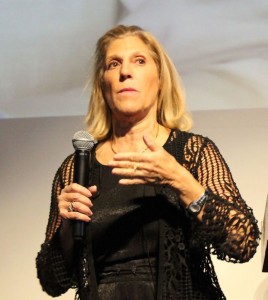 they engaged her to do the photography for them. And the rest, as the saying goes, is history.
But there's more. Through their participation in the project, Mayor Henderson, Ilene and Amy Bennett Williams take their place with enlightened civic leaders William H. Towles, Harvie Heitman and Mayor R.C. Matson, who partnered together in 1914 to commission 7,000 copies of a booklet promoting Lee County and the City of Fort Myers to the outside world. The 32-page brochure featured a "vividly written, and at the same time truthful description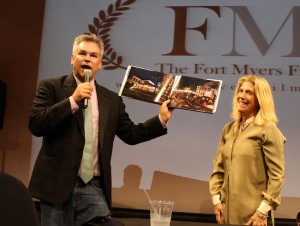 of the attractions and advantages of the beautiful and fertile county of Lee" interspersed with numerous hand-drawn illustrations. "Altogether it is one of the most carefully prepared and most reliable and beautiful of the many booklets that have been issued by Florida towns and cities," professed the Fort Myers Press on January 29, 1914. "It will be the means of much good to the county in making known its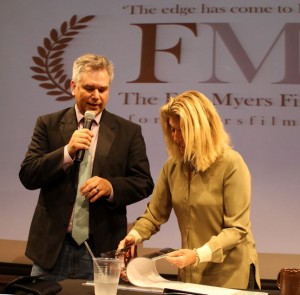 various advantages."
Back then, Lee County and the City of Fort Myers were each required to pass a half a mill tax to create a budget for the publication of the booklets and advertise "the beauties, attractions and opportunities" of both the county and the city. Today, we are indebted to three dozen sponsors who are identified in the book. But the effect is the same. Thanks to the vision of Mayor Randy Henderson, the prose of Amy Bennett Williams and the aesthetic eye of Ilene Safron Whitesman for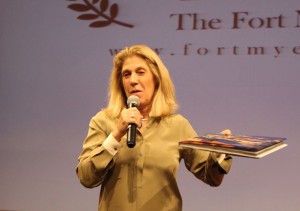 capturing the moment, Fort Myers, City of Palms – A Contemporary Portrait will be a means of much good to Fort Myers in making known its various modern-day advantages.
So come to T.G.I.M. on Monday, December 4 to meet Ilene and hear more about the coffee table book project. T.G.I.M. takes place in the grand atrium of the Sidney & Berne Davis Art Center, which, i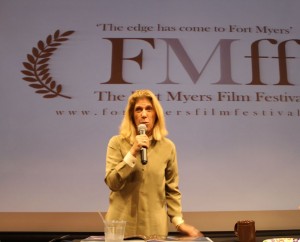 ncidentally, celebrates its 84th birthday on December 9. Doors open at 6:30. Screenings begin at 7:00 p.m. sharp.
November 30, 2017.
RELATED POSTS.